Finding the best hockey bag 2023 is no easy task. Here's the bottom line. When it comes to hockey bags, no two are exactly alike. You're going to have excellent organizational hockey bags and hockey bags that are just a simple wide open bag. There are plenty of things to consider, and a hockey bag is not "just a bag". It's one of those things, that if you do your research (or, just go buy a True Elite Bag already) you will not regret.
And as far as ice hockey bags in general are concerned, you really can just buy it once and forget it. If you buy the best bag on the market, you won't ever have to buy another. I know guys who are still using their bags from their High School days over 20 years later. The industry really hasn't evolved that much, outside of what True Elite Bag did, and adding wheels to bags. These things last forever. Anyhow, let's jump into this hockey bag deep dive.
As with all of our "best of" product reviews, we don't just pull things out of thin air. We operate one of the largest hockey communities (both players and goalies) on the internet, and our research panel all work at a high level within the industry.
Here are the best hockey bags of 2023
When you are choosing a new hockey bag, there are a couple aspects of the bag that you want to keep in mind.  Durability, size, airflow, shape, travel abilities and dividers within the bag.  Each one serves a large purpose and you'll want to get a hockey bag based on your needs.
Highest Rated Hockey Bags For The Money
Let's clear the air before we start. No two equipment bags are created equal. In the hockey gear bag space, while there has been innovation in recent years, there is still a night and day difference between your value bag and a bag with all the bells and whistles. Let's get into this, starting with the latest True Elite Core offering.
True Elite Bag
The best overall hockey bag for 2023 is the True Elite Bag.  Hands down, no questions asked, this is it.
Advantages: 
36″x16″x15″
Tear and water resistant
Breathable mesh for good ventilation
Adjustable padded internal compartments
Durable
Disadvantages: 
Price
Doesn't have wheels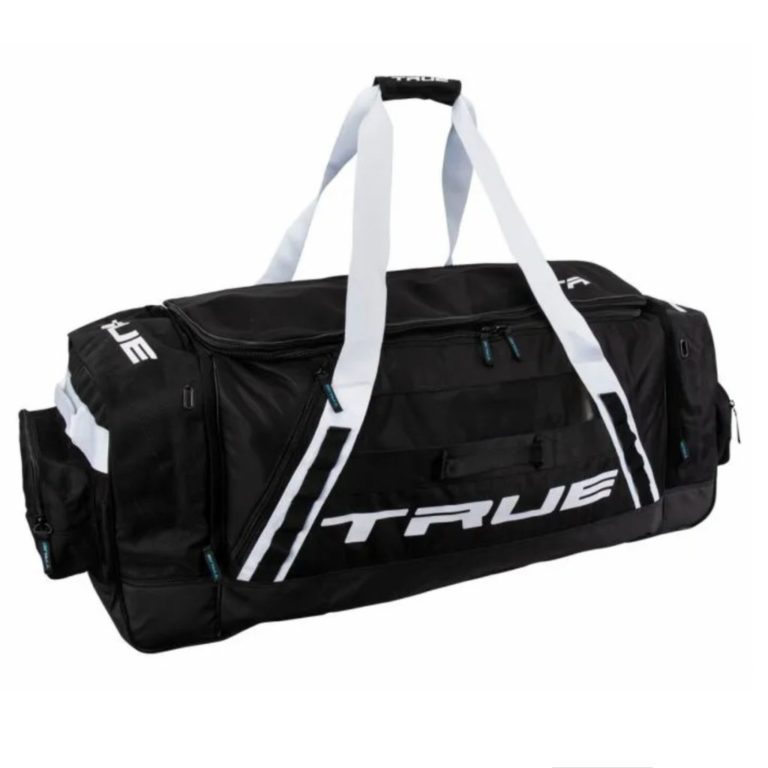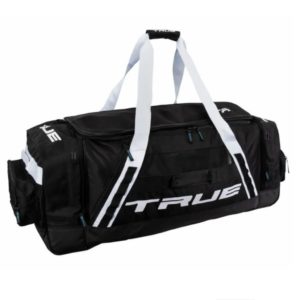 What makes this bag the number one overall?  Well, a lot of things actually.
The first is that it is the perfect size.  It isn't so big where you get dragged down, but it's also large enough to fit all of your gear.  It features reversible glove pockets and also has skate pockets on the sides of the bag.
The True Elite hockey bag is made of Ballistic Nylon material.  What makes this material special is that it is torn, water and abrasion-resistant.  This is obviously good news because your bag is going to get wet and also thrown around a bit.  Knowing that your bag can withstand heavy use is important!
Ventilation is also a key component to look for in an "elite" hockey bag (pun intended).
Bad joke.  Regardless, this bag features a three-layer mesh system to help the breathability of your gear and the bag itself.  There is nothing worse than wet hockey gear that gets trapped in a bag with no way of drying itself off.  Of course, when you're done playing hockey, it's always best to spread your gear out to dry.  But, the ventilation in this True bag will prevent the bag from getting moldy.
The main pocket of the bag is large and easy to access.  It has a large zipper opening that is made of durable and easy-to-use zippers.  The zippers are also water-resistant so no concerns about them getting rusted out!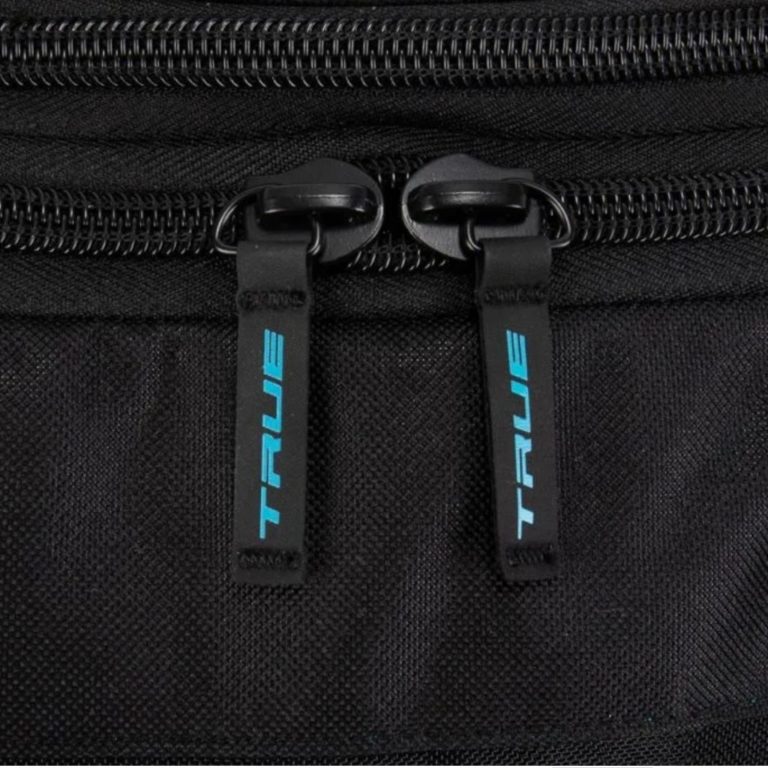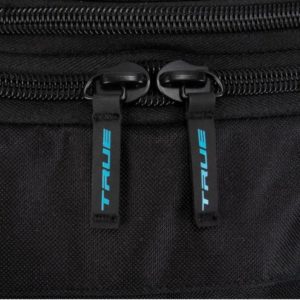 Probably the only real disadvantage of this hockey bag is that it does cost a little bit more than the average equipment bag.  That being said, the advantages of getting a high-end bag and using it for a long time greatly outweigh getting a cheap bag and replacing it every year.  It also doesn't come with wheels if you are into those!
Overall though, the True Elite Hockey Player Equipment Bag is the best overall hockey bag for 2023.
Related: Best Hockey Stick
Warrior Pro Bag
The Warrior Pro hockey bag is the best bang for the money and value.  It isn't as expensive as the True Elite, but still provides many of the qualities a high-end bag needs.
Advantages: 
Best looking bag on the list
Comfortable to carry
Internal skate compartments
Dimensions: 32″ x 15″ x 20″
Wide variety of colors to choose from
Price
Disadvantages: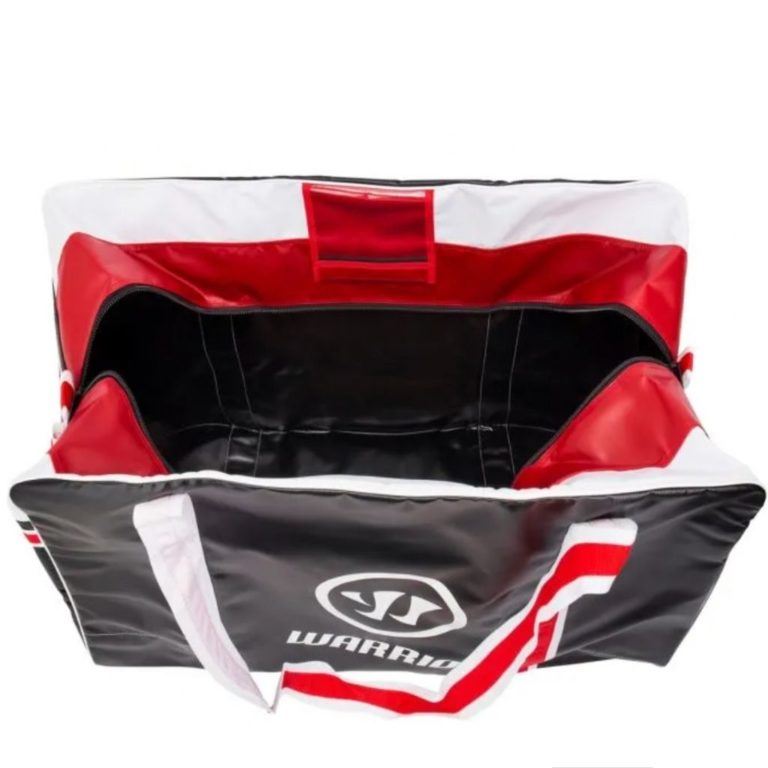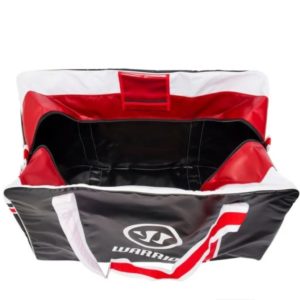 The Warrior Pro carry bag is by far the best-looking hockey bag on the market.  There's no doubt about it.  There's always something to be said about sty at the rink.
Anyhow, what makes this hockey bag special?
Well, the price for one.  It doesn't break the $100 mark like a lot of hockey bags out there.  This is especially handy if you aren't looking to spend all of your hard-earned money to carry your hockey equipment around.
That being said, this bag is reliable.  It might not have the same durability as the True Elite, but it should certainly last you many years.
It's made of Mercury 1000 Denier Polyvinyl which keeps this bag very lightweight and waterproof.  Being that it is lightweight and simple, it makes it easy to carry your hockey equipment around.  It features mesh pockets on the inside to place your skates in, to keep other gear away from the blades.  Obviously, you should have some sort of skate guards on your blades as well…
There is some ventilation featured in this hockey bag, but not a ton.  You definitely don't want to keep your gear in this bag forever (or any bag for that matter) otherwise it will likely start to mold.  This is a good bag for simply carrying your gear from one place to the next without any hassle.
Reasonable price, good looking and durable.  That's what you are getting in the Warrior Pro Hockey Bag.
CCM 310 Core Player Core Bag
The CCM 310 Core is the best budget hockey bag for 2023.
Advantages: 
Inexpensive
Ample space for gear
Gets the job done
38″x18″x16″
Disadvantages: 
Durability concerns
Little ventilation
No compartments to separate gear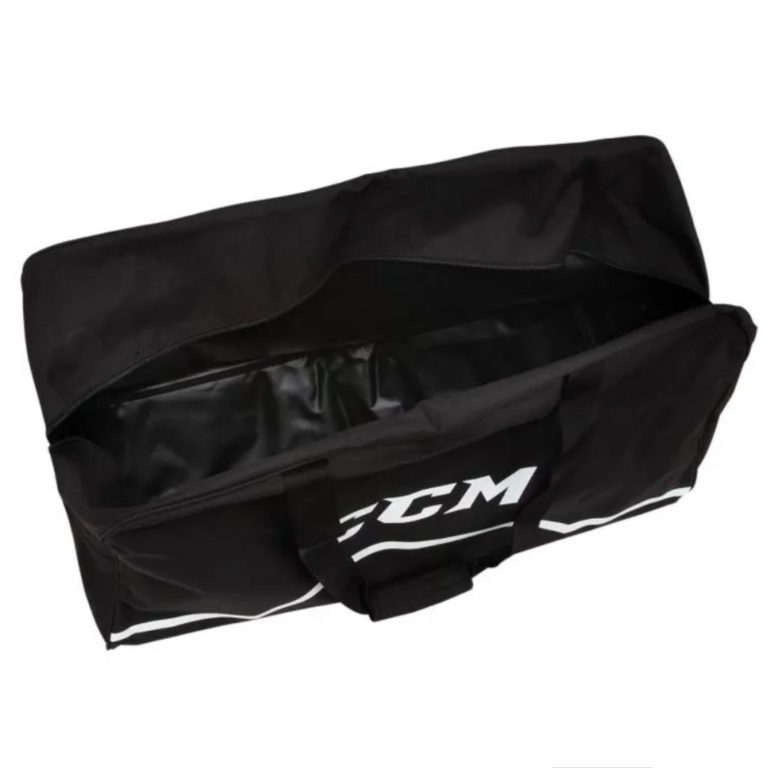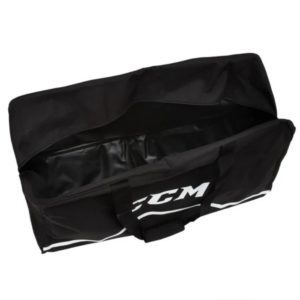 The CCM 310 hockey bag is what comes to mind when I think of a basic hockey bag.  There isn't a whole lot to it.  It's just a big open bag made of 6000 Polyester.  It does have some decent-quality zippers, but that's about it.
There aren't any extra compartments, sleeves, or storage areas.  You get the bag and that's it.
But you know what?  If that's all you are looking for, then this is the way to go!
The 6000 polyester material is definitely durable enough to withstand some use.  It's not ideal for using 5 days a week, 40 weeks out of the year, but if you're a beer league player this could be the ticket.
Just an equipment bag to get your gear from your house to the rink and back.  You surely aren't going to have well-ventilated and dry gear by the time you get home, but that's what you are paying for.
So overall, the CCM 310 is a solid budget hockey equipment bag.  Simple, clean, and concise.  Gets the job done without the fancy bells and whistles.
CCM 390 Player Wheel Backpack Bag
Editor's Choice for Best Youth Hockey Bag
The CCM 390 Player Wheel backpack bag is the first roller/ backpack bag featured in our "best hockey bags list".  Here's what we did and didn't like about it.
Advantages: 
Can be rolled or carried backpack style
Durable (600D & 420D Honey Comb Ripstop polyester)
Side pockets for skates
Padded straps
Retractable handle
Dimensions: 18'' L X 26'' H X 17'' W
Reasonably priced
90 day warranty
Disadvantages: 
Could use some more compartments to hold other gear
Heavier bag
The CCM 390 wheel/ backpack hockey bag is our top choice for youth hockey players.  The reason?   It can be rolled out of the rink on wheels, taking the weight off the kid's shoulders.  It's a durable bag with good zippers, and the backpack straps are padded for additional comfort.
This bag also features side skate pockets and has a retractable handle, allowing for a super-compact bag.  The one problem with this bag is that it doesn't have ton of dividers to separate gear.  Otherwise, it's a great hockey bag that doesn't cost a whole lot of money.
Here's what people were saying about it:
"I recommend it if you're looking for a compact gear bag."
Related: Best Hockey Helmet
Warrior Q10 Bag
The Warrior Q10 hockey bag was in serious consideration for taking over one of the top three spots on this list, but it just didn't make the specialty list.  So here we are, near the middle of the top rated bags of 2023…
Advantages: 
Very durable
Good ventilation
Multiple pockets for gear separation
37″
Disadvantages: 
Near the pricier range of hockey bags
IMO isn't the coolest looking bag
If you are going for use-case only, the Warrior Q10 hockey bag is one of the best.  It features a durable 840D nylon base and 420D ripstop accents.  The bottom line, it's built to last.
What's nice about this hockey bag is that it's designed to allow air to flow.  Many equipment bags don't have this feature which really elevates this bag near the top.
You also get a helmet slot, skate pocket, and a couple more internal mesh pockets.  This makes it easy to separate your gear in a hurry.
The Warrior Q10 doesn't break the $100 range, but it's kissing it.  So you might have to pay a little bit to get the quality that you need.
Related: Best Hockey Skates
Bauer S20 Pro
The Bauer S20 Pro hockey bag isn't anything special, but it's still a quality equipment bag for a reasonable price.
Advantages: 
Simple
Durable material and YKK zippers
Clean looks
Straight zipper
32″x20″x17″
Disadvantages: 
Doesn't have great ventilation
Pretty basic
Overall, the Bauer S20 Pro is a reliable hockey bag.  It isn't anything crazy special, but it does what you need it to do.  What puts this bag up with the best of the best, is that it's sturdy.
It's made of a heavy-duty pro tarp that is designed to last.  I think that every hockey player ever has just thrown their gear into a bag without thinking about it twice.  This is the type of bag to do that with.  No concerns about it ripping or tearing on you, unless you throw your skates in with no guards on!
Some hockey bags feature a straight zipper, while others unzip most of the top completely off.  The S20 Pro is the former.  This makes it easy to open and close.  The zippers are heavy-duty as well so no concerns of them breaking on ya!
The disadvantage of this equipment bag is that is doesn't feature any special bells and whistles.  It doesn't have any extra pockets for specific gear and it doesn't have great ventilation.  While it does have DryFlow grommets, there are definitely better-ventilated bags on this list.
The upside is that it doesn't cost a ton of money.  A very reasonably priced bag.
True Core Bag
The True Core bag is the largest hockey bag in the True collection.
Advantages: 
Large space to hold hockey gear
39″x16″x15″
U shaped opening
600D nylon material
Price
Disadvantages: 
Might be larger than necessary
Little ventilation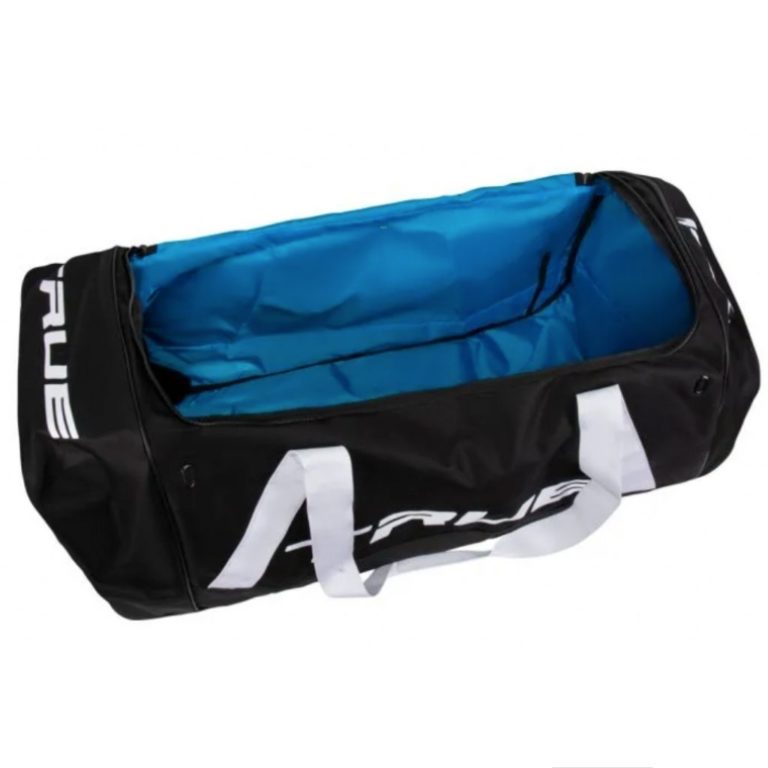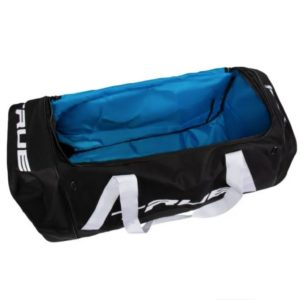 This is the largest hockey bag we have on this list of top-rated equipment bags.  It's 39 inches long, which might honestly be too much.  Unless you like to have extra space for gear and don't want to worry about strategically placing your hockey gear to make it all fit! (I am of the latter group)
Besides the large space of this hockey bag, it's also built with durable 600D nylon.  It's designed to withstand some heavy use and it will.  The only issue is that you might not get the same ventilation from this bag compared to some of the other bags on this list.
The final thing that makes this bag worth it is the price.  It doesn't cost a whole lot of money, which is nice.  Especially if you are a beer league player and don't really need to buy the super expensive bags.
Overall though, the True Core bag is a reasonable purchase because it will get the job done for you.
Kobe Team Carry Bag
Now, I don't know how the name Kobe Team Carry Bag came about, but this is a high quality hockey equipment bag.
Advantages:
Comes in 30″, 36″ and 40″ sizes
One of the most durable hockey bags
Leather-wrapped handle
Internal skate pockets
Disadvantages:
Overall, this is one of the most durable hockey bags on this list.  It features a PVC bottom and 1202 denier coated polyester material.  The handles are also leather-wrapped for additional comfort and strength.
It's a top opening bag, easy to zip and unzip.  It looks good and is going to get the job done.  It isn't super complex, but it will for sure last you a long time and look good while doing it.
The only problems you might come across are the poor ventilation and high price.  You really are paying for the durability of this hockey bag!
Grit HTFX Hockey Tower Bag
Editor's Choice for Best Hockey Bag For Organization
The Grit HTFX Hockey Tower bag is one of the best bags you can get, if you like you gear stored in a locker fashion, in your bag.  Tongue twister, but here's what we did and didn't like about it.
Advantages:
Lightweight
Roll out on wheels style bag
Strong and flexible composite frame
Mesh material allows for ventilation
Removable mesh bag
Stick straps (only on senior and junior bags)
Internal dividers separate gear well
Disadvantages:
The Grit HTFX and HYFX (youth) bags are the best bags that you can get, if you like to keep all of your gear separate.  It's a tower/ locker style bag with many compartments, each designed to store a different piece of gear.  It has mesh material that allows for air ventilation.
It was designed to be lightweight and durable, so it features a carbon frame that can withstand 7,500 pounds.  The carbon frame will also reform itself if you squish it into your car.  So essentially it's one of the most durable bags on the market.  The zippers unfortunately aren't the greatest quality, but they were holding up fine for us.  Overall this bag is very good if you like to keep your gear very organized.
Here's what people were saying about it:
" I am loving this more compact bag!"

"It was worth the price!"
Related: Best Hockey Gloves
Bauer S19 Core Wheel Bag
Editor's Choice for Best Beer Leaguer Hockey Bag
The Bauer S19 Core Wheel bag is a larger hockey bag with wheels.  Here's what we did and didn't like about it.
Advantages: 
Features wheels
Durable bag (heavy duty polyester)
Dimensions: Senior: 37″ x 20″ x 17.5″
Dimensions: Junior: 33″ x 18″ x 15″
HD weatherproof, scratch-resistant and PVC-coated bottom
Price
Disadvantages:
Could use some compartments for separating gear
The Bauer S19 Core Wheel bag was ranked the "Best Beer Leaguer Hockey Bag" because it's 1) easy to move around 2) inexpensive 3) made of heavy duty material for long lasting durability.  Now is that to say that only beer leaguers can use this bag?  No not at all, in fact it's also popular with many youth because it has wheels and is easy to move.  This bag is also weatherproof and scratch resistant.  Overall it's an awesome "throw your gear in a pile and let's go" type of hockey bag.  For a good price.
Here's what people were saying about it:
"Perfect bag for my 10 year old with room for growth and bigger equipment."

"I bought this bag for my 9yo goalie and it has been working out great."
Related: Best Hockey Pants
Conclusion: Best Hockey Bags
At the end of the day, the bag we'd recommend the most would be the #1 hockey bag of the year, the Pacific Rink bag.  It features high quality ventilation and is built to last.
You're going to be using your hockey bag a lot and if it breaks early, it no longer is useful.  So get yourself a bag that is going to withstand the test of time from the get-go and you won't have any issues!
Thanks for reading and hopefully this has helped you out a bit!