Looking for the best hockey sticks this year? Hockey sticks are the single most important piece of equipment a hockey player will use. A pro hockey stick is top of the line, the same hockey stick used by your favorite NHLer, built using the best carbon fiber, but also expensive.
It's a pretty broad question if you ask us. There a lot of things that come into play when you're trying to find the best hockey sticks available. Things like, what level you play. What your budget is. Do you have a brand preference?
On top of all that, a lot of the major manufacturers have a similar price point for their sticks. Pros use the same major brands, for good reason. Other key factors like curve, and whether or not the stick has a low kick point, make a big difference. Often times, it depends largely on what type of stick you've always used in the past.
Here are the top three hockey sticks that we'd recommend this year.
Regardless of what brand you favor, finding the right stick for your personal preference is the single most important decision you'll make as a hockey player (beer leaguer or not!), so put time into finding the one that fits you and your budget the best.
Top Rated Hockey Sticks
One of our main goals here at The Hockey Guys is to point you in the right direction when it comes to buying new gear.  In doing so, we mainly focus on telling you what is truly the best of the best, regardless of the price.
CCM Ribcor Trigger 6 Pro
The overall best hockey stick for 2023 is the CCM Ribcor Trigger 6 Pro.  There is no doubt that this is an elite-level hockey stick.  It has everything that you could want in a stick as a player – lightweight, durable and electric.
Pros:
Low kick point for electric fast release
Better stick handling with more control
Reduced weight compared to previous models
Cons:
Price
Low kick point may not be the best option for defenseman
If you aren't afraid to drop the cash on a hockey stick – this is the way to go.  CCM has dramatically improved the quality of this stick compared to their last model.  It features new Sigmatex technology which is a fancy name to say it has high-level carbon weaving and layering.  The Skeleton+ shaft is designed specifically to increase durability.  Unless you are bending your twig over the crossbar, you should have quality durability in this stick.
Overall this is a super light hockey stick.  Being that it's 2023, this is to be expected.  There is no such thing as a "heavy stick".  Being that it's a light stick featuring the "Agility Blade" its also extremely responsive.  Whether making a pass, stickhandling, or shooting, the stick/ puck combo is buttery smooth.
One downfall that you might find in this stick is it's expensive.  We have some high-quality budget hockey sticks further down the list if the price tag is intimidating.  The other concern would be for defensemen.  Now, there is no saying that defensemen couldn't use this stick, but generally since it's designed for fast releases in close – this isn't the best option.  If you are a defenseman, we'd recommend going with the CCM Supertacks.
All in all – this is our pick for the number one overall hockey stick for 2023.  It's light, responsive, and highly accurate.
Bauer Vapor Hyperlite
The Bauer Vapor Hyperlite is the number two overall hockey stick of 2023.  This is the latest stick that Bauer has released since the Ultrasonic and so far, it's looking pretty good.
Pros:
Ultra quick release
Better durability than before
Light (385 Grams)
Balanced
Cons: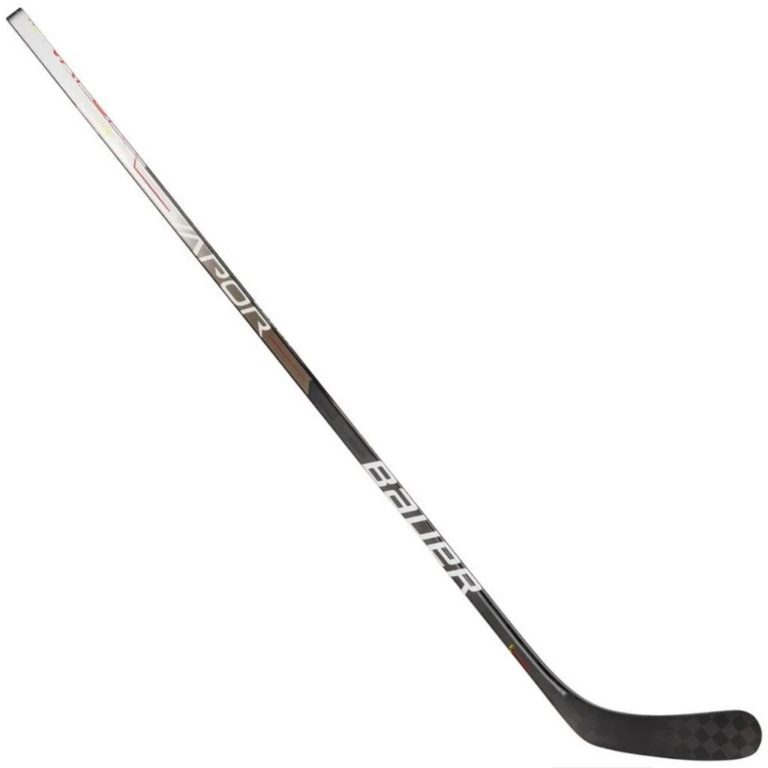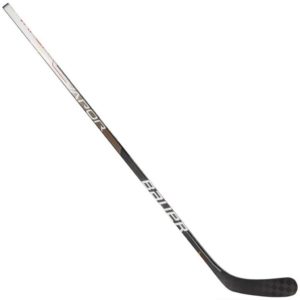 The Hyperlite is in the Vapor family.   Generally speaking, Bauer Vapor sticks are designed to have fast releases and this one is no different from the norm.  It has a low kick point and a XE taper that allows for you to get the puck off your blade a lot quicker than other sticks.
It's a lightweight stick, only weighing 385 grams.  This isn't the lightest stick on the this list of top rated hockey sticks, (that belongs to a CCM further down the list) but it's only a couple Grams of difference.  Far lighter than your standard budget option.
The Vapor Hyperlite stick is very balanced and has a smooth puck feel.  The blade is a designed to be stiff which allows for crisp shots and stick handling.
Lastly, Bauer has improved the durability on the Hyperlite from the Flylite two years ago.
This hockey stick could of very easily been in the number one spot, but since CCM does make such a good stick – we had to give them the honors this time around.  If you are a Bauer fan though…
Overall if you really want to elevate your game to the next level and aren't afraid to spend the big bucks, this is a great option.
Related: Best Hockey Helmets
Sherwood Rekker M80
The Sherwood Rekker M80 is a great stick if you are a hockey player on a budget.  It isn't the lightest of hockey sticks out there, but you don't have to pay premium prices for it either.
Pros: 
Inexpensive
Low kick shaft for smooth releases
Quality puck handling feel
Durable
Cons: 
What really makes this the best budget hockey stick is that it is durable and performs well for the price you will pay for it.  It features a low kick design which will help you snap wristers off quickly and accurately.  This stick is better suited for forwards, but defensemen aren't excluded from using it either.
For being less than a 150 bucks, this stick is balanced nicely.  The shaft and blade are optimized to perform well together, which is exactly what you want in a hockey stick.  That being said, the hockey stick as a whole is a bit heavier than most…
Because the Rekker M80 is balanced, stick handling with it is nice.  It's smooth and well coordinated, like a good hockey stick should be.
Performance-wise, this isn't going to be the best of the best.  But this is not a an elite performing stick, it's the best budget hockey stick.  I would recommend this stick to players that need a quality twig for playing backyard hockey, or if you are just starting hockey and want to play the sport for a lower entry cost.
CCM Jetspeed Ft4 Pro
Aahhhhhh the CCM Jetspeed FT4 Pro hockey stick… the latest and greatest CCM twig on the market.  You might be wondering why this stick is so low if it's the best CCM stick right now, but there's a reason for that.  The price you will pay for this stick is a bit more than many would like to consider, with that in mind, it dropped in our rankings.
But that's ok, because it's still an elite hockey stick…
Pros: 
Hybrid kick point is versatile for both forwards and defensemen
Improved blade core for smoother puck feel
Lightweight (377 grams)
Sick look
Cons: 
Expensive
Last CCM stick wasn't durable (potential concerns about this one)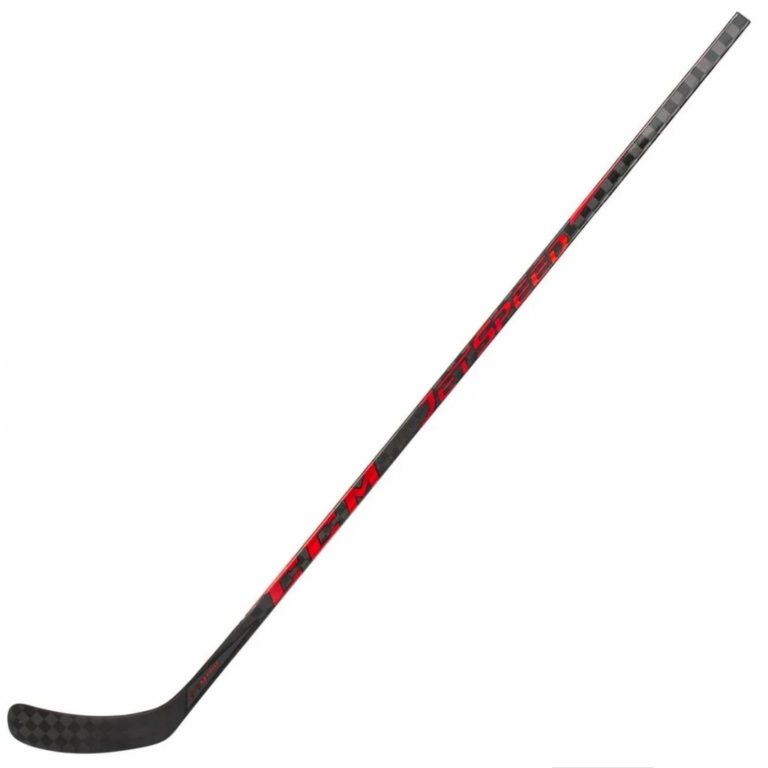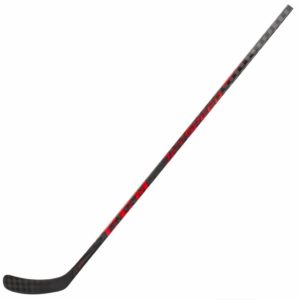 The CCM Jetspeed hockey stick lineup has always been a hockey player favorite.  Reason being is that for one, it's one of the best looking sticks out there.  And as many of you know, looks are half the battle (not literally, but maybe)…
In actuality, this is a lightweight and high performing twig.  It is one of the lightest hockey sticks weighing only 377 grams.  That is extremely light…
The hybrid kick point is in the middle of a low kick stick and a high kick point stick.  What this means for you is that it is a combination of both power and quick releases.  A low kick point stick is really good at fast releases (forwards) and a high kick point is a bit slower releasing, but a bit more powerful (defensemen).
The Jetspeed FT4 Pro has an improved blade for a better and smoother puck feel while shooting and stick handling.  It's balanced and feels good in the hand.
Like many hockey sticks on this list, it isn't exactly the cheapest one out there.  But you will feel the difference in the performance it has to offer, compared to a lower end hockey stick.  Another problem is that the CCM Ribcor Trigger 5 wasn't very durable.  While we haven't seen any issues with the FT4 Pro, there's always that in the back of mind.
Overall though, if you want dynamic performance, this is the way to go.
CCM Super Tacks AS3 Pro
The CCM Super Tacks AS3 Pro, the best hockey stick for defenseman on this list.
Pros: 
Light stick @ 380 grams
Best hockey stick for defensemen
Designed to get maximum power and accuracy
Durable
Clean look
Cons: 
The CCM SuperTacks AS3 Pro is an elite stick for defenseman.  That being said, it isn't only exclusive for defensemen… Forwards can totally use it, it's just got a slower release time so it might not be the best choice.
What makes it really good for d-men is that it's super powerful for those long blue line shots.  It's got a mid kick shaft which helps build up power and release the puck at top speeds.
Durability-wise this stick is a beast.  It is much better than the Ribcor Trigger 5 which didn't hold up very good.  This stick is built to last.
Like many of the elite hockey sticks on the market today, it doesn't weigh very much.  Only 380 grams.
It feels good just holding it, not much more to ask for in a hockey stick.
If you want elite level performance, go with the CCM Tacks AS3 Pro.
Bauer Nexus Geo (Best Bauer D-Man Stick)
The Bauer Nexus Geo is the best hockey stick on our rankings.  This is an elite level of hockey stick that is suited for defensemen, similar to the AS3 Pro right above.  It features a mid-kick point that is designed to really maximize the power and speed of your shot.
Pros: 
Powerful shots
Reduced weight from 2N Pro (390 grams)
New and improved blade for better stability
5 sides for increased energy and smoother puck handling feel
Popular amongst hockey players alike
Cons: 
The Bauer Nexus Geo is considered an elite hockey stick.  Price-wise, you're going to feel this one.  But, as well know, hockey sticks aren't cheap.  You get what you pay for.
Compared to the 2N Pro, (it's former), the Geo is a bit lighter, only weighing 390 grams.  This is a bit heavier than some of the other elite-end hockey sticks, but not by much… we're literally talking grams here.
Any hockey player can use this stick, but like the AS3, it's better suited for d-men.  The reason being is that it features a mid-kick point and has slower releases than say the Hyperlite.  Well as a forward you want to get the puck off your stick quickly, whereas a defenseman might have a split second longer.
The mid-kick point does make it a more powerful hockey stick.
Interestingly about the Nexus Geo is that it has 5 sides on the bottom part of the shaft.  It makes it comfortable to hold and shoot with.  The overall puck feel is good and the balance of the stick is money.  There have been some concerns about durability though, so keep that in mind when you're getting this stick.
Related: Best Hockey Pants
True Project X
The next best hockey stick of the year is the True Project X… In recent years we've seen True sticks start becoming more and more popular, and for good reason.
Pros: 
Light
Very quick wrist shots
Awesome puck feel
355 grams
Elite level hockey stick
Cons: 
Limited
Expensive
Blade durability concerns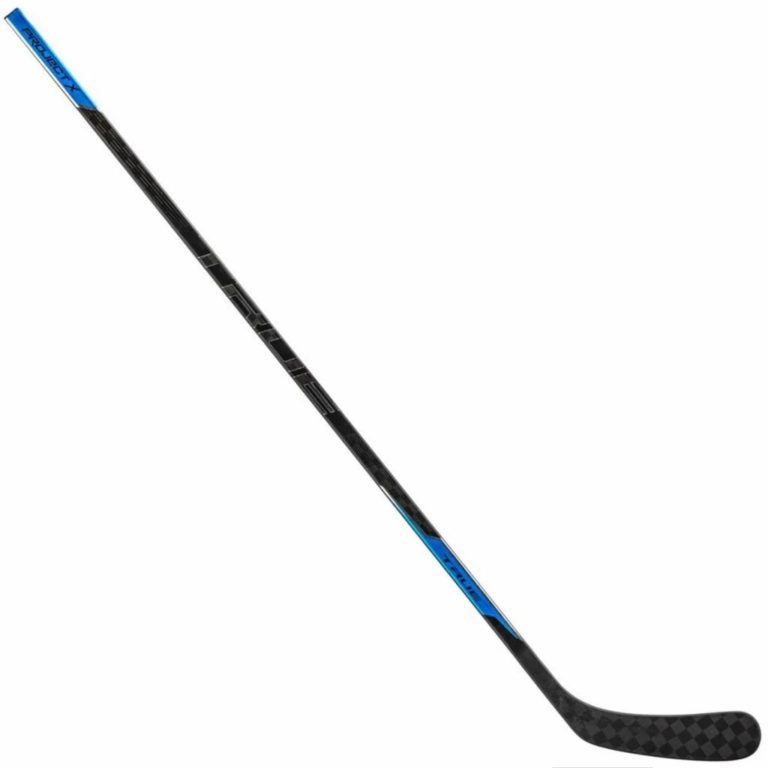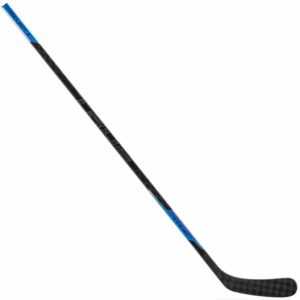 The True Project X hockey stick is the lightest hockey stick on the market, weighing only 355 grams.  That's quite a bit lighter than any of the other elite sticks on the market.  You're going to pay for it though.  That's for sure…
Performance-wise this stick is dynamic.  It feels good in the hands and handles the puck well.  It features a low kick design that allows for incredibly fast wristers.  Accuracy-wise the Project X is up there with the best of the best.
It is a limited edition stick so to you that can either be both good and bad.  It's good because if you do get one, well it's kinda cool to be different.  It's bad because you might not get your hands on one.
There are some concerns with the blade as well.  Being that it is a lighter stick, it might not be as durable as the other top end sticks.  Only time will tell how well it holds up to elite hockey…
Overall I think that True has really been improving their gear and they definitely deserve some love.
Bauer Vapor Flylite
The Bauer Vapor Flylite is a little behind the bell curve now, but still in the premier level of hockey sticks.
Pros: 
Lightweight stick
Feels great while puck handling
Stiff blade allows for accurate shooting
Quick release
High end
Cons:
The Bauer Vapor Flylite hockey stick is a great overall stick.  It has an extremely lightweight design and a stiff blade that allows for in tight shots.   The blade is reinforced to create a stronger feel which gives extra power to your shot.  And one might think that with a stiffer blade comes more difficult stick handling, not the case here.  Numerous people around the hockey world have stated how crisp and clean the Vapor Flylite stick is buttery smooth to stick handle with.
This stick is also insanely light weight.  It is almost surreal as to how light it is.  The balance is nearly perfect, and the result is super consistent shots.  And just like the CCM stick above, it's an elite level of hockey stick.
Really the difference between getting the Bauer Flylite and the CCM Jetspeed FT4 Pro is your preference towards CCM or Bauer.  These two sticks at the top of the list are incredible hockey sticks that will definitely blow you out of the water with their quality and performance.  Yes, you might have to pay the price of a premier stick, but again, everything at the top comes with a price.
Related: Best Hockey Skates
True AX9
Editor's Choice: Best True Hockey Stick
The True AX9 is True's one number hockey stick for 2023.  Here's what we did and didn't like about it.
Pros: 
Very quick release
Great puck control and feel
39% stronger and 5% lighter than it's predecessor
Shaft is made of SmartPly technology
Features FiberShield for better durability
Blade Tech technology increases the blade strength
Cons: 
The True AX9 hockey stick is an awesome option to consider when looking for a new stick.  It's a very lightweight stick (5% lighter than previous best) and it's very strong compared to other previous models.  A problem with True sticks before is that they were breaking fairly easy, but with the new technology that True implemented into the shaft and the blade, the Ax9 is True's most durable hockey stick to date.
There should be no concerns of this stick breaking on you simply because of the improvements that True has made.
The True AX9 is built for the player that wants a quick release.  It features a stiff blade that really sends energy off of.  It also has a low kick point shaft for additional speed.
Overall the True AX9 is one of the better hockey sticks of 2023.  The price is again, pretty high, but it's worth it!
Related: Best Hockey Bag
CCM Ribcor 65K
Editor's Choice For Best Beer League and Most Affordable Hockey Stick
The CCM Ribcor is one of the top beer league sticks that we've come across in the past few years.  Here's what we did and didn't like about it.
Pros:
Inexpensive
Low kick allows for powerful and quick shots
Great feel for the price
Durable stick
Cons:
The CCM Ribcor 65K is a great beer league hockey stick.  It isn't super expensive, it's fairly light, it features the low kick design that allows for a quick shot, and it's very strong.  There really isn't much more to ask for in a hockey stick that costs less than $150.
If you are big into the men's league hockey, or you are looking for a solid stick at a solid price, look no further.
Related: Best Hockey Gloves
How to choose the right hockey stick for you
Gone are the days of having to test out a hockey stick by attending a demo, or even visiting a store. Most players tend to stick with one brand, when they find one they like. Me, personally, I'm a Bauer guy. Now, that doesn't mean a Bauer hockey stick is better than a CCM hockey stick. Just means that I got used to my Bauer sticks, I like the curve, and they last a long time.
Which brings up another point. There is no such thing as a "most durable hockey stick". The hockey stick that's lasted me the longest is a wood CCM twig from the early 2000s. I would never use that stick in a game today.
Things you should consider before buying a new hockey stick
Brand
Are you thinking of changing brands? Why? If you're in a Bauer stick, just because CCM released their latest model doesn't mean Bauer is behind the times. When changing brands, we recommend visiting a store to test your new hockey stick out personally.
Flex
What's the best flex for you? Do play defense and spend the majority of your time taking booming slap shots from the point? A stiffer stick flex may be something to consider.
Blade Pattern
Without knowing your stick blade pattern, buying a new hockey stick online might be a bit risky. The good news is, Pure Hockey and Goalie Monkey (the two best places to buy a hockey stick online, or at least the two we recommend the most) have excellent return policies that will allow you to swap things out.
Price
We'd be remit if we didn't mention the price. Not to beat around the bush here, these sticks are the most expensive hockey sticks on the market. They're priced this way for good reason, as they're the top hockey stick models by company for this year. If you want a cheap hockey stick, this article is not the place to find it.
Weight
While you should consider weight when buying a new hockey stick, it's not really something we spend a ton of time on here. The hockey sticks listed below are the lightest hockey sticks on the market today.
Hopefully this has helped you find a new hockey stick!
Conclusion
There are a ton of elite hockey sticks on purehockey.com and hockeymonkey.com.  Hockey companies release better and better equipment every year, but keep in mind that a hockey stick from two years ago isn't actually all that bad.  Diminishing returns says that every year something improves, it only can improve so much from one year to the next.
Just something to keep in mind while you are shopping for a stick.
But if you want the best of the best, get yourself a Bauer Vapor Hyperlite hockey stick.  You won't be disappointed…