The True HZRDUS PX Composite hockey stick is the latest, and greatest True stick. This stick features a low kick point similar to Bauer's Vapor line, and CCM's Ribcor line. It is designed for a quick and effortless release when shooting the puck.
The shaft of this stick is double concave and has corners slightly more rounded than your standard rectangle shaft. True claims the HZRDUS PX to have 25 layers of carbon fiber for optimal durability while also only weighing 345 grams.
As a brand, True has burst onto the scene in the last couple years and they are creating products that compete with the top brands such as Bauer and CCM. This is a review of this stick providing information on what I liked, and disliked about this product and whether you should buy it for yourself.
True HZDUS PX Stick Overview
The True HZRDUS PX Stick was released in July of 2022 and is still considered one of the best sticks on the market. You can find it online, or in stores and it is being used at all levels of hockey including the NHL.
Pros:
Lightweight
Shaft Design
Powerful
Quick Release
Durable
Looks sweet
Cons: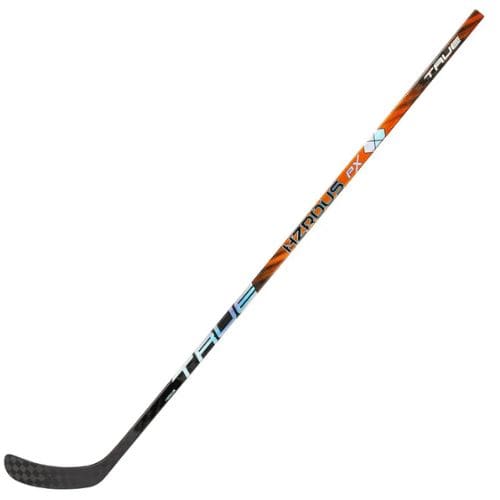 What I Like About This Stick:
This stick has a lot of amazing features such as its weight, shaft design, release, durability, and its looks.
Lightweight:
At the time of release, the HZRDUS stick was the lightest stick on the market weighing only 345 grams. The weight of this stick makes shooting, stickhandling, and passing more effectuve. I was personally able to notice an increase in stickhandling speed, and the speed of my release when shooting.
Since the release of the HZRDUS, Bauer has come out with a lighter stick weighing 335 grams. As someone who has used both of these sticks I will say that the difference isn't noticeable at all.
Shaft Design:
The shaft design of the HZRDUS is slightly different then your usual rectangle shaft.
It features a square corner double concave shaft. Honestly, I'm not entirely sure what the purpose of the concave shaft is but after getting used to it after a couple uses I liked the feel of it. It provides a comfortable grip on the stick throughout all aspects of the game, stickhandling, shooting, passing, etc.
I don't know this for sure, but in my experience using this stick I feel like the concave shaft has been more durable than regular shaft sticks that I have used in the past as well.
Powerful, Quick Release:
Shooting with this stick feels amazing no matter where you are on the ice or what type of shot you are taking. As I mentioned before this stick has a low kick point which is ideal for taking quick shots. This stick is very efficient at taking any shot you need and it is also very accurate.
Usually low kick point sticks are best for taking snap and wrist shots but surprisingly this stick also takes slap shots very well.
The most impressive thing about this stick is how accurate it is. I was able to effortlessly pick corners using this stick. The release on the HZRDUS is very quick and efficient. When using this stick in a game there were multiple times where I would take a regular shot but it seemed to catch the goalie off guard because of the release time.
This stick is in my top three sticks I've ever used when it comes to shooting.
Related: Bauer AG5NT Hockey Stick Review
Durable:
I have been using this stick for 3 months and it has held up extremely well. As I mentioned before, I feel like the concave shaft improves the durability of this stick significantly. In games, I have been slashed directly on top of this stick and I haven't noticed any significant damages aside from a few small paint chips.
I've taken many slapshots, one timers, and wrist shots and haven't noticed any durability concerns. It is one thing for a stick to just be durable but it is another thing to have a stick like this one that performs at such a high level and is also this durable.
Flashy Design:
The design of this stick is a preference rather than a fact but in my opinion the design on this stick is definitely a positive. The HZRDUS Stick has a unique and flashy black, orange, and silver color palette.
The stick is black from the toe of the stick to about halfway up the shaft where a burst of orange covers the rest of the stick. To make the True logo pop off of this stick, it is is a chrome silver color at the bottom of the shaft and the very top of the stick.
All of the lettering on this stick is bold, and pops out but yet is so simple at the same time. As I said before this is all opinion, but in my opinion the design on this stick is a thing of beauty.
What I Don't Like About This Stick:
It was honestly hard to come up with many negatives about this stick. It has so many amazing features and doesn't come up short on much.
Price:
It's a sad reality to realize that nothing this good comes with a good price tag. The technology and performance of hockey sticks, and hockey gear in general continuously improves over time and so do the prices. I think that this stick is worth every penny of its price tag but it's still painful to pay this much for one stick.
We're seeing price increases in all of the top hockey stick brands including sticks like the CCM AS-V.
The only positive is that you are definitely getting what you pay for. There is a reason this stick costs as much as it does. It is at the very top of the market performance-wise, and has many features to increase your efficiency as a hockey player.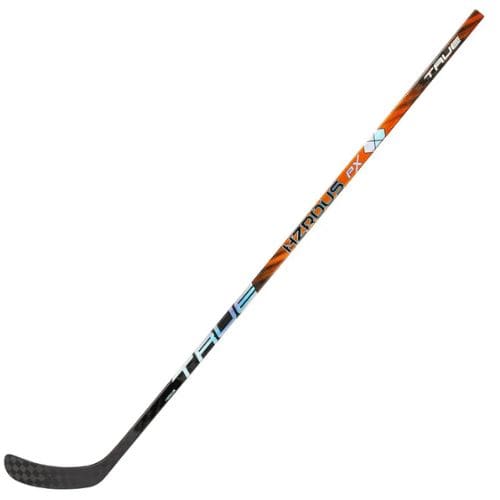 Conclusion
The True HZRDUS is an elite stick that can be used by any player. It does everything that you want a stick to do proficiently well, and on top of that it is built to last. This stick is currently at the very top of the market.
In my mind the only thing that might hold you back from purchasing this stick is the price but performance wise it is all that. I hope this review has given you insight on this stick and provided a helpful opinion.