"So Tyler, what are the best hockey skates for the money?" Believe it or not, that's probably the top question I get asked day in and day out when it comes to the "best of the best" hockey gear. What are the best skates for beginners? What are the best youth hockey skates? If money is no object, what skates should I buy? The list of questions goes on and on.
And to be honest, hockey skates are the number one selling piece of hockey equipment any manufacturer makes. Buy a high end skate and you'll use that same set for years. There are huge differences in top of the line, expensive hockey skates and entry level skates. The skates we're talking about on this list need no introduction, they're worn by your favorite NHL hockey players day in and day out.
Buy a cheap, more affordable skate and you'll be looking to upgrade soon afterwards. With that being said, if you're looking to shave a couple hundred bucks off the purchase of any of these top of the line skates, each manufacturer offers a "step down" skate model, which we'll include in here as well. These "2nd tier skates", as we call them, utilize many of the same construction components of the highest performance skates, with savings in a few areas that create a cheaper option for budget constrained folks.
If money is no object, these are the best skates for 2023. 
I tell almost everybody who asks, if you're even considering going with the pro model of a hockey skate, just get the pro model. Sure, you'll spend a couple hundred more, but you're getting the exact skate your favorite NHL player is wearing, literally the best performance skate (and the most comfortable) made by whichever company you choose.
Over the past couple months, we've spent hours testing and researching hockey skates to create this list.  These are the best skates you can get if you are an elite level of hockey player.  Price is really no object in this article either.  If you are looking for the best budget skates or the best youth skates, we've got you covered in other deep dive articles on our site. 
But if you want the most comfortable, highest performing skate and are ok with spending the maximum amount of cash, this article is for you.
The Top-Rated Hockey Skates
So, what are the best hockey skates for the money this year?
Without question, the best hockey skate on the market is the Bauer Vapor Hyperlite. If you're not a Bauer fan, the CCM Ribcor 100k skate is a close second.
That being said, you could close your eyes and pick any skate in the top five and be happy with it.  Although it may come down to your foot size and shape that will sway you one way or the other.
Bauer Vapor Hyperlite (Best Overall)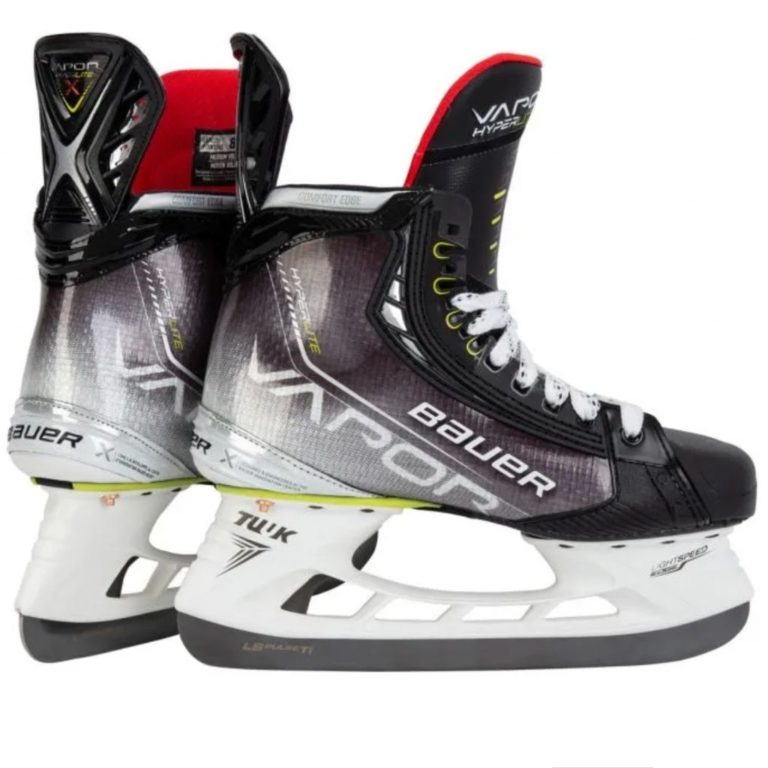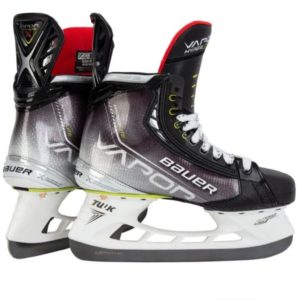 The Bauer Vapor Hyperlite skate are the latest and greatest skates that Bauer has released.  This is what the top of the mountain looks like when it comes to elite level skates.
Pros: 
Lightweight
Comes in multiple different sizes to fit all feet
Stiff boot allows for better fit to foot
Increased push off power
Lock Fit Pro liner ensures that your foot doesn't slip inside your boot
Cons: 
Not cheap by any means
Some have expressed durability concerns
Our Rating: 
| Skate Ratings | Bauer Vapor Hyperlite |
| --- | --- |
| Comfort | 10/10 |
| Weight | 10/10 |
| Performance | 9.5/10 |
| Break In Time | 10/10 |
| Longevity | 9.5/10 |
| Versatility (for Different Foot Types) | 10/10 |
| Looks | 9/10 |
| Runners | 9/10 |
| Price | 7/10 |
| Overall | 84/90 |
Bauer really does make the best out-of-box skates in the industry.  CCM has been right on their tail, but These skates do feature the same curv composite as previous Bauer skates have, which makes them so light and protective.
The boot is a stiff single piece.  This allows for a better fit to your foot and also better transfer of energy when you push off.  Bauer has implemented HyperFlex technology in the top four eyelets so you can tighten and keep your laces tight throughout your game or practice.  Both features result in a quicker take-off speed and faster skating.
The last and most important aspect of these skates is that they are quite comfortable.  This can be accredited to the moisture-wicking technology, Aerolite foam tongue and additional padding inside the boot.  The tongue also has composite on the outside of it which ensures that your laces stay tight without any lace bite.
The Hyperlite skates also come in a variety of different foot sizes and shapes.  So regardless of whether you have wide or thin feet, it does not matter.  There is a pair of Hyperlites that will fit your feet.  This is the aspect of the skate that really separates the Hyperlites to any other skate on the market.
The complaints against getting the Bauer Vapor Hyperlites would be the price and the necessity.  They really are an expensive pair of skates, and there are other cheaper options out there.  You also might be more of a CCM fan, and if that's the case, read on because we've got several CCM skates in our rankings.
That being said, if you can afford these skates, you won't regret it.  These will last you years and you get to enjoy the perks of great skates.  This is a whole lot better than buying a subpar pair of skates every other year and also have to deal with the discomfort that comes along with those.
Our #1 Pick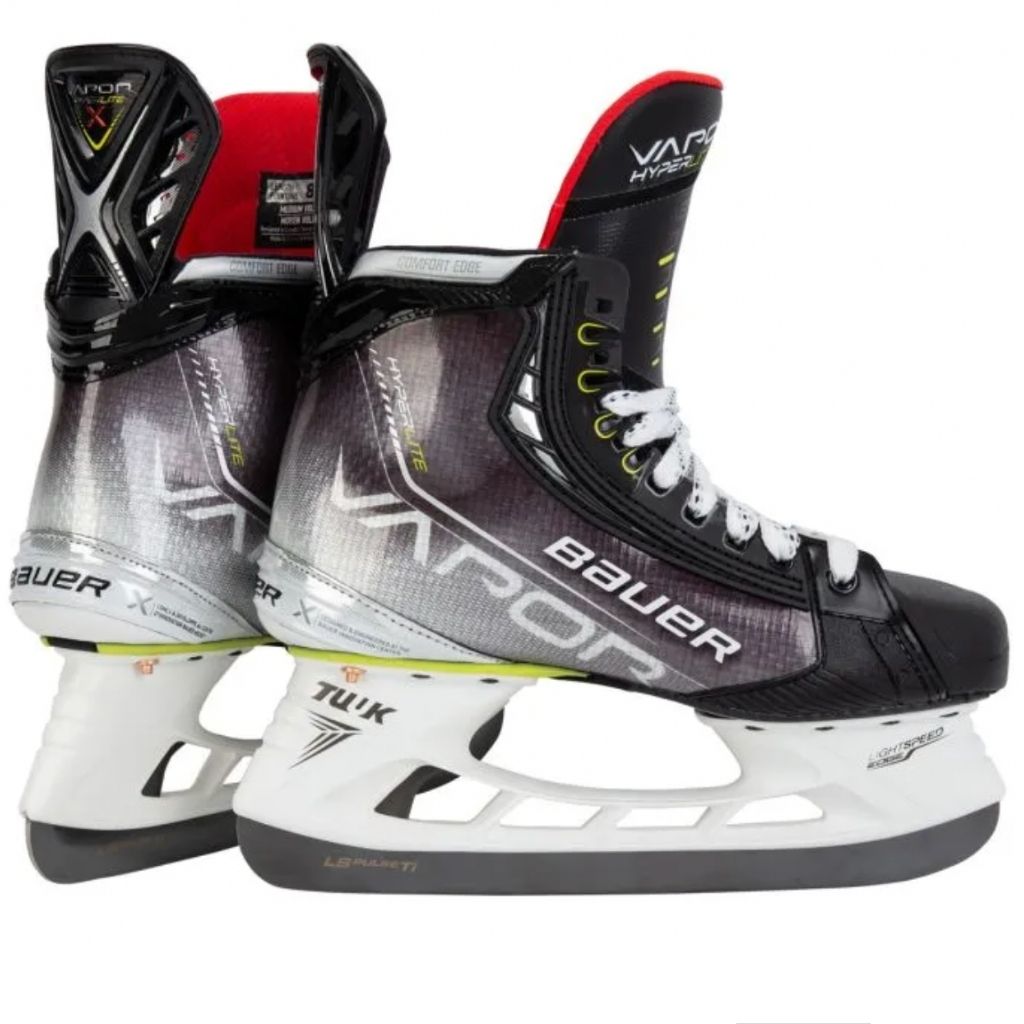 CCM Ribcor 100k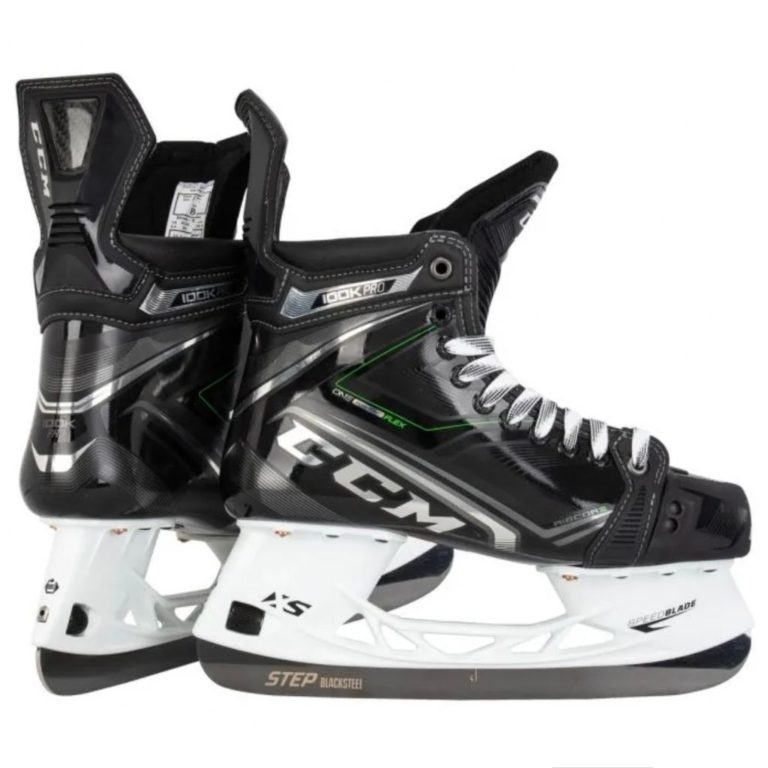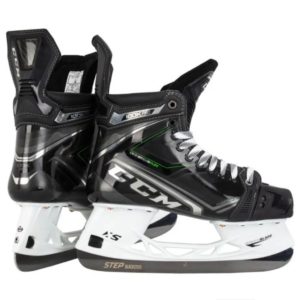 The second pair of hockey skates that we've got on our list is the CCM Ribcor 100ks.  These are the latest pair of skates that CCM has released and to be honest with you, I considered placing them in first place over the Hyperlite skates.  It was a close call, but nonetheless, here we are.
Our Rating: 
| Skate Ratings | CCM Ribcor 100k |
| --- | --- |
| Comfort | 9.5/10 |
| Weight | 9/10 |
| Performance | 9.5/10 |
| Break In Time | 9/10 |
| Longevity | 10/10 |
| Versatility (for Different Foot Types) | 8.5/10 |
| Looks | 9.5/10 |
| Runners | 10/10 |
| Price | 7/10 |
| Overall | 82/90 |
The first big improvement that these skates feature is the new one-piece boot.  This is big for enhancing power and speed in your stride.  It also has improved stability when moving laterally.  Which as you know, hockey players are constantly shifting and moving.  Stability is a large key to success on the ice.
CCM has also put a new FlexMotion tongue on the skate to decrease lace bite.  The thing that makes this tongue special is that you don't lose range of motion when you are skating.  You also have the option of buying a different option of the tongue to fit your needs.  Very neat, we haven't really seen this before in the hockey skate industry.
The similarities between the Hyperlite and Ribcor 100k in terms of comfort are very similar.  The Ribcors have additional foam up near the top of the boot and memory foam in the ankles for better comfort and support.  The liner also features moisture-wicking technology to really enhance the breathability of the skates.
The blade is the last thing that I want to talk about in these hockey skates.  CCM recently acquired Step Steel which is a blade/ runner company that makes the absolute best hockey blades on the market.  In the past I've when I bought Bauer skates, I would instantly replace the blades with Step Steel.  They're taller allowing shifting and moving on the ice, but the steel is also stronger and lasts longer.  These skates come with them so you're already "Steps" ahead of the competition.
Our #1 CCM Skate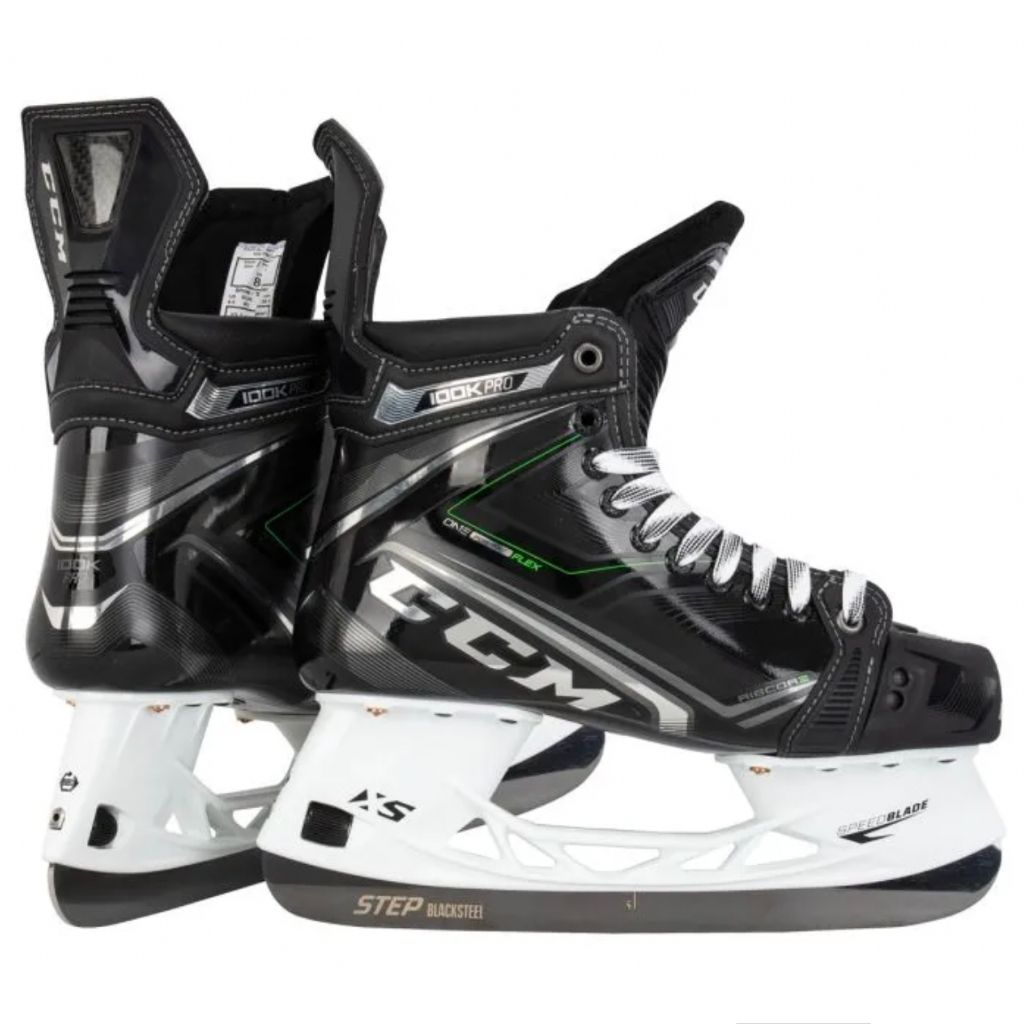 True TF9
Editor's Choice For Best Hockey Skates For The Money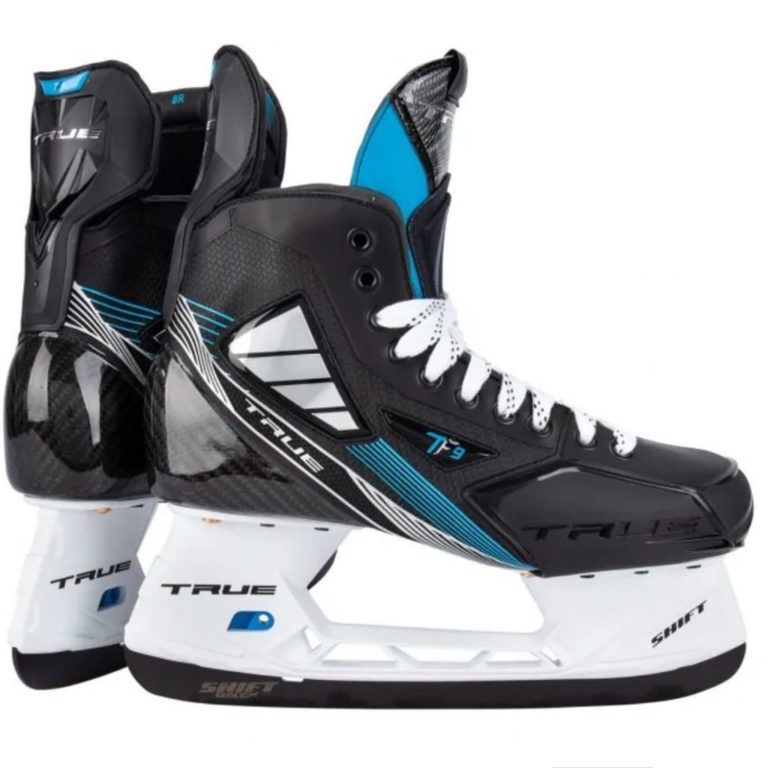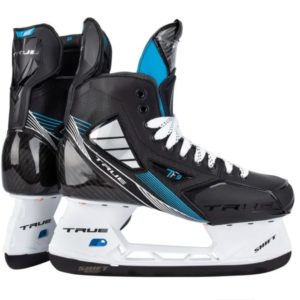 The True TF9 hockey skates are the best overall skates you can get for the money.  They don't cost the ridiculous top of the line prices, but still provide high quality that is necessary in a pair of hockey skates.
Advantages:
Customizable
One-piece design
Lightweight
Reasonable price
Comfy
Disadvantages:
Aren't in the elite tier when it comes to skate performance
Our Rating:
| Skate Ratings | True TF9 Skates |
| --- | --- |
| Comfort | 9/10 |
| Weight | 8.5/10 |
| Performance | 8.5/10 |
| Break In Time | 9/10 |
| Longevity | 9.5/10 |
| Versatility (for Different Foot Types) | 9.5/10 |
| Looks | 9/10 |
| Runners | 8.5/10 |
| Price | 8.5/10 |
| Overall | 80/90 |
The True TF9 hockey skates are some of the best skates that True has released up until this year.  They're not quite as high-performing as True's Custom One Piece or the new Hyperlite Bauer skates, but they're still a good value.  The biggest advantage that you get in the True TF9 skates is that they're reasonably priced.  They don't break the $900 mark like elite skates do.
True has definitely been coming up in the hockey industry.  We've seen brands come and go for decades now, but True looks like it's here to stay.  The TF9 skates have many features going for it, regardless of the price.
For one, these are comfortable pair of skates.  The True Custom skates are unbelievably comfortable and it wasn't difficult for True to implement similar technology in the FT9s.  I would even go as far as to say that these are similar in comfort to the top two skates on this list..
The True TF9 skates are a bit heavier than the Hyperlite, but not by much.  The TF9's weigh 904 Grams, while the Hyperlite's weigh 849 Grams.  Pretty comparable.
These do come in two different sizes as well, standard and wide fit.  Obviously, you know which is your foot and which is best for you.
An issue that might come up is getting your foot to fit the boot perfectly.  It does have a bit of a break in period, but after you've taken care of that, the TF9's fit quite well.
Besides that, you can't really go wrong with these stock True skates.  No they're not completely custom, but you don't have to worry about a long wait period to get these.
Great Value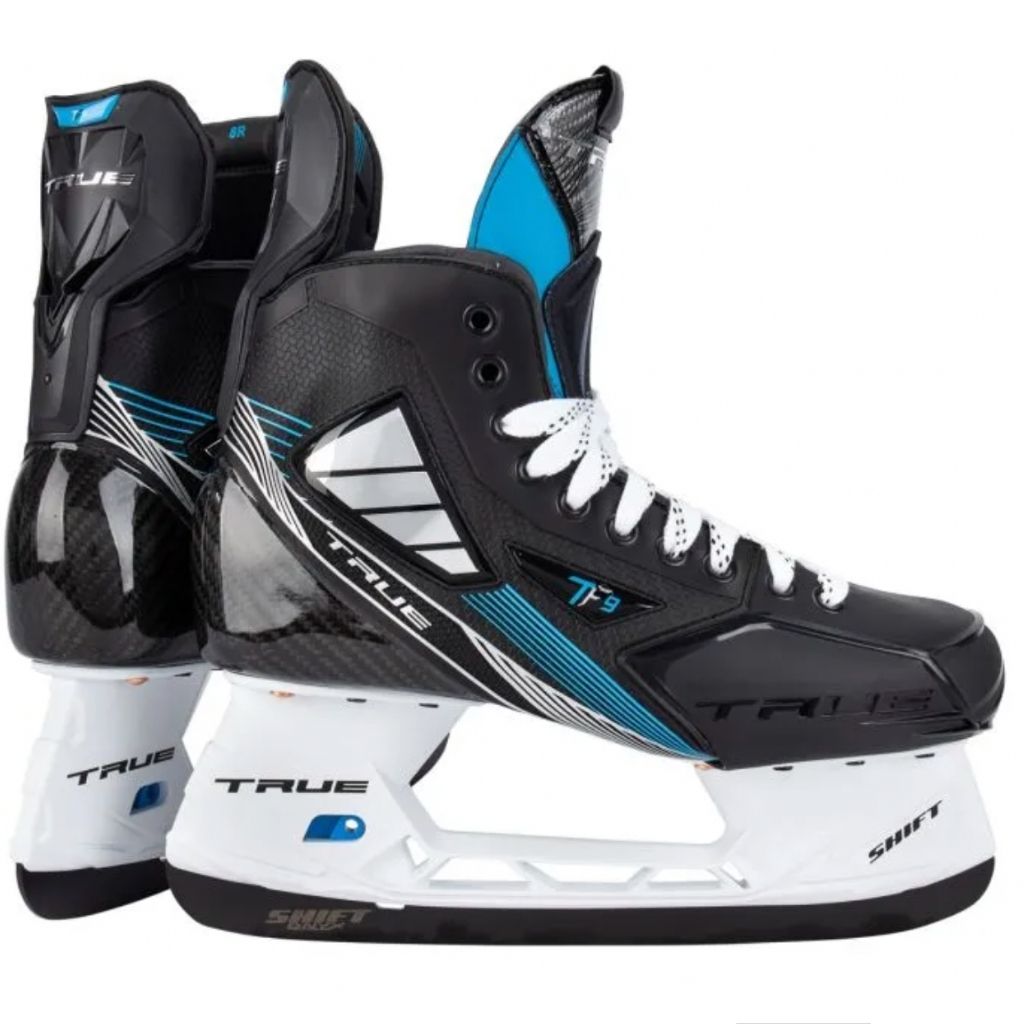 True TF9 Skates
These are a great mid-range priced pair of skates. Comfortable and explosive. Not quite on the same level as the top tier of skates, but much better than the lower tier.
Pure Hockey Price
Hockey Monkey Price
We earn a commission if you click this link and make a purchase at no additional cost to you.
True Custom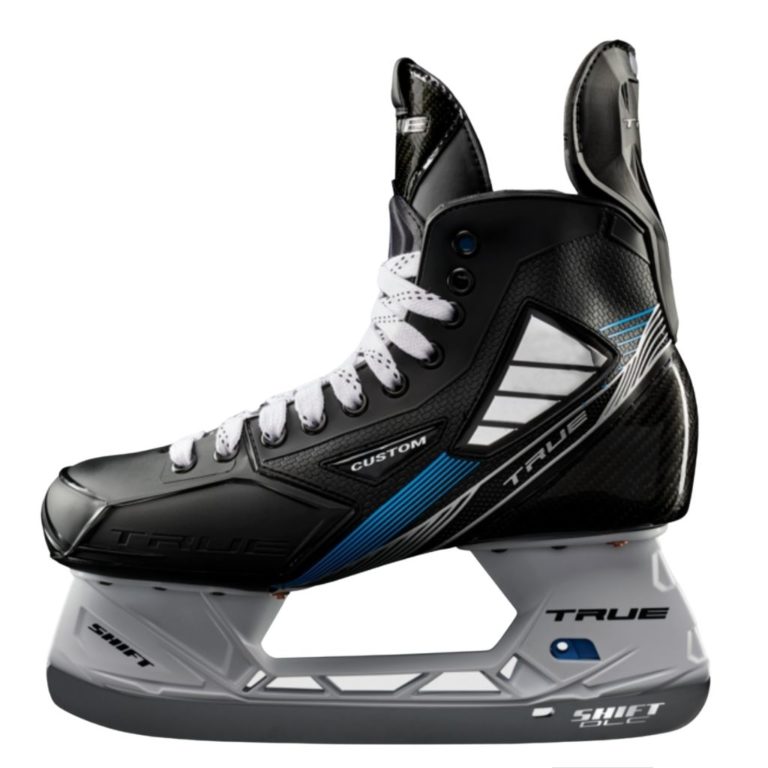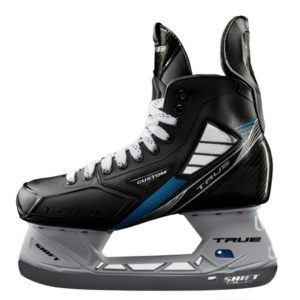 The fourth best hockey skate of 2023 is the True Custom skates.  You might be wondering why the True Custom skates are below the the stock TF9 skates, well that's because the price of the TF9's makes them advantageous over these.  Yes, these are better performing and are more comfortable, but that's beside the point.
Our Rating: 
| Skate Ratings | True Custom Skates |
| --- | --- |
| Comfort | 10/10 |
| Weight | 8.5/10 |
| Performance | 9/10 |
| Break In Time | 9/10 |
| Longevity | 9.5/10 |
| Versatility (for Different Foot Types) | 10/10 |
| Looks | 9/10 |
| Runners | 8.5/10 |
| Price | 6.5/10 |
| Overall | 80/90 |
These skates (as the name says) are completely custom.  You get to decide essentially everything in the skate, which is super cool.  This allows for a perfect fit to your foot, but there's some problems with this.  For one, these are the most expensive skates you can buy.  For two, there are more loops to jump through to get these skates.  It isn't as simple as walking into the hockey store and measuring your feet, it's a bit more complicated than that.
But, if you're willing to ignore those aspects of these True Custom skates, you aren't going to find a more comfortable pair of skates.  Yes, the Hyperlites, 100ks and even the TF9 skates are comfortable, but these are in another league.  They however a bit heavier as well.  It's like comparing a Lamborghini to a Rolls Royce.  The Rolls is obviously heavier because it's got a whole lot more going for it.  Same situation for these custom skates compared to other stock options.
Performance-wise you'll find that these are just as agile and powerful as the next skate.  They're built with a single boot piece for optimized power transfer and speed.  So performance-wise you are getting a top of the line pair of skates.
Overall you get a super comfy pair of skates in the True customs, but you'll pay the price and will also have more loops to jump through to get them.  Personally I would recommend getting the Hyperlites or the Ribcor 100ks over these for simplicity reasons.  All three are great skates, however.
Bauer Supreme UltraSonic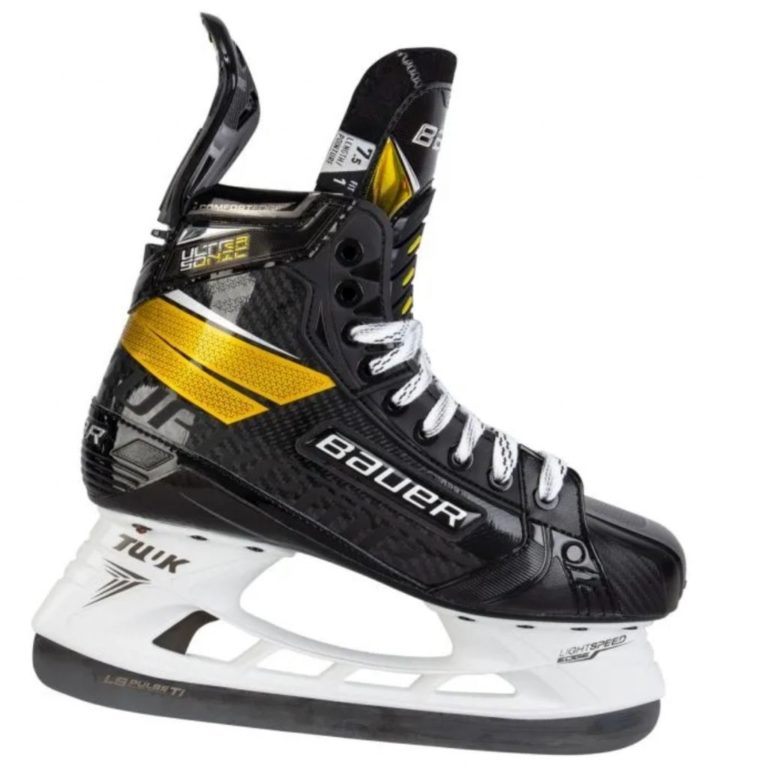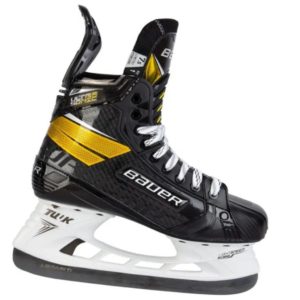 The Bauer Supreme UltraSonic skates are the last year's top of the line model that Bauer released.  There are many similarities between the Hyperlites, but there are also some differences. These skates are still priced right alongside the Vapor Hyperlite model, so we recommend sticking with whichever skate you've worn previously.
Our Rating: 
| Skate Ratings | Bauer Supreme Ultrasonic |
| --- | --- |
| Comfort | 9/10 |
| Weight | 10/10 |
| Performance | 9.5/10 |
| Break In Time | 8.5/10 |
| Longevity | 8.5/10 |
| Versatility (for Different Foot Types) | 10/10 |
| Looks | 9/10 |
| Runners | 8.5/10 |
| Price | 7/10 |
| Overall | 80/90 |
The Bauer Supreme UltraSonic skates are meant for the hockey player that is dynamic and agile.  These skates are very comfortable and are designed for elite performance.  The skates are "split" into four different zones with each zone having it's own purpose.
The first zone of the UltraSonics is in the toe and it maximizes the acceleration from stopped to skating.  The second zone is designed to transition the skater from acceleration to longer strides.  The third zone is the zone meant for pure speed and the fourth zone is to keep the skate stabile.
Not only that, the boot of the UltraSonics are stiff in the lower portion which transfers energy better than previously.  You can get moving quickly in these skates.
Lastly, the UltraSonics are mobile and flexible.  The Reflex Tendon Guard, Reflex Pro Tongue and Flex Facing technology all optimize the mobility in the boot of the skate.  The UltraSonic's flex rating received a score of 90.
Overall, we really liked these new skates from Bauer.  They're comfortable, lightweight and overall just feel really good.  If you have the money to spend, there is no real reason to continue further down the list.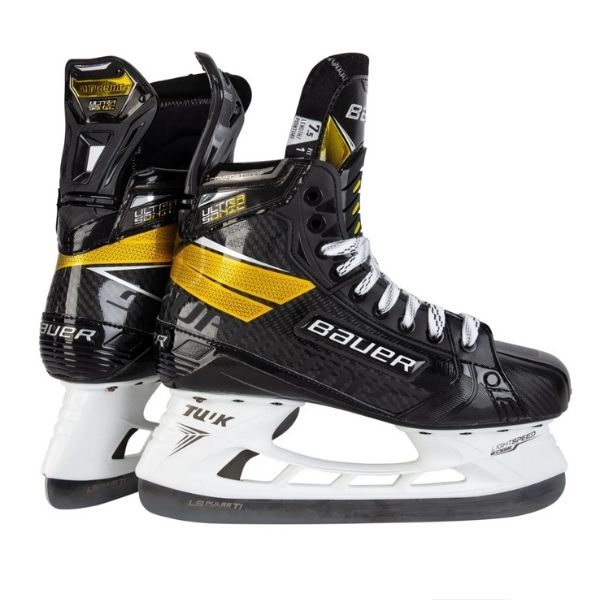 CCM Jetspeed FT4 Pro
The next best hockey skate of the year is the Jetspeed FT4 Pro.  How these skate companies are able to continuously improve the quality and performance of their skates is very impressive.  It feels as though some point the level of quality from one skate to the next has to diminish in some respects.
But that's not to take away from the FT4 Pros.  These skates are all about acceleration and lightness.  You can choose from two different tongues and three different shapes of boot.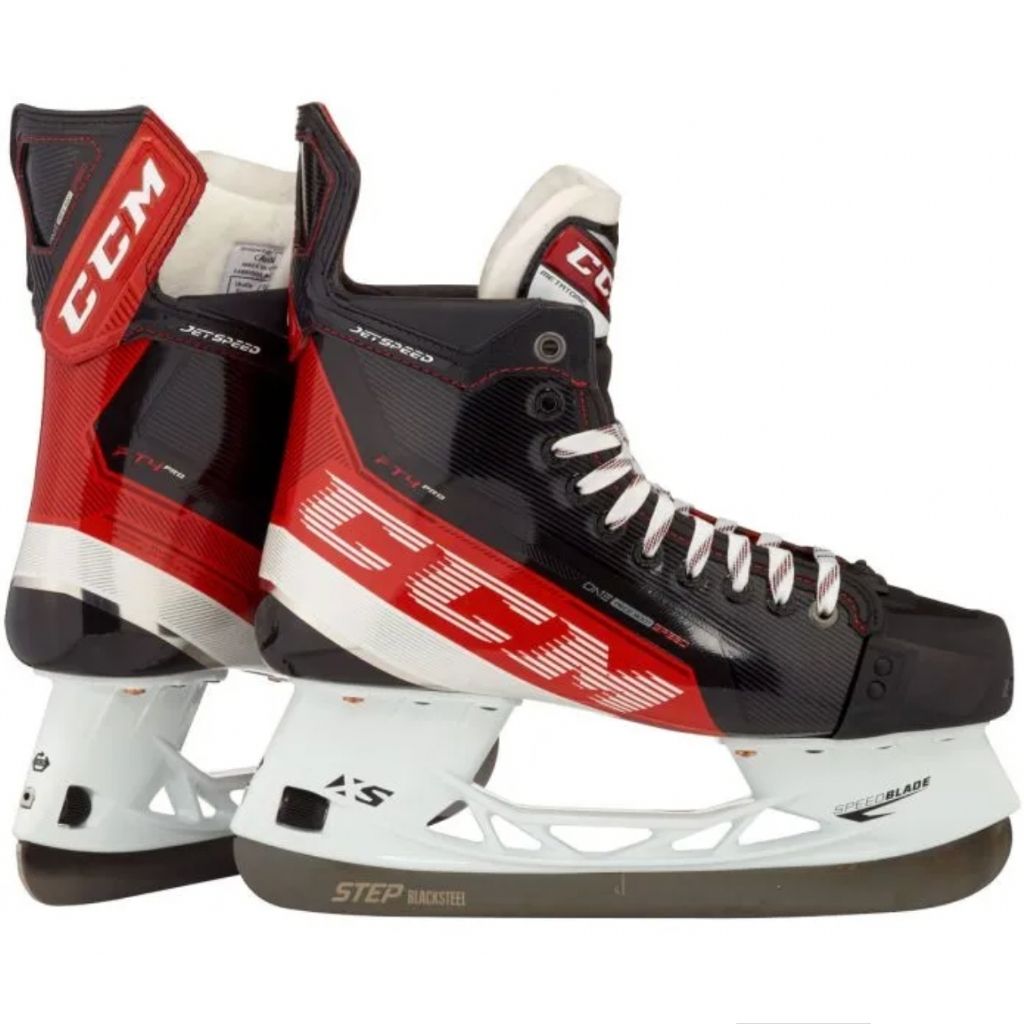 CCM Jetspeed FT4 Skates
The CCM Jetspeed FT4 skates are a highly touted skate in the hockey industry. While not the latest model CCM has released, they feature quick acceleration and comfort.
Pure Hockey Price
Hockey Monkey Price
We earn a commission if you click this link and make a purchase at no additional cost to you.
Related: Best Hockey Sticks
CCM Super Tacks AS3 Pro
Editor's Choice for best skates for medium sized fits preference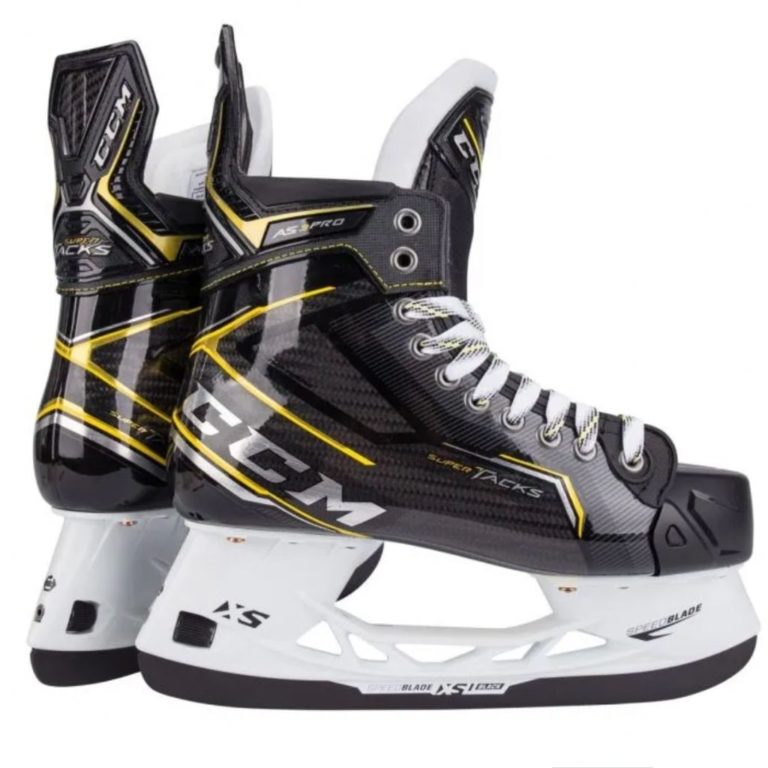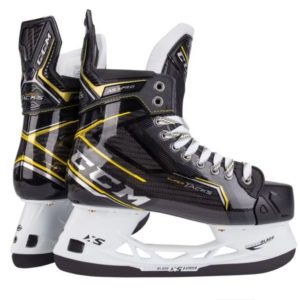 The CCM Super Tacks AS3 Pro Hockey Skates are one of the most advanced and highest performance hockey skates on the market. Actually, the CCM AS3 skates are one of the best goalie skates available, but on the player side, they pale slightly to the Bauer UltraSonic. There's so much to like about this model from CCM, we wrote an in depth CCM AS3 Pro Skate review article in addition to this piece.
Advantages:
CCM's highest performing skate
One piece design maximizes energy transfer
Total Dri Pro moisture wicking
Interchangeable tongue
Speedblade XS allows for quick blade changes
Disadvantages: 
The CCM Tacks AS3 hockey skates were new for 2020.  So not brand new, but still elite in many aspects.
These are extremely comfortable, especially if you have medium-sized feet.  Not too big or too skinny, but right in the middle.  A lot of skates are designed for skaters with average feet, but these are best skates you can get for them.  The tongue also does have an interchangeable option with thinner or thicker tongues, allowing for a custom feel (not included).
The AS3 Pro skates are true one-piece design skate.  This allows for better transfer of energy into the ice, compared to other two-piece skates.  The MonoFrame boot in these skates are engineered for the purpose of power and speed.  And to be honest, we found that these skates weren't far behind the top Bauer skates in this category.
And finally, CCM has introduced the brand new foot bed, the Ortholite Ultralight footbed.  It's the most comfortable footbed CCM has produced yet, and it also had moisture wicking technology that keeps the feet dry during play.  Obviously, when you are playing hockey for a couple hours, you are going to sweat quite a bit.  But these are nice because the moisture wicking tech will reduce the amount of sweat that gather.
Overall, you won't be upset if you decide to go with the Tacks AS3 Pro's.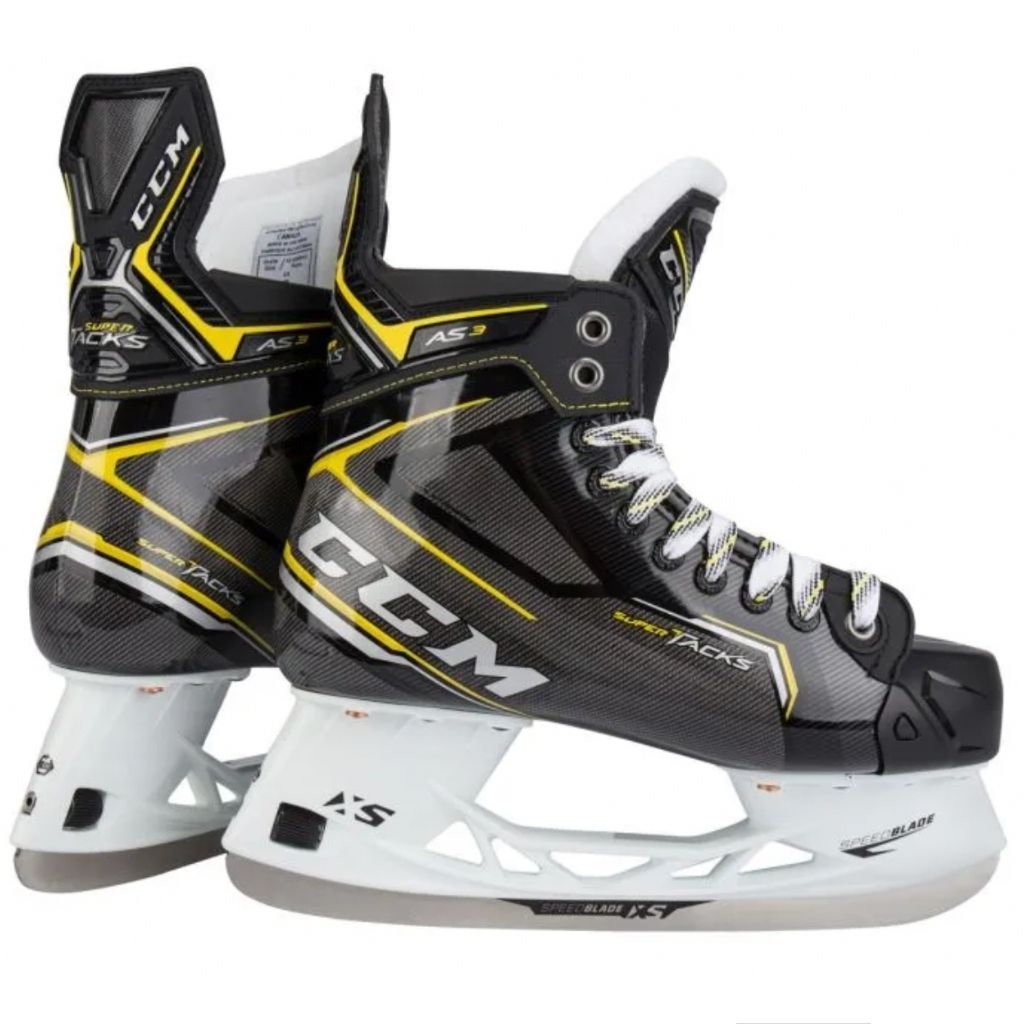 Related: Best Hockey Gloves
Bauer Vapor 2X Pro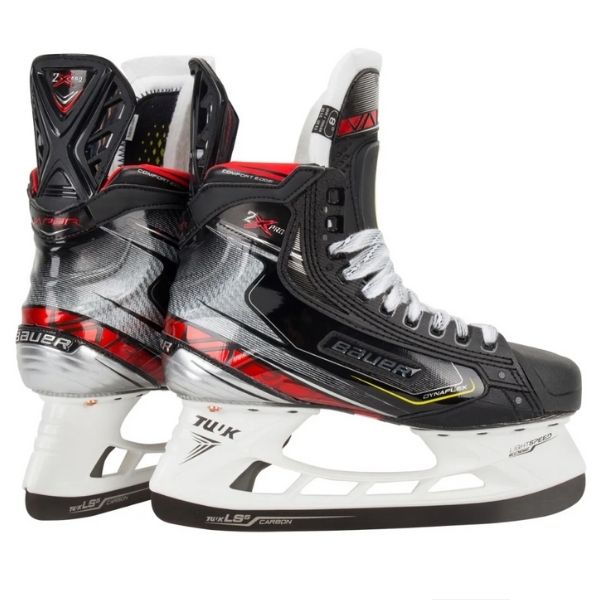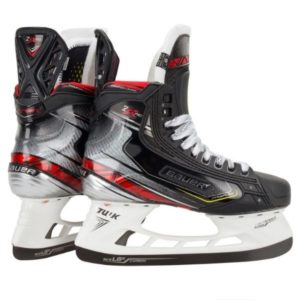 The Bauer Vapor 2X Pro skates are getting to be outdated in today's hockey world, but the reality is that these are not a bad pair of skates by any means.  They are still some very comfortable skates that still deserve some love in 2023.  The best part about these hockey skates is that they're selling at a discounted price right now because they're a model that is now two years old.
Advantages: 
Lightweight
No lace bite
Quick removable blades
Designed for powerful stride
Moisture wicking
Reduced price
Disadvantages: 
Not considered to be "elite" anymore
The Bauer Vapor 2X hockey skates are a quality pair of skates in 2023, but they just aren't at the level of the other top skates.  Which is why the price has been reduced, making it a steal.
Per usual Bauer skate, they're super comfortable.  They feature Aero Foam Pro padding and Bauer's DynaFlex System that allows for maximum ultimate mobility in the boot.  Overall comfort-wise you can play for hours in these skates and your feet will still feel incredible.
These skates are highly optimized for power.  They're not as high tech as the new UltraSonic skates, but the low toe cap in the 2X's really helped maximize the energy transfer from the body to the ice.  While you will likely find that the skates listed above are higher performers, don't count these out.
What people were saying about the Bauer Vapor 2X Pro skates:
"I've never had a skate more comfortable right out of the box."

" My previous skates fit, but never felt great on my feet. These skates feel AMAZING!"
Overall if you are still looking for a pair of skates that are going to kick-ass on the ice, these are a solid choice.  You get the high end comfort at a low price… not much more to look for in a pair of skates.
On Sale Now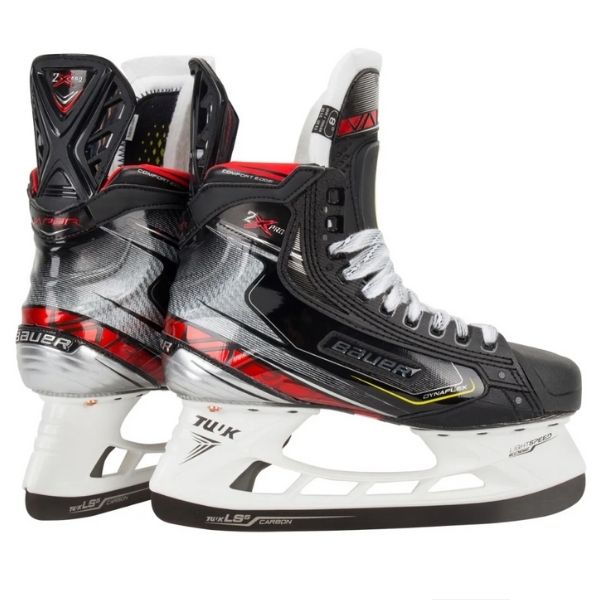 Related: Best Hockey Helmet
CCM Jetspeed FT2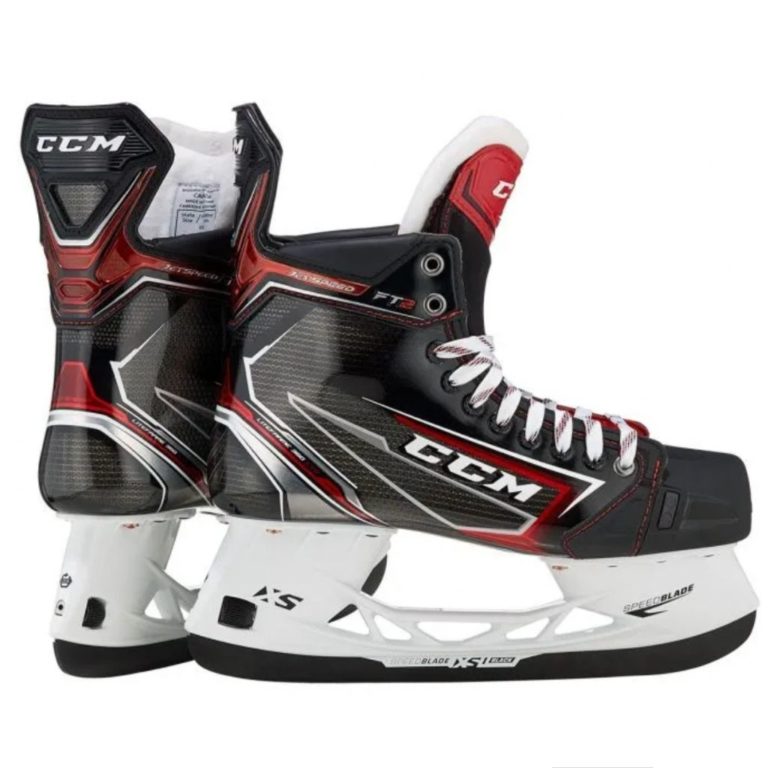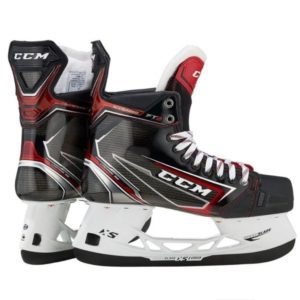 The CCM Jetspeed FT2 skates are designed for the elite hockey player.  Here's what I did and didn't like about them.
Advantages: 
First one piece boot
Tapered fit
Really good strides
Comfortable OrthoMove footbed
Moisture wicking
No lace bite
Disadvantages:
Probably not for wide foot skaters
Expensive
The CCM Jetspeed FT2 skates are some of the top rated skates that CCM has built.  Yes, they are getting a little older, but they're still an elite skate.  They are the first skates in the Jetspeed lineup to feature a single boot, which allows for maximum energy transfer.  You can absolutely move in these skates.  The boot on these skates is tapered and thin, so I would recommend getting these if you have thin feet.  And I would highly recommend staying away if you have large feet.  You want your skates to fit perfectly.
Other than that, the foot bed on the FT2's are really comfortable.  The arch support allows for maximum power in your push.  There was no foot pain or anything of the sort.  Right out of the box they felt good.
Back to the skate, the Metatomic tongue reduces the lace bite but allows for ultimate mobility.  And the TotalDri Liner keeps your feet dry and comfortable.  These skates are also very durable.
Overall, these are some super popular skates.  Just like the rest of the skates on this list, they're comfortable and perform at the highest level.  If you are a big CCM fan, and have small feet – we highly recommend these ones.
On Sale Now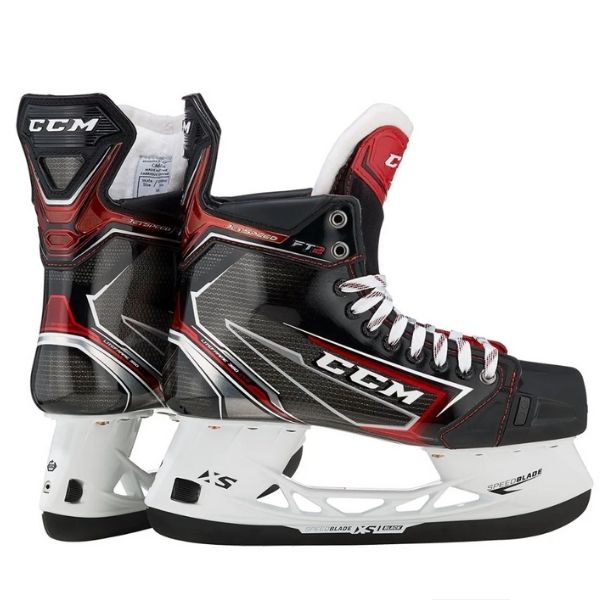 Related: Best Hockey Pants
Why you should invest more for better hockey skates
First of all, comfort.  We've all been there – practice starts to drag on a little longer than normal and the feet start hurting.  You start to pay attention to the pain and it results in a less than wanted skate.  Pucks start bouncing off the stick and shots start missing their mark.
Maybe you start dragging your feet a little bit and coach yells at you for not trying.  Pretty soon you find yourself in the dog house because you aren't moving your feet.  You get benched.
How could of all this been prevented?  By getting comfortable pair of hockey skates.
It's so criminally underrated how skates can change your game.
Most people want to skimp on hockey gear, but it really doesn't provide any value because you're just going to have to replace your budget skates so soon regardless.
Hockey is better when you're out on the ice, buzzing with the boys.
We here at The Hockey Guys are in favor of spending money on high end gear for the best possible performance.  And we don't just recommend it, we do it ourselves.  Take our word for it, or don't!
Everything else you need to know about getting the most out of your hockey skates
We talked a ton about things like the lightest material, which type of Carbon Fiber or skate blade steel used on the highest performing skates the market has, but we skipped a some of the top questions we get surrounding skates. Learning to maintain your skates properly helps you maximize the results you get on the ice and can make all the difference in a big game.
When do I sharpen skates? 
The top hockey players in the world sharpen their skates before every game, at minimum. In fact, some NHL players actually sharpen their skates in between periods! In general, sharpening skate blades should take place at the users discretion. There are ways to determine when your edge has been reduced, or damaged, which is a helpful indicator that you should sharpen your blades.
Should I buy hockey skates or figure skates?
If you're unaware, hockey skates are quite a bit different than figure skates. While this is common knowledge to some, it's a fair question if you're new to buying skates. While there are major differences between hockey and figure skates, it would be unfair to address them all in a paragraph. Take a look at the linked guide for more of the differences between the two.
Hopefully this has been a helpful post for about the highest ranked hockey skates on the market.  Yes I know that this list was by no means cheap, but that's besides the point.  We're talking about the best of the best, not some low level garbage.
Hockey is meant to be fun and enjoyed, so enjoy it more while wearing a sick pair of skates.
Thanks for reading and good luck!