Looking for the best mouth guard you can get to play hockey in?  Perfect.  That's what this article is about.
Hockey is a very fast-paced game and a sport that can be dangerous if the right equipment is not used. The mouthguard is a very important piece in protecting your body while playing. Many people may not think that the mouthguard is very crucial or important. The mouth guard is indeed very crucial for one's safety while playing hockey.
Here are the top-rated mouthguards for hockey.
The Safest + Most Comfortable Hockey Mouth Guards
There are a lot of factors that come into play when picking a new mouthguard.  Most hockey players like to keep it simple yet effective, which is why we recommend the Sisu Max mouth guard the most.
Sisu Max Mouth Guard
Editor's Choice For Best Overall Hockey Mouth Guard
The Sisu Max is the best mouthguard you can get when it comes to hockey.  Here's what I did and didn't like about it.
Pros:
2.4 mm thin (30% thinner than most other guards)
Sisu's most protective mouthguard
Easy to talk with it on
Holes for optimized breathing and drinking
$35,000 dental warranty
Nontoxic
Cons: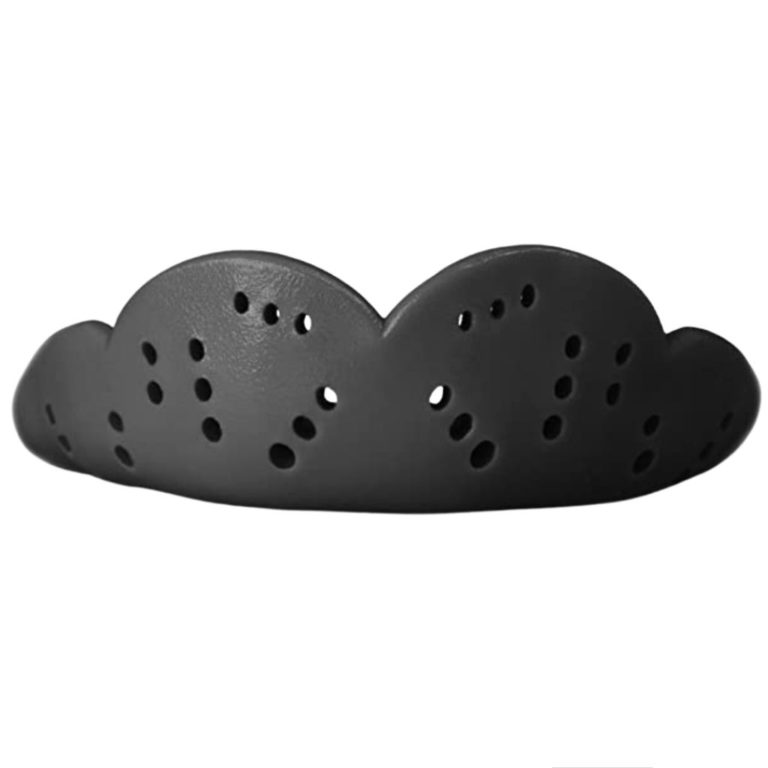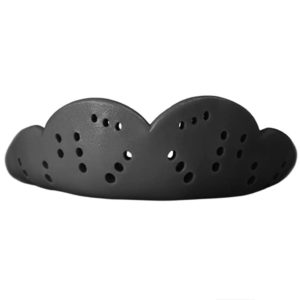 The Sisu Max is one of the best mouth guards that you can purchase for hockey because it's not very large or clunky.  Probably one of the most annoying things about a normal mouthguard is that you can't talk with it in because they're usually so large.  That isn't the case with this or the next two mouth guards on this list.  They're super easy to talk while you are wearing them.
And because the Sisu Max is a thinner guard compared to most, it doesn't take up a whole lot of real estate in your mouth.  This is convenient especially when it comes to hockey.
You might think that because this hockey mouthguard is only 2.4mm, it doesn't offer a lot of protection.  Which isn't the case.  
There are plenty of protective mouth guards on the market and this is one of them.  The material that Sisu uses in their mouth guards is 50% stronger than other conventional mouth guards (source: Sisu).
You just get the added benefits of a custom fit to your teeth and excellent talking abilities.
Overall it's hard to go wrong with the Sisu Max mouth guard for hockey.  Yes, you'll pay a bit more, but the added benefits it provides are definitely worth it.
Shock Doctor Pro Mouth Guard
Pros:
Low profile and sleek design
Quick boil and mold setup
Inexpensive
10,000 dollar dental warranty
Easy to talk in
Cons:
Not as protective as other mouthguards on the list
This is one of my favorite mouth guards for hockey if you're running on a budget, but still want a nice guard for hockey.  This one doesn't feature the same quality as most of the mouth guards on this list, but it is something to protect the teeth and the brain from concussion.
You don't have to break the bank to get it either.  The one concern that I would say is that sometimes it is worth it to get a higher quality piece of equipment.  However, I do not want to take away from the idea that this mouthguard DOES work.
It also has a 10,000 dental warranty as well.
Overall, the Shock Doctor Pro is our choice for the best budget mouth guard for hockey.
Sisu Aero Mouth Guard
Editor's Choice for Best Communicating With
The next ranked mouthguard for hockey is the Sisu Aero.  The biggest advantage of the Aero is that it's 50% thinner than the standard mouthguard on the market but still offers great protection.
Pros:
One of the thinnest mouthguards on the list (1.6 mm)
50,000 limited dental warranty
Nontoxic
Custom-fit to teeth
Breathable and easy to talk in
Cons:
Slightly less protective than the Max (above)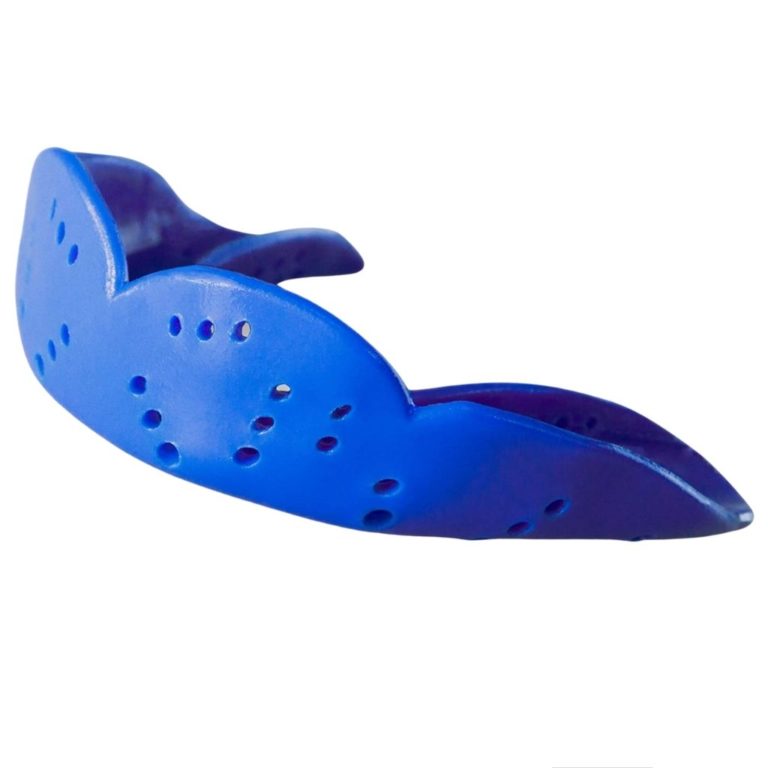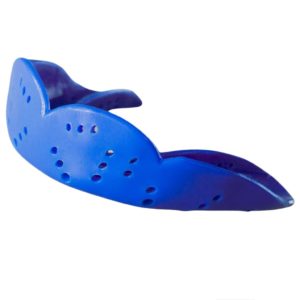 The Sisu Aero mouthguard is one of the best options for hockey players that want a comfortably fitted mouthguard.  Similar to the guard above, using warm water you can get the perfect fit and feel that you desire.
What really elevates this guard above many of the other ones on the market however is its thickness.  It's only 1.6mm which makes it one of the thinnest on the market.
We all know that the best hockey players are the ones that are able to communicate on the ice at all times.  With a mouth guard like the sisu aero, you'll have no issues with talking.
The holes on the front of it make it easy to breathe and the material (thankfully) isn't toxic.  The only concern you might have is slightly less protection than some of the other hockey mouth guards.  That being said, don't count this one out.
Overall you're getting supreme comfort and talking abilities with the Sisu Aero mouth guard.
Related: Best Hockey Sticks For The Money
NXTRND Zero Mouth Guards
Editor's Choice for Best Mouth Guard Combo Pack
Pros: 
Two mouth guards included
Double layer design for optimal impact absorption
Slim fit (1.6 mm)
Very easy to speak, drink and breathe with
Quick molding
Cons: 
Isn't compatible with braces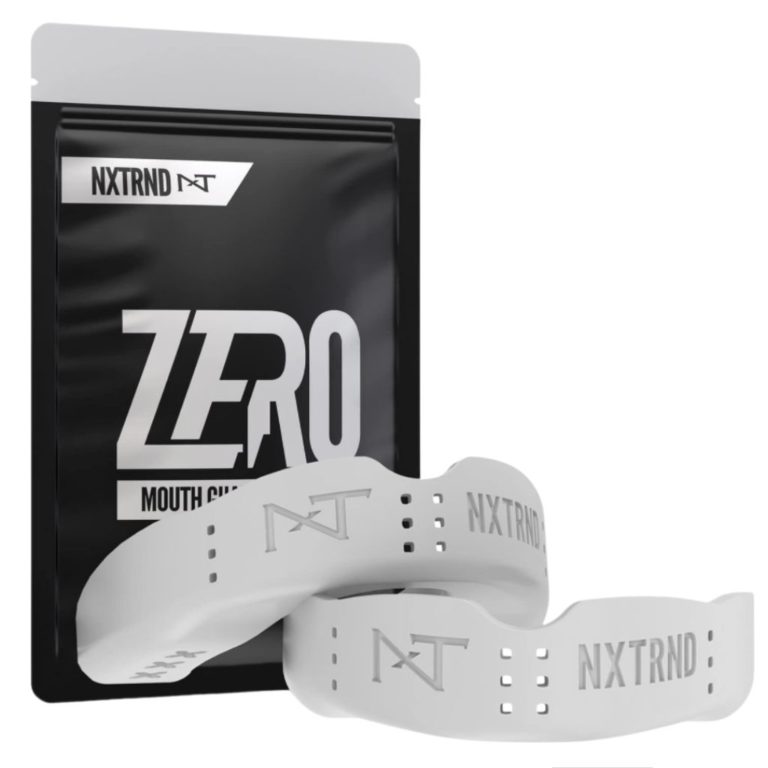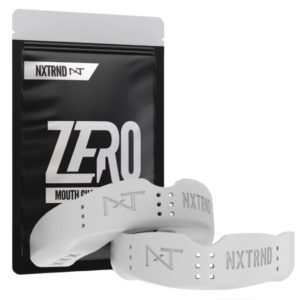 This combo pack of mouthguards by NXTRND are two solid mouthguards for hockey players.  Similar to the Aero mouth guard above, these guards are only 1.6mm thick.  Which makes them awesome for talking in.
The engineers behind these mouth guards wanted to get the absolute thinnest material they could, while still offering a lot of protection against concussions and head injuries.  You get the best of both worlds here.
Hockey is a very communicative sport and having the ability to communicate freely without discomfort is a great advantage over other guards.  The only issue with these guards is that they don't have a dental warranty.  Overall though if you want solid hockey mouthguards at a good price, the Zero mouthguards are the way to go.
Under Armor Sports Mouth Guard
Editor's Choice: Best Hockey Mouth Guard For The Money
Pros: 
Comfortable fit with the gel liner
Dual layer design for impact absorption
Inexpensive
10,000 dental warranty
Internal channels for better breathing capabilities
Cons: 
Tricky to mold
Isn't great for braces
The Under Armor Pro mouth guard is another one of our top options for hockey player mouth guards.  This one has a dual-layer protection system for optimal impact absorption.  It also features a gel liner to provide better comfort during long skates or games.
An interesting feature of this guard is that it also features channels that allow for easier breathing.  Overall this mouthguard is an awesome option for all hockey players alike.
Venum Challenger Mouth Guard
Pros: 
Lightweight
Comfortable
Inexpensive
Breathable
Cons:
Different molding process
Might wear out in a couple of months if you are a serious chewer
The 5th best mouthguard for hockey is the Venum Challenger.  It isn't as thin as the two Sisu mouth guards, but it's still very protective and lightweight.  This mouth guard is originally designed for fighting and boxing by Venum, so you already know that it's designed to be a heavy hitter!
The only problem that people have had with the Venum Challenger is that it does tend to break down a bit easier if you bite down a lot.  Which, I was a hockey player myself and I know how much we like to chew on the sides of them.  If you aren't one of those guys, this is a solid mouth guard to have… But I know most of you shouldn't go with this one.
You will also have to follow the molding instructions clearly because the process to fit the mouthguard to your teeth is slightly different than other mouth guards.  Just keep that in mind.
Overall though, the Venum Challenger is a solid option for hockey because of its minimalist and comfortable design.
Related: Best Hockey Skates
Shock Doctor Ultra 2 STC Mouth Guard
Pros:
Triple layer of protection
Highly shock absorbent
Low profile design
50,000 dollar dental warranty
Cons:
Price
Potential durability concerns
This mouthguard by Shock Doctor is another high-quality option for hockey players.  It features a 3 layer design that is built to absorb impact and shock very well.  Because it has a low-profile design, it is fairly easy to talk in and doesn't take up a whole lot of space in your mouth.
It's also quite comfortable.  We've all had those $5 mouth guards from Walmart and to be honest, they generally suck.  This isn't the case here… it's comfortable, protective, and using warm water, you can get a perfect fit for your teeth.
The price tag is a little high, but there aren't a whole lot of better options on the market.  Shock Doctor is usually a trusted brand in the hockey and mouth guard community.
Related: Best Hockey Helmets 
Shock Doctor Gel Max Power Carbon Convertible Mouth Guard
Pros: 
Low profile design
High impact technology
Reinforced outer frame for more protection and durability
50,000 dollar dental warranty
Cons:
Some may find it uncomfortable
Slightly bulkier
The Shock Doctor Gel Max Power mouth guard is another one of the best mouth guards that you can get for hockey.  It's in the middle in terms of price, but has a low profile design and is designed to withstand high impacts.
It also has a 50,000 dollar dental warranty.  The outer frame of the mouth guard is also reinforced to ensure better protection and long-lasting durability.  Overall, this is one of the top-rated hockey mouthguards you can get, despite not being as slim as the thinnest mouthguards on this list.
Related: Best Hockey Gloves
ACCO Mouth Guard Sport
Pros:
Slim fit
Custom fitting
Speak clearly and drink with
Protective and shock absorbing
Inexpensive
Cons:
The ACCO Sport mouth guard is very similar to the other Sisu mouth guards higher up on the list.  Both feature shapable mouth guards with slim fits and awesome speaking abilities.  The only reason that this mouthguard is on the bottom of the list of best mouth guards for hockey players it almost feels like a knock-off Sisu mouthguard.
Although it does have some positive reviews, our biggest question here is "how well does it absorb impact?" and "how long will it last?".  The price of this mouthguard is far cheaper than the Sisu guards but appears to be the same thing.  Some durability concerns definitely rise here, although the breathability and speaking ability are awesome with this one.
Related: Best Hockey Bags 
What Should I look for in a Mouthguard?
First of all while looking for the top mouth guards for yourself or a child, you are going to want a mouth guard that is slim and fits comfortably in the mouth.
The mouthguard should fit snugly and not move around too much. You'll also want to get a high-quality mouthguard that has great speaking abilities.  In hockey, you are talking a lot on the ice, so having a mouth guard that you can communicate with is very important.  You don't want to struggle while trying to talk.
You also want it to do the most important thing for your brain, prevent concussions.  The best way to ensure that your mouthguard is in your mouth at the time of impact is to get a mouthguard that is comfortable.  If it isn't comfy, you will probably leave it hanging out of the side of your mouth.  It's completely ineffective when your mouthguard is hanging out of the side of your mouth.
The biggest thing here though is to get a great mouth guard that is comfortable and thin.  Those are the two biggest features to look for.  If your mouthguard is comfortable, you'll most likely keep it in your mouth the entire skate, rather than chewing on one side.
What is the purpose of mouthguards in hockey?
Hockey is one of the most important sports to have a mouthguard in for.  Even if you are playing youth hockey or are a parent of a child that will be playing youth without checking, you will want to have a mouth guard as we all know anything can happen on the ice.  Ice is slippery.
You can slip and hit the boards or a goalpost in an instant.   You definitely want to have a mouthguard in for potential situations like that.
If you are playing bantam hockey or up, it's obvious that you will want a mouth guard because you will more than likely get checked while playing.  If you don't have a mouthguard in, you could easily find yourself laid up with a concussion for a couple of weeks.
And then there is always the possibility of chipping a tooth or suffering some other dental issues while playing hockey.  Mouthguards will effectively reduce the chance of getting dental problems.
The key is to find a mouth guard that is comfortable and enjoyable to talk in.  If it feels good and you can talk while wearing it, you will be perfect.
Conclusion
When you are getting a new mouth guard for hockey, you want it to be a slim fit, comfortable, and high absorbing.  Hockey is a quick and violent sport and you want your brain and teeth to be protected at all times.  Spending $30 on a new mouthguard might seem like a lot right now, but it might be a brain saver at some point down the line.  Consider and choose wisely!
Thanks for reading!