Speed is a highly-valued commodity in the sport of hockey and players look for any way they can to enhance their own velocity on the ice.
Having a premium quality set of skates is one of the main contributing factors to maximizing your speed and the CCM JetSpeed FT2 Hockey Skate is among the best products on the market that is geared mainly toward helping users play at a faster level than others.
CCM is widely recognized as one of the best brands in the hockey industry and their newest lineups of skates are made to very high standards that simply out-match most other competitors by a long shot.
The new JetSpeed FT2 has plenty of interesting and impressive features but also offers some exciting new developments in the way of enhancing player speed, as well as agility, and other in-game characteristics that are capable of giving an edge to those wearing these skates.
Let's take a closer look at the CCM JetSpeed FT2 Hockey Skates and the many new features and capabilities that are included in them to see just how players can gain an edge over the competition with these newly-released skates.
JetSpeed FT2 Hockey Skate Overview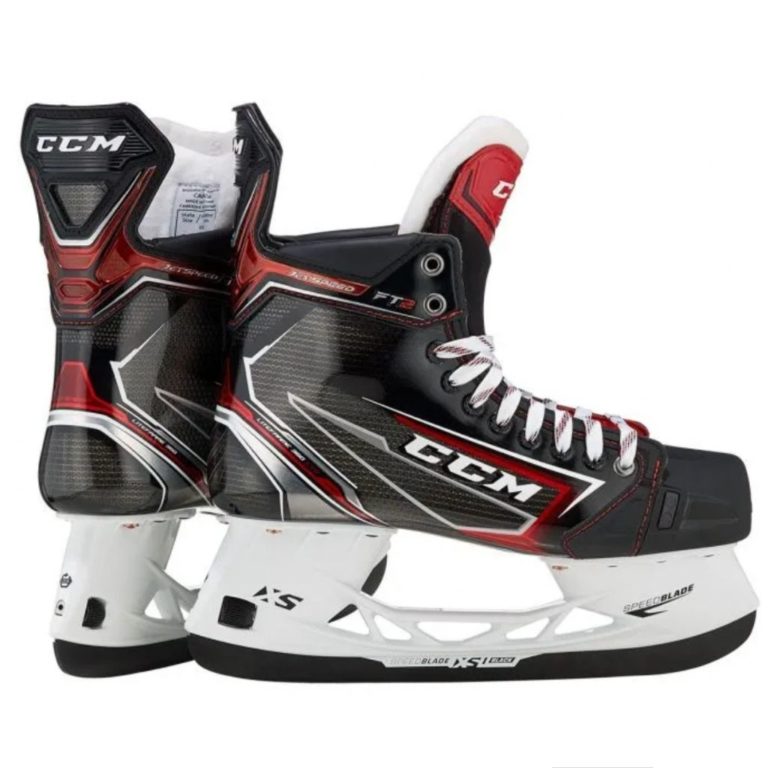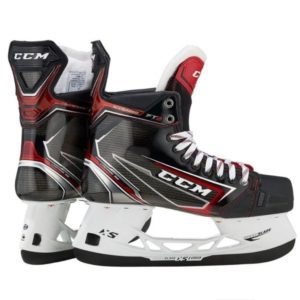 If the name is any indication as to what these skates are specifically designed for, it's obvious that speed is a high priority for CCM's engineers as they have worked for years to develop skates that deliver an array of quality features that are aimed at increased velocity on behalf of those who wear the JetSpeed FT2.
The different ways that these features help to enhance player speed is interesting, to say the least.
The very appearance of the CCM JetSpeed FT2 Hockey Skate is one that exudes speed in every aspect, from the boot itself down to the NHL caliber blade that is made to cut through the ice in a way that limits friction and leverages the power of each stride.
On Sale Now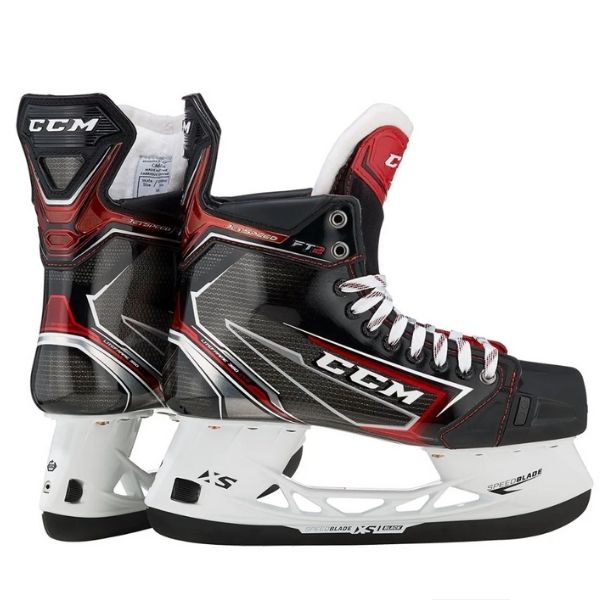 One Piece Boot Construction
One of the main keys to CCM's overall design that is made to enhance a player's speed is a solid, one-piece boot design that cuts down on the amount of movement of the foot within the skate's boot itself. This is revolutionary technology and makes the FT2 skate one of the better skates on the market.
CCM has dubbed its new boot design Lifeframe 360 EVO and boasts that this particular boot model is capable of offering improved durability and a better overall fit for most players.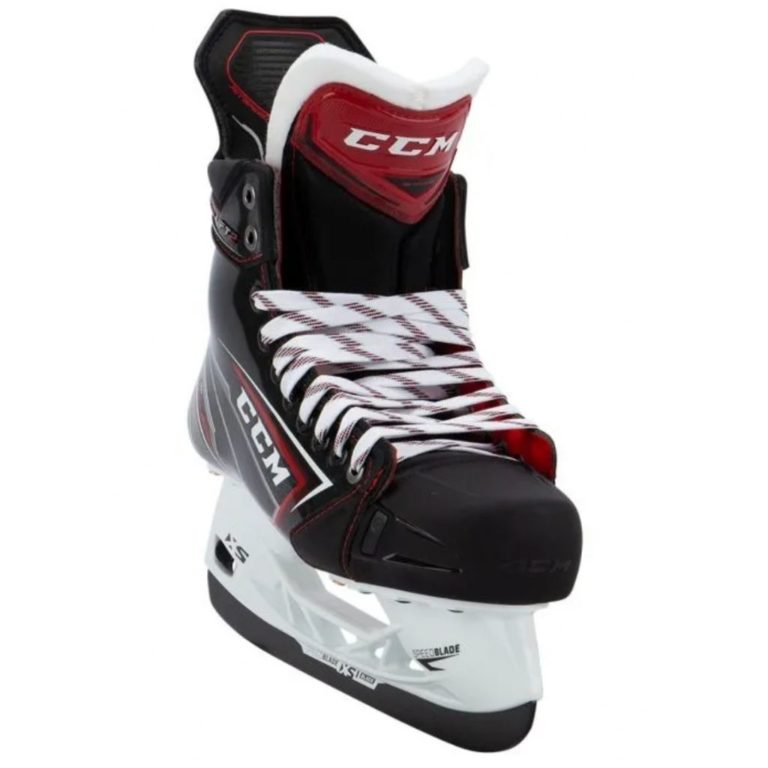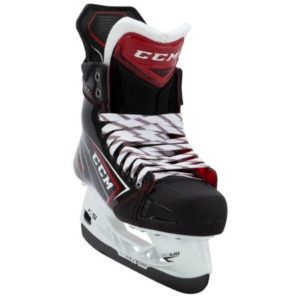 The FT2 is specially designed for players with a wider heel and foot. Having a boot that fits like a glove is one of the most important, yet overlooked factors when it comes to creating skates that are designed for speed.
While the FT1 is a bit more narrow, users will immediately feel that they have more room in the FT2. This is a welcome change for players who have wider feet, which is also sometimes considered to be an advantage on the ice in terms of speed as they are capable of driving more power in each stride.
RocketFrame Composite Material
Another component of the CCM JetSpeed FT2 Hockey Skate that goes a long way in ensuring that players can reach greater speeds with this model is the fact that the boot itself is made out of a new, high-grade material that's designed to make players faster on the ice.
CCM's engineers have developed a material they have named RocketFrame Composite that is capable of delivering the same amount of stiffness and support despite weighing much less than other types of composite material.
Improvements In Skating
This new material has allowed engineers at CCM to lengthen the blade of these skates and create a product that lets players get more power and speed in every stride.
Players from a range of skill levels have commented on the lightweight feel of the CCM JetSpeed FT2 Hockey Skate, noting that the overall fit and feel of the skate are clearly designed for helping players reach greater speeds.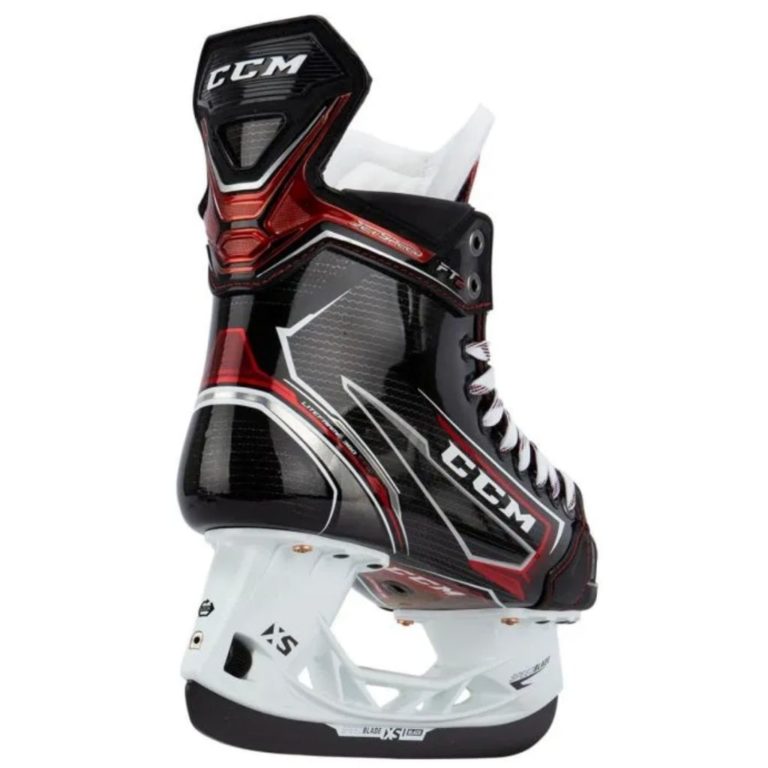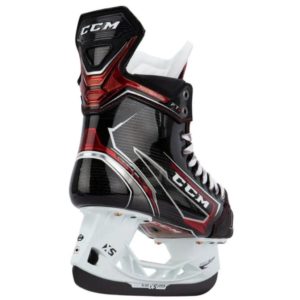 Related: Bauer Ultrasonic Skates Review
Better Blade System
It's quite obvious that one of the most important factors when it comes to a skate that is geared toward quickness is the quality and design of the blade itself. CCM has created the JetSpeed FT2 Hockey Skate with Speedblade XS1 Black blades.
These are premium-quality oxide-treated blades that are designed to give users a much longer lifespan than ordinary blades. The blade is taller than other styles offered by CCM, which means users can achieve a better sharpness to help add to their advantages on the ice.
These blades are held in place by CCM's new Speedblade Xchange System, which is crafted to be very easy to use while also giving players the ability to quickly and easily exchange blades as needed.
With the simple twist of a dial and removing a small pin, the blade can be freed and swapped out for a new one in minutes as opposed to the lengthy process of removing older style brackets and other parts of your skate.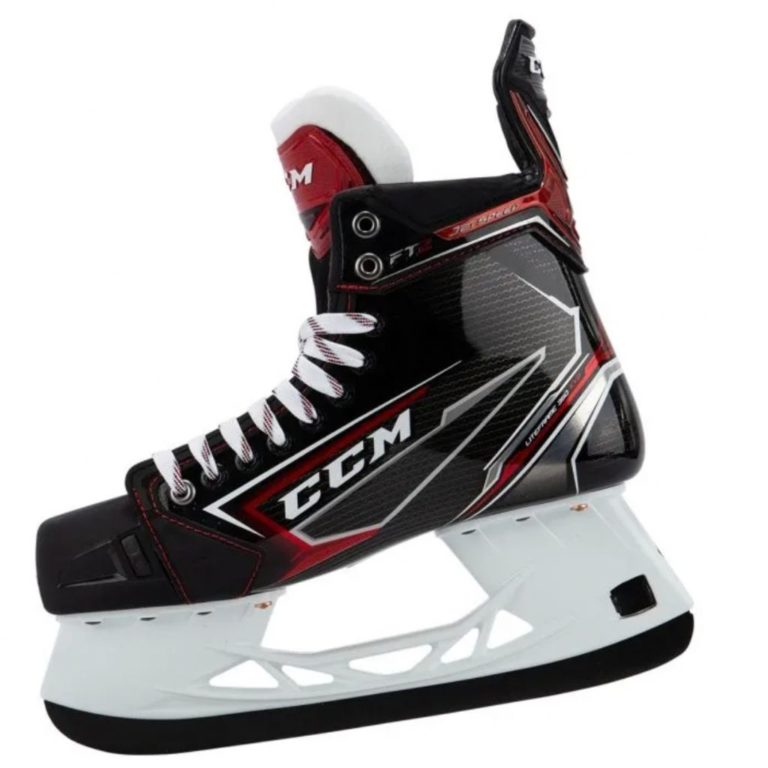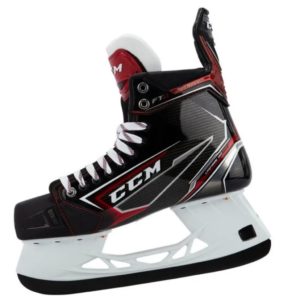 NEW: CCM FT4 Skate Review 
Other Notable Features
The CCM JetSpeed FT2 Hockey Skate is a product that's packed with impressive features from the super comfortable Orthomove footpad to the lightweight molded foam tongue insert.
Players can add their own special, customized insole to the JetSpeed FT2 in order to match up their own specific needs in terms of foot arch and other factors that play a smaller, yet pivotal role in increasing player speed on the ice.
On Sale Now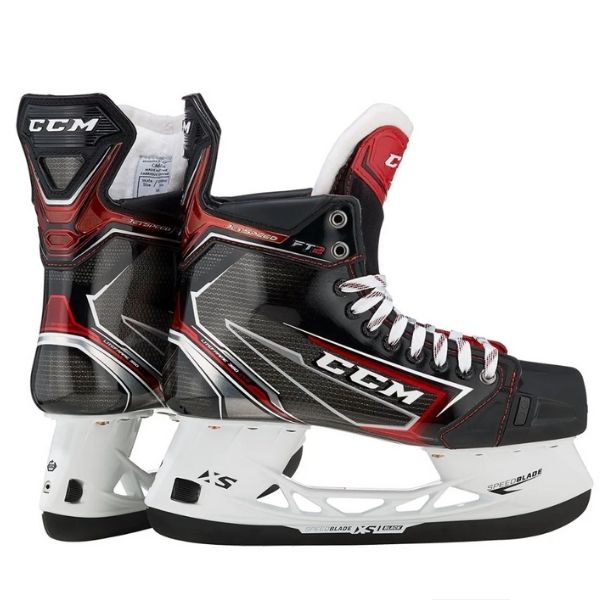 Final Verdict
If it's speed and agility you're looking for, there's no question that the CCM JetSpeed FT2 Hockey Skate is the product you want.  That being said, there are better CCM skates on the market such as the Ribcor 100k skates if you feel these are past their prime.
These skates are especially popular with many players at the elite level and they offer plenty of premium features that make it hard to match for other competitors' models. These skates offer plenty of stability and protection despite being made out of a surprisingly light material that seriously increases a player's footspeed and stride length.
The JetSpeed FT2 is the ideal choice for players with a wider heel who still want to ensure that they have as much quickness as possible. These skates are likely an indication of how next-generation models will look and feel in the coming years as companies continue to advance and move toward stronger, lighter materials when producing skates.