The CCM Ribcor 100k skate is a serious skate, built for serious hockey players. It also comes with a serious price tag. It's not an entry level skate, the CCM Ribcor 100k skate is one of the single highest performance hockey skates on the market. It's one of three top of the line skates built by CCM, the others being the CCM JetSpeed FT4 Pro and the CCM AS3 Pro skates.
While the actual build differences between each of CCM skates are debatable, there is no debating of these skates. The Ribcor 100k skates are used by multiple players in the National Hockey League for a reason. These are a super light, high performance, protective skate that can be trusted at the games highest level of play.
One of the major features and a big change on the Ribcor lineup of skates that was introduced with the Ribcor 100k was the one piece boot design. Most of the high end skates on the market today utilize a one piece boot design, which is designed to maximize energy transfer from the players foot to the ice itself.
What Makes The CCM Ribcor 100k Skates Special?
What are you looking for in a pair of hockey skates?  Speed?  Comfort?  Durability?  Those are all important aspects to keep in mind when it comes to skate shopping.
I personally am a fan of getting comfortable skates that fit your feet well.  If you've ever played hockey in a pair of skates that hurt, it's not fun.
Get yourself a pair of comfortable skates and you'll be good to go!
Before I get off track – let's dive into some of the cool features on the CCM 100k skates, what they have to offer, and the rating we gave them.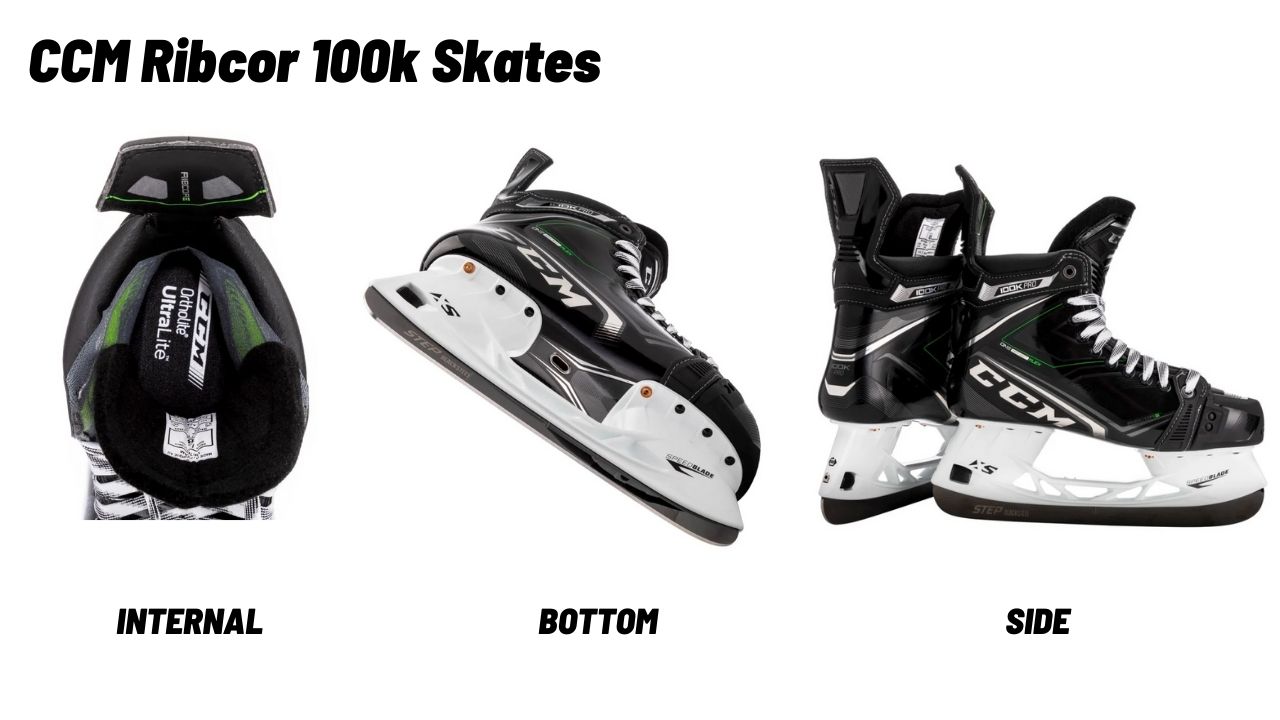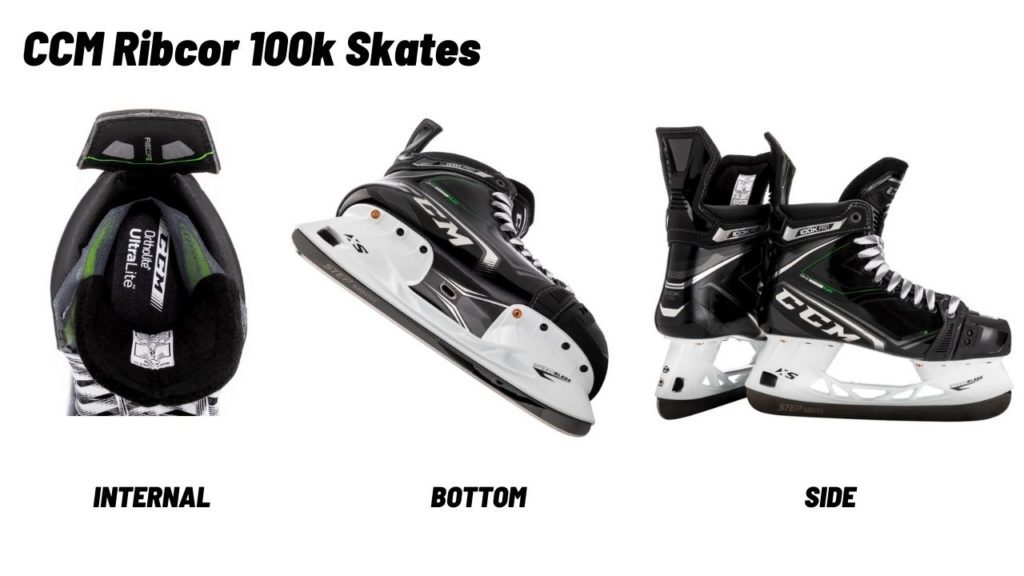 Our Rating of the CCM Ribcor 100k skates:
| Skate Ratings | CCM Ribcor 100k |
| --- | --- |
| Comfort | 9.5/10 |
| Weight | 9/10 |
| Performance | 9.5/10 |
| Break In Time | 9/10 |
| Longevity | 10/10 |
| Versatility (for Different Foot Types) | 8.5/10 |
| Looks | 9.5/10 |
| Runners | 10/10 |
| Price | 7/10 |
| Overall | 82/90 |
Our #1 CCM Skate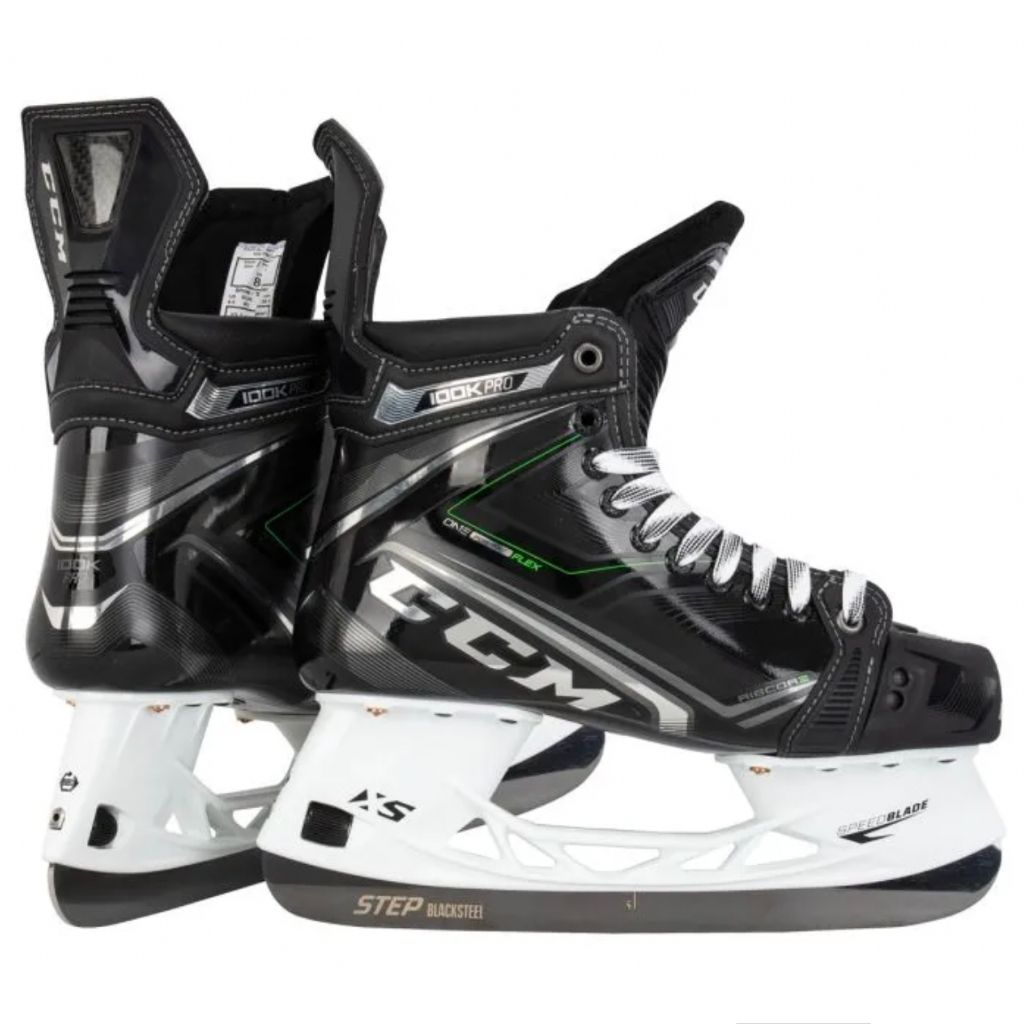 Features
First of all we have the one-piece boot.  This has become a common theme amongst the top hockey skates because it helps with transferring energy through your leg, skate and ice.  The main goal is to help you accelerate faster and reduce the amount of effort you need to put out when you are in motion.
Agility
CCM intentionally designed this skate to be more agile than previous models.  So what does this actually mean?
It means that these skates help you move and adjust quicker than ever before.  Stopping, cutting, turning, etc have been made easier because of the new boot technology.
How does this help YOU on the ice?
Well, it's simple if you can move faster and adjust quicker than the next guy, YOU'RE going to be the one on the ice the most often.
Speed is the new name of the game and it isn't going anywhere.
Step Steel
You might be thinking "Darby, who cares about Step Steel"?
Me, I do.  Seriously when you become adjusted to high-end blades on your skate, you'll never want to go back.  You don't have to sharpen your skates as often because the blades are made of some of the best materials.
I was wearing Step Steel before they sold to CCM and I recommended it then.  I don't think you can go wrong with these blades.
Plus, they are taller than your average skate blade, which makes a huge difference on the ice.  Back to the agility aspect of these skates, you can get lower and dig in deeper.  Helping you in those sudden moments when you need to adjust lanes.
Underrated feature here in my opinion.
Tongue
I feel like this isn't the most important feature of the Ribcor 100k skates, but I had to include them in the review.  I like to cover all aspects of the product in my reviews…
Anyhow, the tongue is designed to help ankle mobility when you lean forward.  I personally like to tie my laces a bit tighter so I appreciate this a lot.
It also helps reduce "lace bite", which I'm pretty sure we've all experienced at one time or another.  It sucks.
It's a 7mm thick tongue so you shouldn't feel any pain in the feet…
Also, if you want to change it out for an XS tongue option you can do that as well. Which I think that's pretty cool.
Similar: CCM Jetspeed FT2 Skate Review 
Comfort
Ahhh now we're talking.  I've already said that I think comfort is the most important aspect of hockey skates.  I don't know how it wouldn't be.  If your feet feel great when you're moving around and skating with, you're already winning.
That's half the fun right there.  No blisters or sores, just clean healthy feet.
So how did CCM create a comfortable boot for this skate?
There's a lot of things and I'll quickly run through them.
One, the boot is a single piece and made of RFM composite.  A high-end and lightweight material that actually comes in different stiffness indexes.  It's a variable flex which is unlike anything we've seen to date.
Two, TotalDri liner.  It's a moisture-wicking liner that helps keep your feet dry and comfortable.
Three, the Comfort Pad.  Music to my ears… It's additional padding near the top of the boot to help increase comfort.  It also helps with ankle support, which I greatly appreciate (someone yell "bender").  The ankle area also has memory foam padding which just adds to the goodness.
And lastly, the footbed.  All the padding on the sides of the skates is important, but the footbed is likely the most important.  It's what your foot will be sitting in the entire time, and if the footbed sucks, your feet are going to hurt big time.
That's why CCM has their OrthoLite molded footbed in these skates.  They're designed to adjust the shape of your feet so you can get the most out of your skates.
Check hockey monkey here to read more reviews and check the price of the 100k skates – (no pressure of course)!
Negatives
No review is a complete review without negatives.  So what didn't I like about these skates?
Well for one, the price tag.  It isn't what I would call "cheap".  But you as a hockey player would know that gear, in general, isn't cheap.  That being said, I have always gone with the belief that you get what you pay for.  If you pay up for top-of-the-line equipment, that's what you're going to get.
Other than that, I'll be honest with you, there isn't much to dislike about these skates.  They look sick, feel great, and overall have improved a lot compared to their last skate.
Our #1 CCM Skate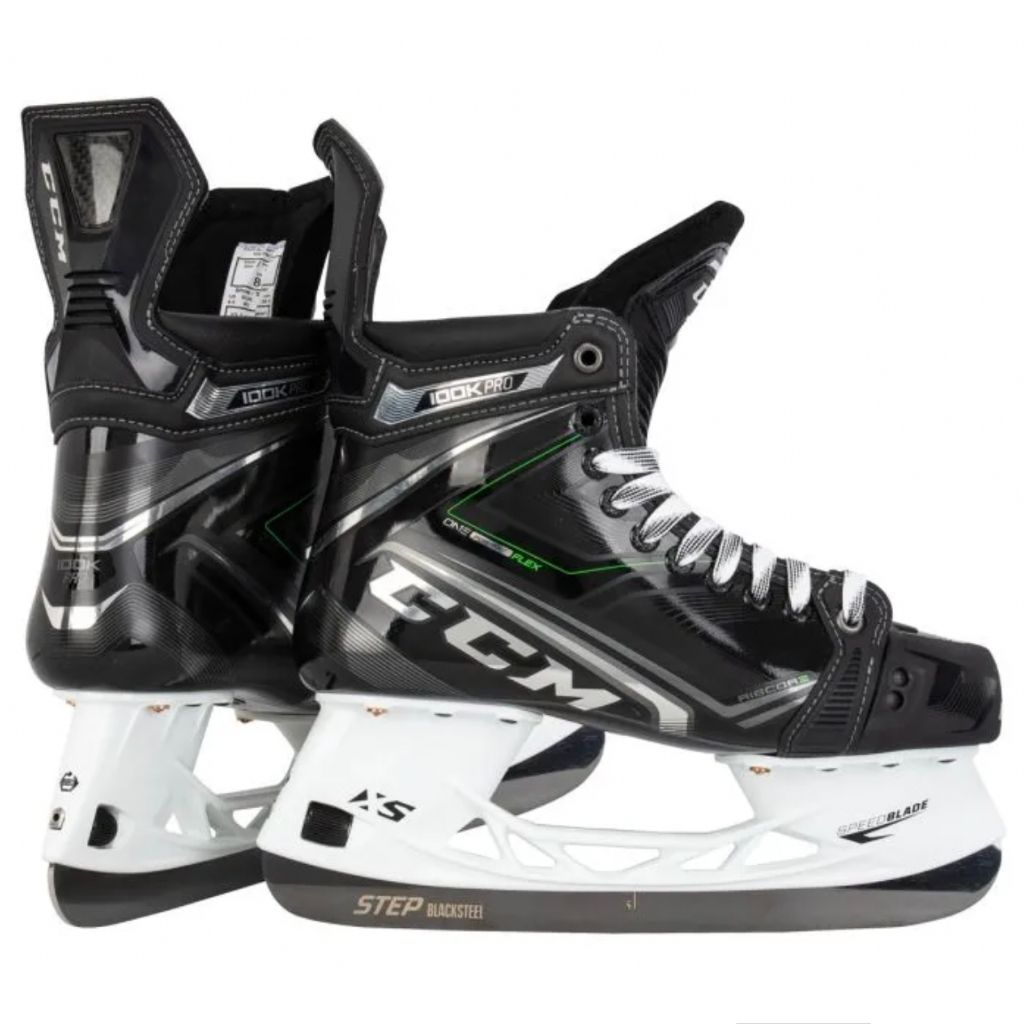 Overall
We here at the hockey guys have the CCM Ribcor 100k skates ranked second best right now.  That's pretty good, all things considered.
What you get in these skates are supreme comfort, agility, and great looks.  They aren't cheap, but if you're looking for an elite pair of skates, these are the way to go.
Thanks for reading and good luck on the ice!
CCM Ribcor 100k vs CCM JetSpeed FT4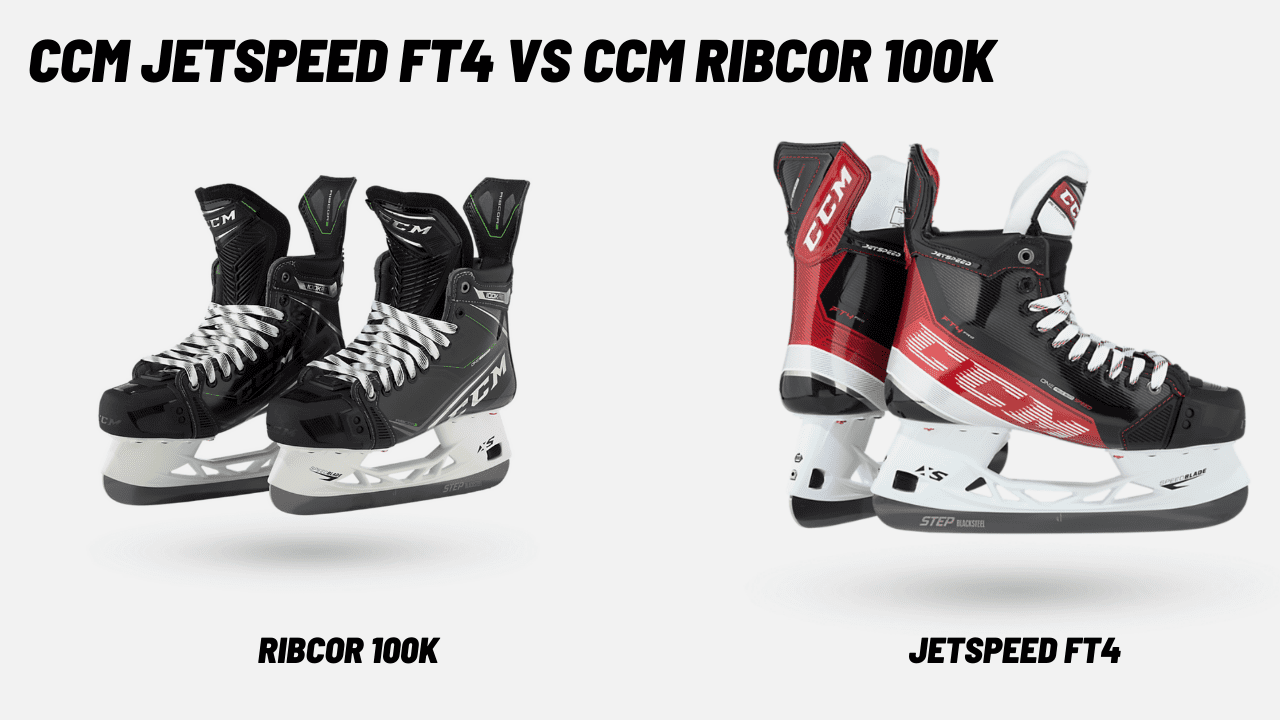 The main difference between the CCM Ribcor 100k skates and the CCM JetSpeed FT4 skates is actually a difference in marketing. The JetSpeed lineup is, you guessed it, marketed for Speed. The Ribcor lineup is marketed as the "Agility" skate in CCM's lineup. In reality, the skates both use CCM TotalDri Pro+ moisture wicking material, the exact same STEP Blacksteel skate steel, the same skate blade holder, and a one piece boot construction.
The only noticeable difference between the CCM Ribcor 100k skate and the CCM JetSpeed FT4 skate is the tongue design. CCM doesn't even try to hide the fact that nearly every one of their skates is built exactly the same, with minor changes to the design.
If you're weighing the differences between these two skates, go with whichever one you think looks better, because technically speaking they're almost an identical skate.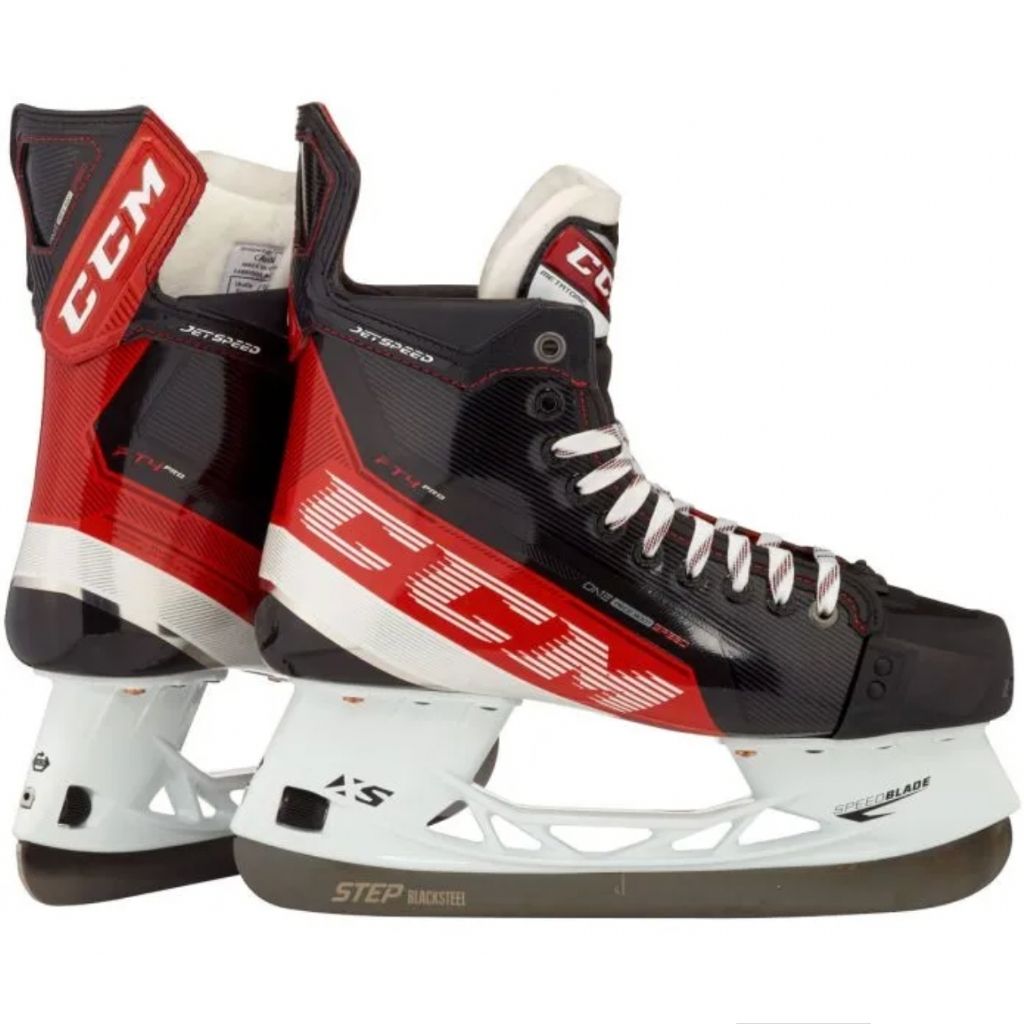 CCM Jetspeed FT4 Skates
The CCM Jetspeed FT4 skates are a highly touted skate in the hockey industry. While not the latest model CCM has released, they feature quick acceleration and comfort.
Pure Hockey Price
Hockey Monkey Price
We earn a commission if you click this link and make a purchase at no additional cost to you.