Bauer's Vapor skate lineup is geared toward high levels of mobility and allows players to truly take advantage of their agility to make plays. The brand is known for designing hockey skates that specifically meet the needs of every type of player, from those who are more suited for straight-line speed to players who are capable of significant lateral movement.
The Bauer Vapor 2X Pro skates are designed for serious hockey players who rely on their equipment to provide them with the most significant advantage possible on the ice.
This particular skate design is based on an older style of skate that has been wildly popular with Bauer brand enthusiasts for quite some time.
The new and improved Vapor 2X Pro model offers an exceptional level of new features that combine to create an overall impressive product. Many players who have worn these skates report that they offer a much higher level of performance than any other Bauer product in the Vapor lineup.
In this article, we'll take a closer look at what sets the Bauer Vapor 2X Pro Hockey Skates and discuss the many different ways that each new feature is capable of helping players improve their game at any level of the sport.
Bauer Vapor 2X Pro Skate Review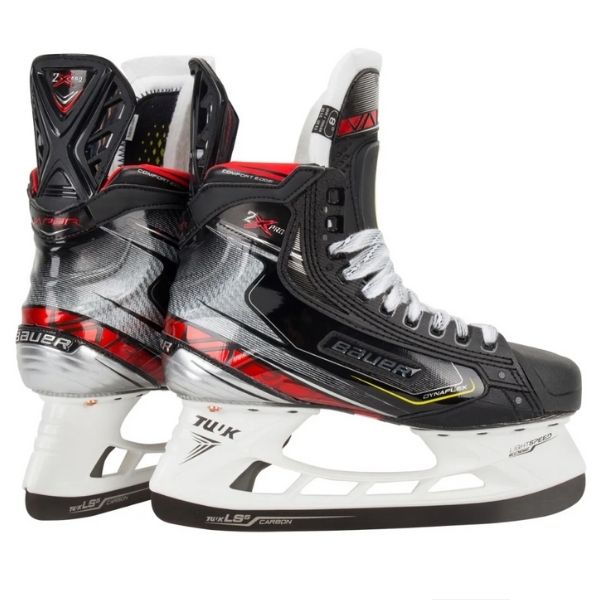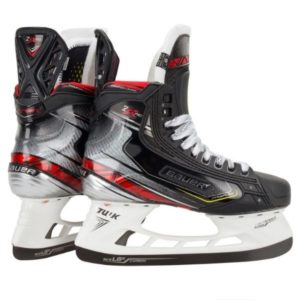 In recent years, Bauer has made significant improvements to its different lineups of skates that are targeted for all types of players, including goalies. The Vapor 2X Pro skates are geared toward a highly comfortable feel, increased power, and much better overall mobility than ever before.
As many hockey players are well-aware, there is a happy medium between having skates that are comfortable and offer lots of padding and those that are simply too heavy as they contain too many protective layers and padding.
The engineers at Bauer have taken this into account and created their new and improved Vapor 2X Pro lineup of skates that provide ample amounts of protection, but don't quite have enough layers to hamper the movement of players to a significant degree.
These high-end skates are made for players who are familiar with their own unique abilities as a hockey player. Bauer's engineers have designed the Vapor 2X Pro hockey skates in a way that works to enhance each player's own specific characteristics and significantly improve their game.
On Sale Now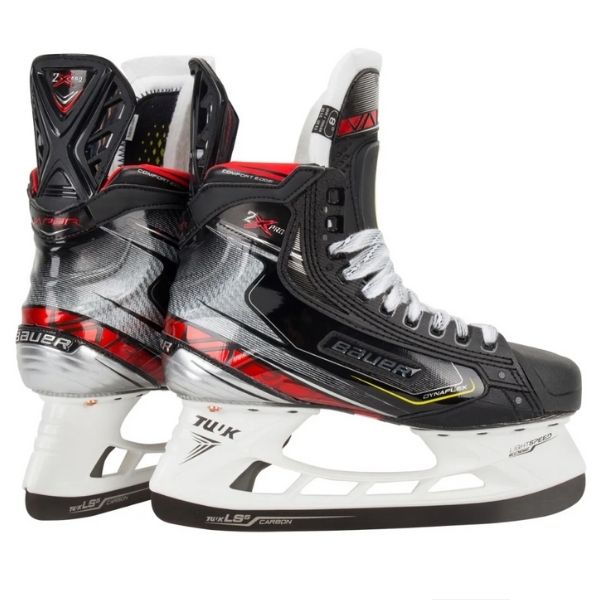 Boot Construction and Stiffness
A solid pair of hockey skates will always have ample amounts of stiffness that should provide support for the player's feet and ankles. This is crucial as players routinely make sharp turns, sudden stops, and other maneuvers that can be relatively dangerous or ineffective if their skates are of lesser quality.
The Vapor 2X Pro skates, according to Bauer's website, are skates that are specifically designed for serious hockey players who play at an elite or professional level and expect to get a high level of performance from every piece of gear they wear on to the ice.
These skates are manufactured with Bauer's now-famous 3D Carbon Composite Curv material that is crafted to be lightweight, yet provide significant amounts of stiffness that allows each player to maneuver in ways that other skates might not allow on the ice.
Improved Tongue
One of the most overlooked parts of hockey skates is the tongue. Many brands lose the attention of professional hockey players when they decide to cut corners and make the tongue of their skates out of heavy, cheap material that doesn't fit quite well.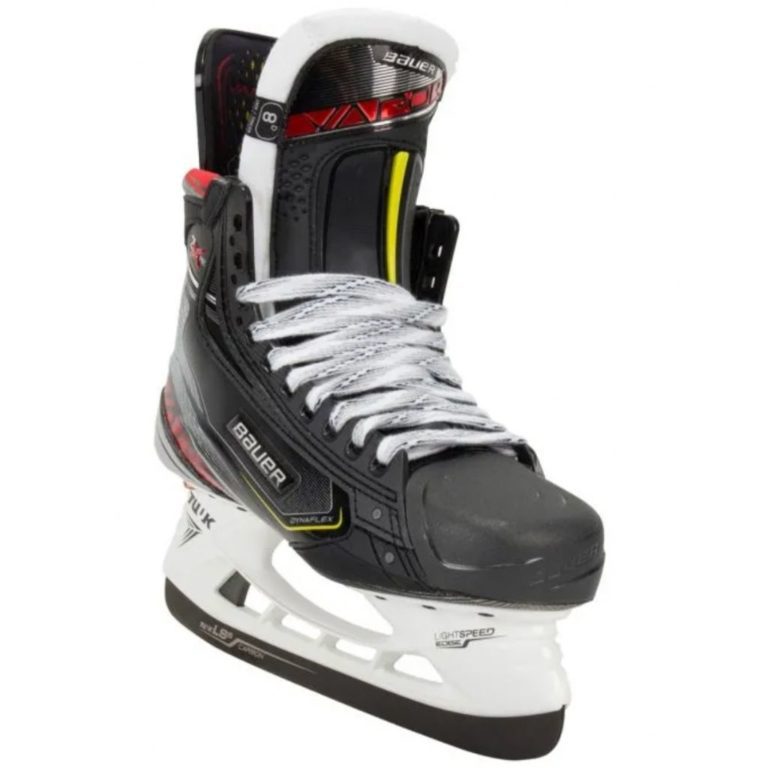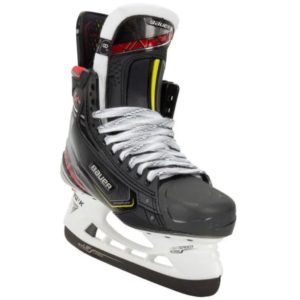 Bauer has taken things in the other direction by making their Vapor 2X Pro skates with a Recoil Pro tongue, which is an injection insert that is designed from lightweight and low-volume material which keeps the laces from biting into the forefront of the player's ankle.
Another highly touted pair of skates that Bauer has recently come out with is the Bauer Vapor Hyperlite skates.  Check out our review here.
New and Improved Padding
Padding is a very important part of any great pair of hockey skates. Having too little will ultimately result in a very uncomfortable experience and can significantly limit a player's performance on the ice.
Having too much padding is equally frustrating as it often causes players to be slowed down, especially when it comes to lateral movement and acceleration.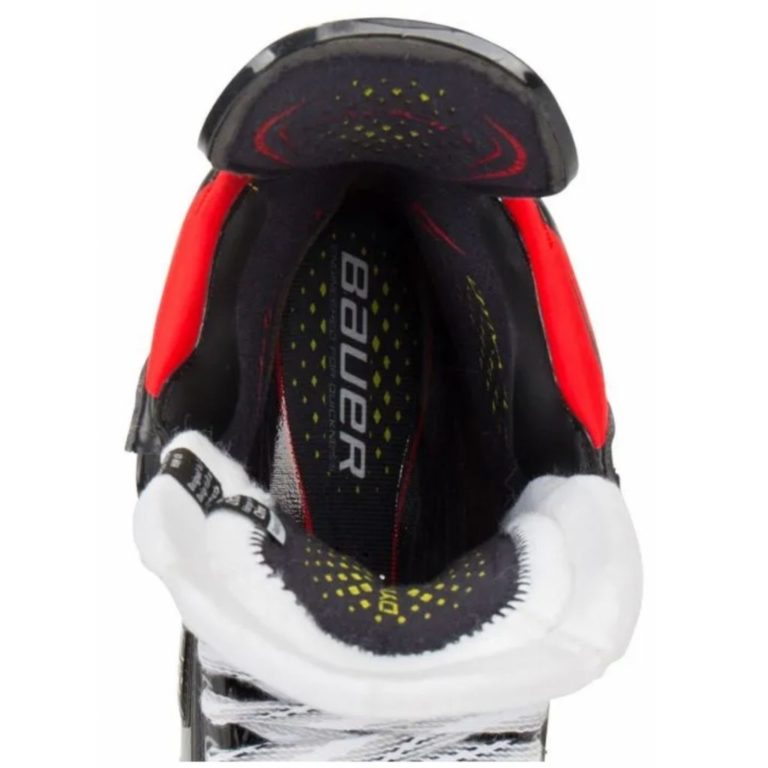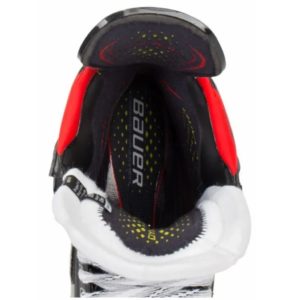 The Vapor 2X Pro is said to be one of the most comfortable skates ever made by Bauer and one that professional players gravitate toward for this reason.
The company created these skates with its Lock-Fit Pro liner that provides ample padding on the bottom of the player's foot without losing much energy transmission between the player's foot and the ice.
The ankle of each boot is also fitted with Aero Foam Pro memory foam material which hugs the foot in a way that is both comfortable and snug, giving players plenty of support for drastic movements during play.
Other Notable Features
Bauer's skates are typically aimed toward players who are of elite or even professional status. There are many features that make this evident, such as the Vapor 2X Pro's intricate lacing system that is designed to maximize a player's fit while helping to improve acceleration and lateral movement.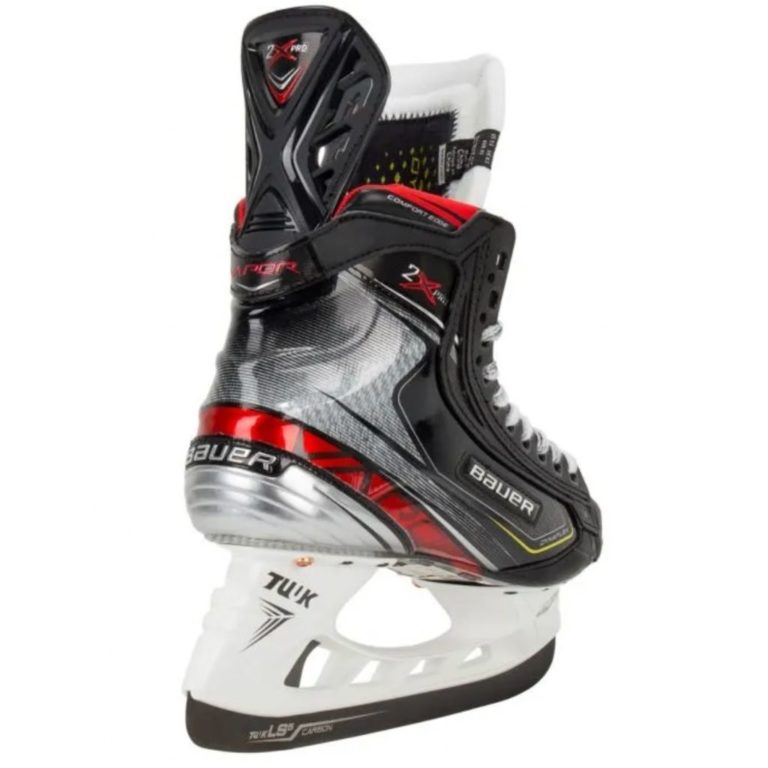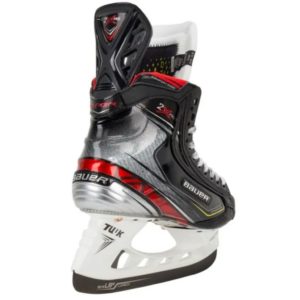 These skates are designed with Bauer's Tuuk LS5 carbon-coated steel, which is one of the most high-quality, premium steel blades on the market today.
These blades are designed to bite into the ice in a way that other styles simply can't match. This allows players to have much greater degrees of precision when it comes to movement and speed during the game.
On Sale Now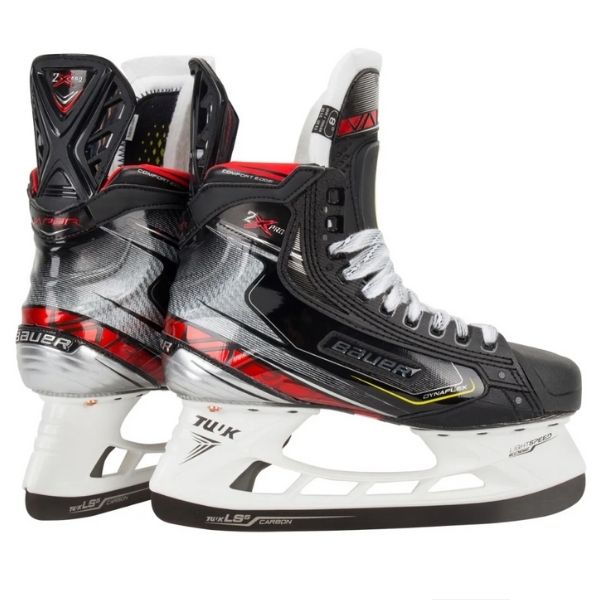 Related: Best Hockey Skates 2022 
Final Verdict
In addition to all of these incredible features, the Vapor 2X Pro edition skates have a sharp, next-gen look that truly makes them stand out among the crowd.
These skates offer an incredible fit that is designed to amplify a player's own key abilities on the ice and provide them with the tools to skate at a much higher level than their opponents in many cases.
Speed and agility are at a premium in the sport of hockey and Bauer has developed a pair of skates that are capable of helping a player improve upon both areas.