New year, new skates.   The Bauer Vapor Hyperlite skates are the top-of-the-line model that Bauer released in the past year.
So of course, I will be going into a full review of everything you need to know about the Vapor Hyperlite skates and whether they are worth it or not.
Bauer Vapor Hyperlite Skates Overview + What You Need To Know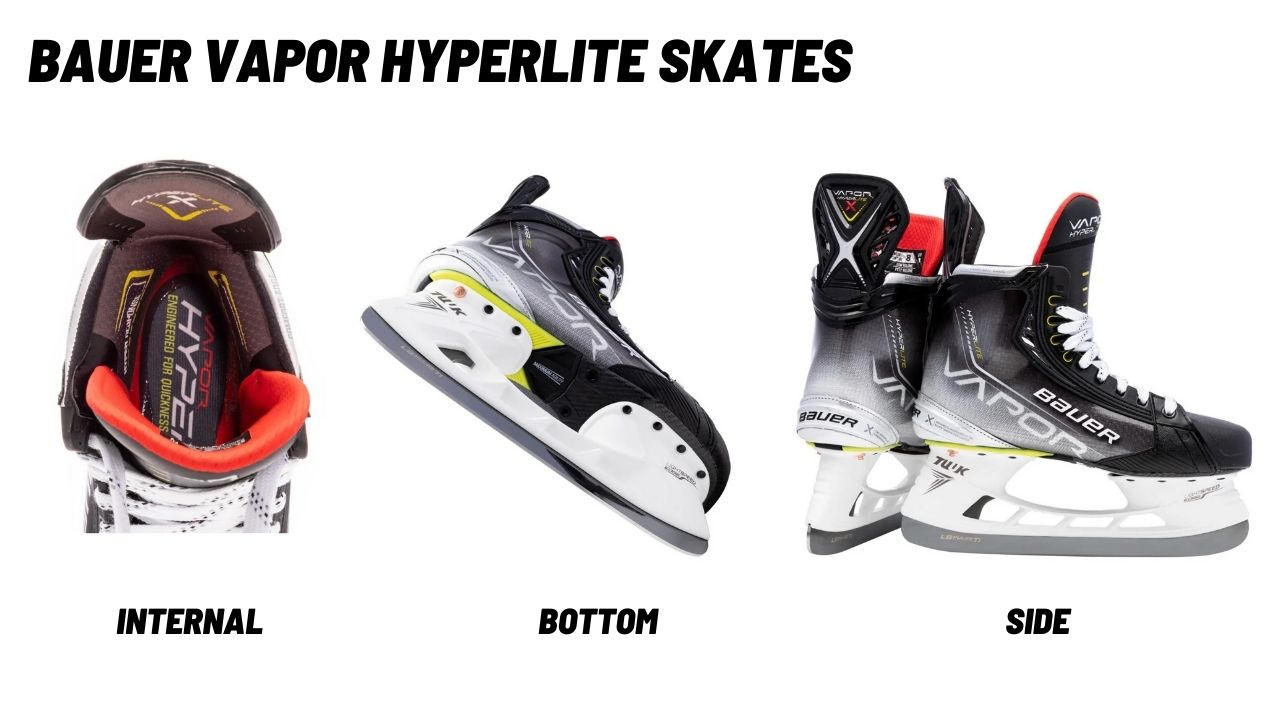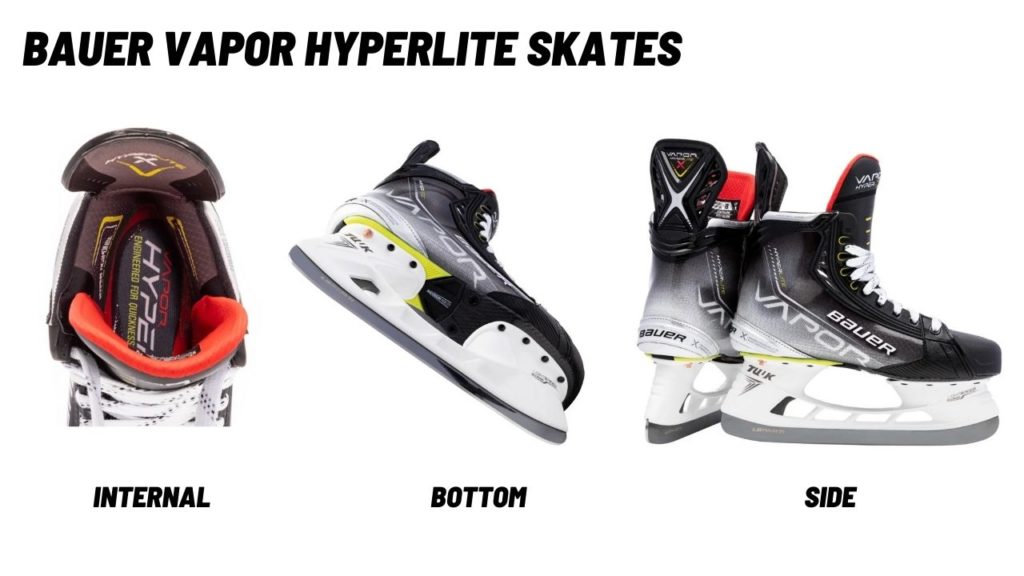 The Bauer Vapor Hyperlite skates are the highest-end model of skates of the Vapor lineup.  Underneath it are the 3X Pro, 3X, X3.7, and X3.5 skates.  Each model decreases in performance and price.
To show an accurate representation of how we here at the hockey guys see each skate, we came up with a rating system.  We looked at many aspects including comfort, performance, weight, durability, break-in time, and more.  Each category has a total of ten total points awarded.  Here is what we gave the Hyperlite skates.
Our Rating: 
| Skate Ratings | Bauer Vapor Hyperlite |
| --- | --- |
| Comfort | 10/10 |
| Weight | 10/10 |
| Performance | 9.5/10 |
| Break In Time | 10/10 |
| Longevity | 9.5/10 |
| Versatility (for Different Foot Types) | 10/10 |
| Looks | 9/10 |
| Runners | 9/10 |
| Price | 7/10 |
| Overall | 84/90 |
Our #1 Pick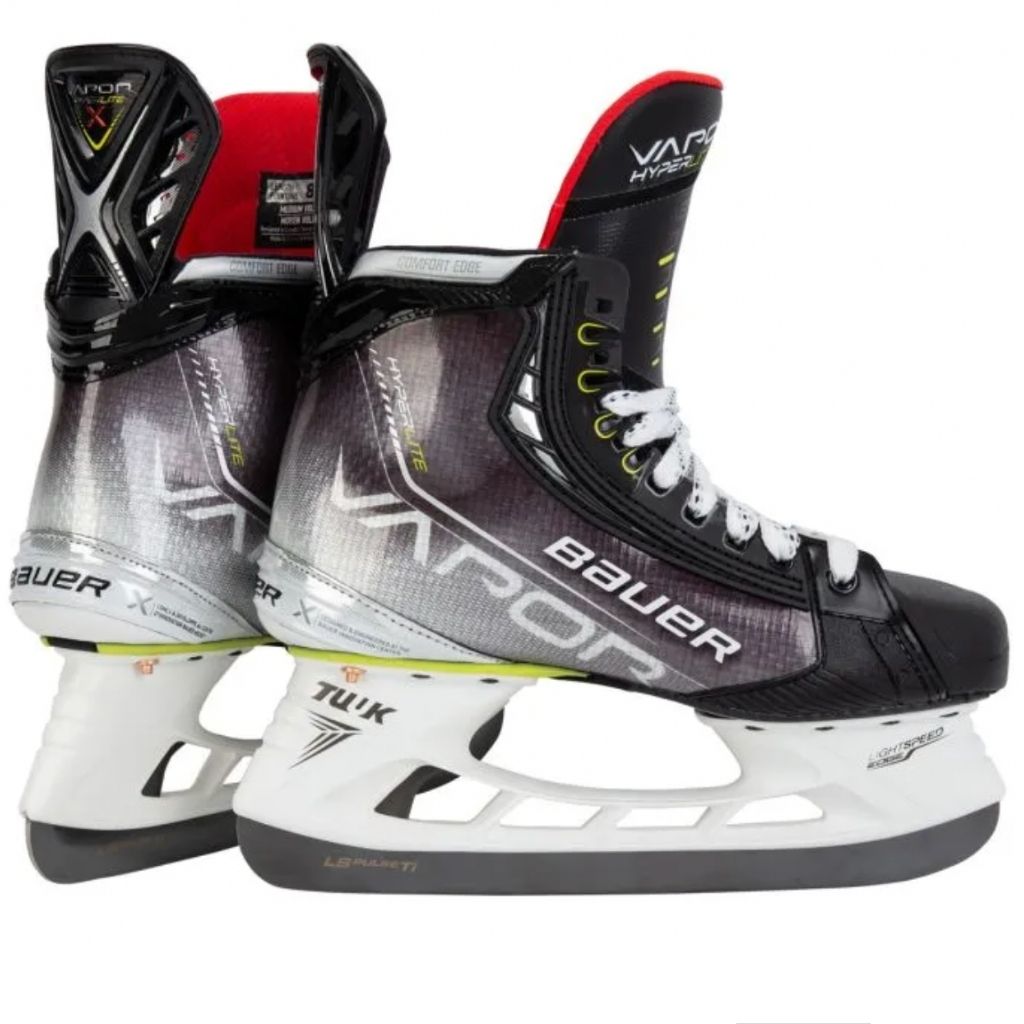 Technology
Features are the deciding factor between what makes a skate cool or not.  Do the skates have the latest technology to improve speed, power and agility?  Those are the things to look for in a new pair of hockey skates.
So what are the features in the new Bauer Hyperlite skates?
There are actually quite a few… as you would probably expect.
Boot
One of the biggest improvements on the Hyperlite skates compared to previous skate options is the new boot.  It features Hyperflex technology which is designed to improve the energy transfer in your stride.  The top four eyelets have different flex zones which drastically improve stability and acceleration.
The shell of the Hyperlite skate is made of a composite material that is flexible near the back and a bit stiffer up in the front/ toes area.  The purpose of this is to again, improve acceleration and speed.
It does take a couple of times out on the ice to get used to the new boot and changes (if you were wearing Bauer skates before), but you're definitely going to like it after a while.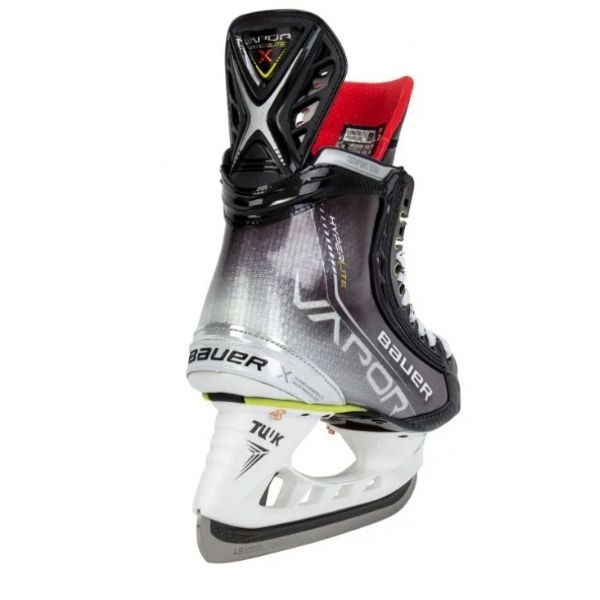 Tongue
The new Aerolite tongue is going to take some time to get used to.  It is completely different than other Bauer tongues because of a multitude of reasons.
For one, the tongue features new foam.  It's a light foam that doesn't compromise safety in any way but reduces the overall weight of the skate while still remaining very comfortable.
Not only that, but it's also a moisture-wicking technology that will help improve the dampness of your skates after playing for many hours in them.
The tongue is also engineered to reduce lace-bite, the all too common annoyance that hockey players have dealt with for a long time.  You can expect to have a full range of motion in the ankles without any pain.
Footbed
The Lockfit Pro fitbed is one of the most important features in the Hyperlite hockey skates.  And why is that??
Well, when you play hockey for any amount of time, you will start to sweat.  This will cause your feet to (obviously) get wet and slippery.  Depending on the skates that you are wearing and how tightly you tie your laces, you might notice that your feet will slip in the boot.
This can cause a lot of problems, especially when you are trying to make sharp turns and movements.  Hockey is a game of tight, quick movements and if your skates don't hold your feet in the right place, that will spell disaster for you.
That's why Bauer implemented the Lockfit Probed in these skates.  It's a footbed that essentially makes sure that your feet don't slip out of position.  It is a comfortable bed as well, ensuring that you don't have foot pain while you play hockey.  You can scoop these skates on hockey monkey here (no pressure of course)!
Holder/ Runners
This isn't anything new, but the Hyperlite skates do feature the Tuuk Lightspeed Edge Holder.  Bauer skates have had this holder for many years now and there really has been no need to improve it.  You can change your skate blades/ runners in a matter of seconds with the pop of a button.  Simple and easy.
But, new for the Hyperlite skates is the fact that you can change or upgrade your blades when you purchase the skates.  You can go with the Carbonlite Steel (+$149.99), Pulse Ti (+49.99) or the stand Pulse blades that don't do anything additional.
The Carbonlite blades are the best of the bunch, made of ultralight carbon that is said to be 35% lighter than standard carbon blades.  This will help with speed and acceleration compared to other runner options.
The Puse TI blades are the next best of the Bauer runners.  They are bit taller than the standard blades and also feature a titanium coating to help increase sharpness over a longer period of time.
And the standard Pulse blades feature a polished mirror coating and steel.  Still a really solid blade, just a bit heavier and not as hard as other blades on the market.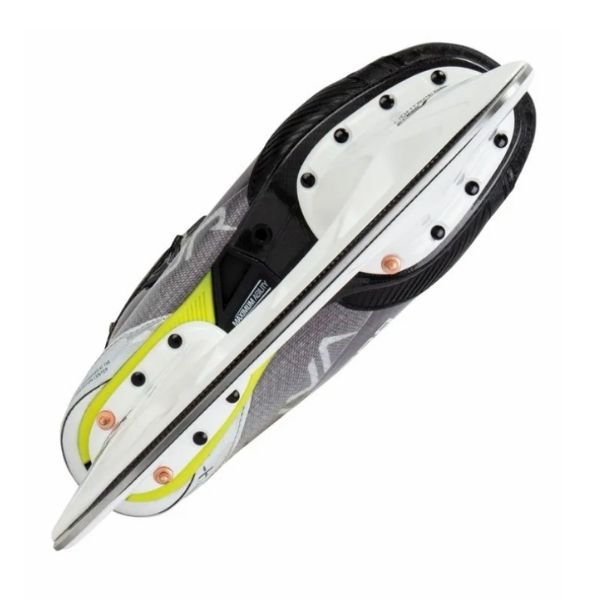 Also Read: CCM Ribcor 100k Skate Review
Comfort
The most important aspect of a good hockey skate in my opinion is comfort.  Can you wear the skate for a couple hours without any foot pain, cramps, or blisters.  If you can say yes to that, you are on the right track.
Comfort while wearing your skates is huge, which is why Bauer (and many other hockey brands) put so much emphasis on making the most comfortable skates.
So what does that actually have to do with anything, well a lot actually.
The Bauer Hyperlites are some of the most comfortable skates on the market and it's very hard to deny that.  True and CCM both have elite end skates, but there out-of-box options just don't compare with these skates.  It could be said that the True Custom skates are slightly more comfortable, but it's so close at this point it's hard to make a huge claim towards one or the other.
Aerofoam Pro Liner
The new Aerofoam pro liner is one of the new features in the Hyperlite.  It's a moisture-wicking technology foam that is placed in optimal places to ensure comfort.
The foam is placed throughout the ankle and foot.  The foam is lighter than many of the other skates on the market.
Are The Hyperlite Skates Worth It?
That comes down to your budget and how much you will be playing hockey.  If you play hockey 4 to 5 times a week and can afford it, then yes these skates are the way to go.  They are at the top of the line when it comes to out of box comfort and performance.
But, if you are playing hockey less than 4 times a week, unless you really want these skates, you might be better of with a pair of True TF9 skates (click the link for review).  They are a skate that doesn't cost as much, but still offer really good comfort and performance.
Our #1 Pick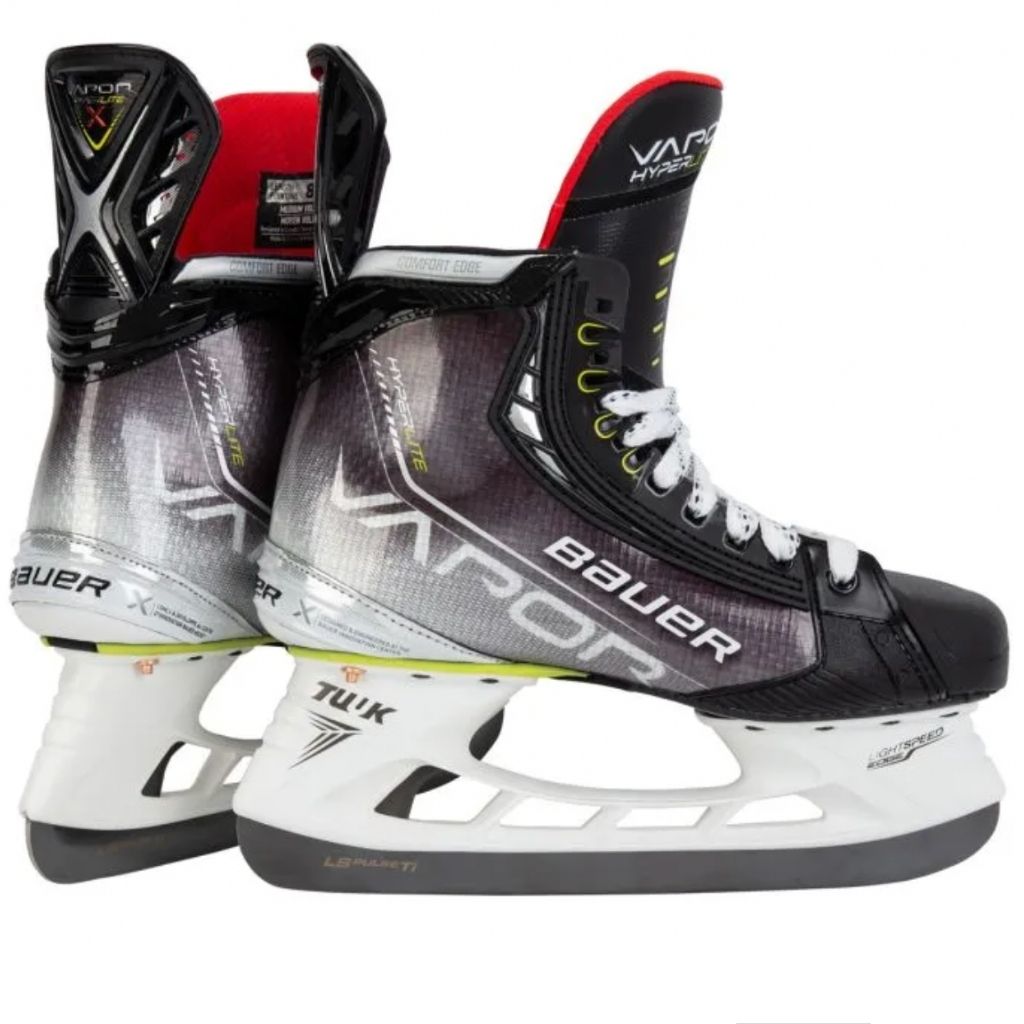 Conclusion
Overall the Bauer Vapor Hyperlite hockey skates are high-end skates.  There are many competing factors as to why one would argue in favor of getting these skates, but in reality, it comes down to your personal wants and preferences.
If you decide to go with these skates, you likely won't regret it.  But if you don't, there's no harm or foul in choosing another option on the market.  The most important thing to remember is that you want to get a skate that you personally like.  If you don't like it, you'll never be able to enjoy it as much as the next hockey player.
That is all for this review, thanks for reading!