True is a relatively new company that got into the hockey industry in 2014 and has since made quite a name for itself among those in the sport. The company has established a reputation as a brand that delivers top-notch quality for a price that most players of intermediate to high-skill level can afford.
The True Dynamic 9 Hockey Helmet is an ideal blend of comfort and protective ability that makes this a model that players should seriously consider when looking around for their next helmet.
In this deep dive, we're going to discuss the key points that make the True Dynamic 9 Helmet one of the best options for players going into next season, as well as why the features offered in this model are a cut above the rest when it comes to comparing this helmet to many other competitors' models.
True Dynamic 9 Helmet Review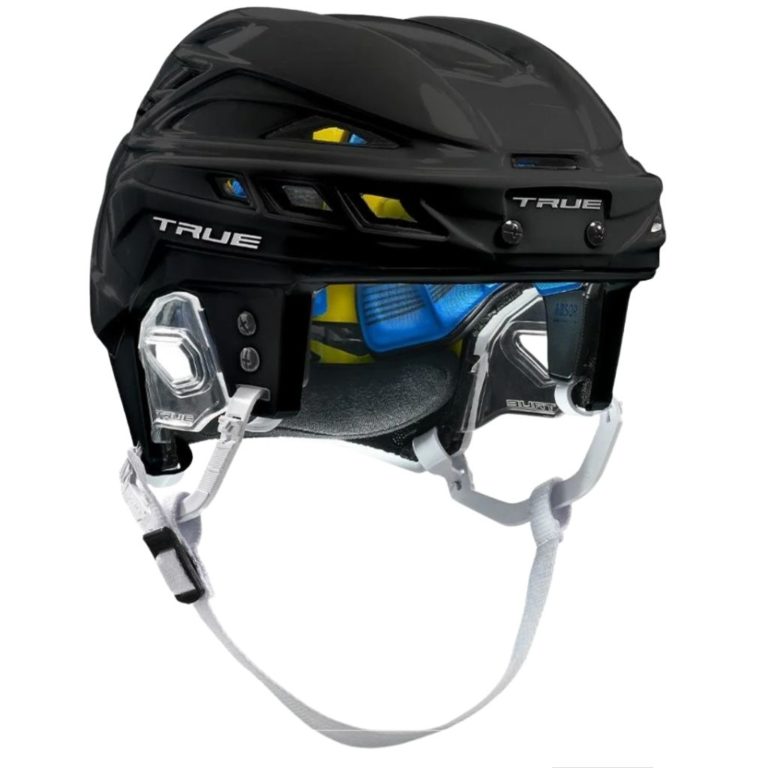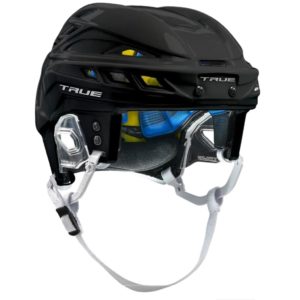 The True brand has unveiled some impressive new features with the True Dynamic 9 Helmet. Taking a closer look at these features and just how they play a role in your overall performance on the ice might help those who are relatively unfamiliar with True to gain a bit of understanding about why so many players are now selecting this company's products over others who have been in the hockey industry for decades.
Overview
The True Dynamic 9 Helmet was released just before the start of the 2019 season. Since then, players have come to trust in this particular model and have grown to appreciate the many new, eye-catching features that have so many in the world of amateur and professional hockey talking.
First off, the helmet is made to be super lightweight as compared to traditional protective helmets that can be especially heavy and feel a bit awkward on players' heads. In many cases, heavy helmets tend to rub against the player's forehead leaving that telltale red mark across their head after practices and games.
This type of uncomfortable element is just one of the ways the True Dynamic 9 Helmet's lightweight design comes in as a welcome change from other models that have been at the top of the best hockey helmets available in recent seasons.
Brain Protection System
True combined their efforts along with MIPS to create a specialized Brain Protection System with the True Dynamic 9 Helmet that is quite unlike any other helmet on the market when it comes to being able to protect players' heads in a way that prevents serious injury and long-term damage due to serious impacts.
With a customized fit and a comfortable chin-strap, many players can immediately feel the difference in the True Dynamic 9 Helmet and other brands as soon as they put this helmet on their heads. Let's discuss the many features this helmet offers in more detail…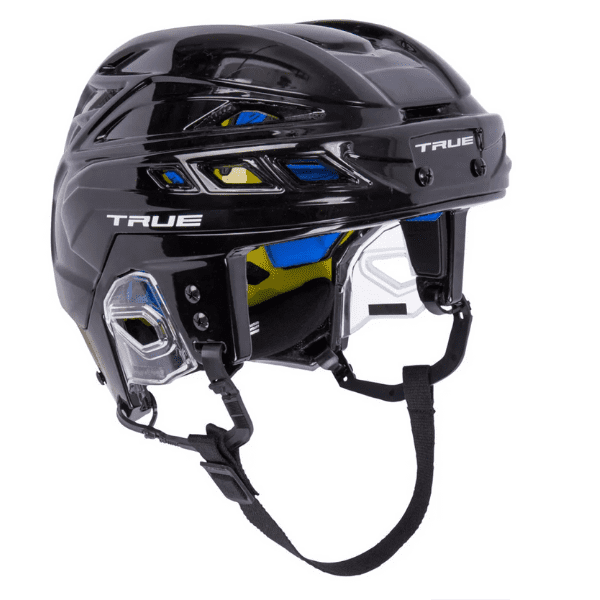 Superior Fit and Comfort
When it comes to selecting a hockey helmet that players can truly rely on to deliver exceptional comfort, as well as adequate protection, the Dynamic 9 Helmet is hard to beat. The interior of the helmet is designed with a series of padding and fittings that are designed to fit any player's head when the strap is tightened down enough.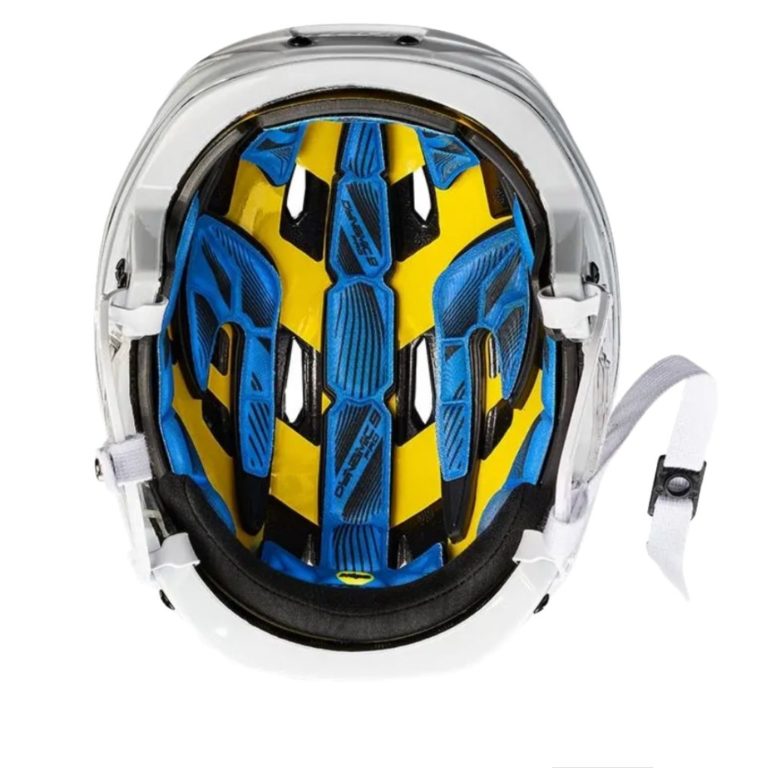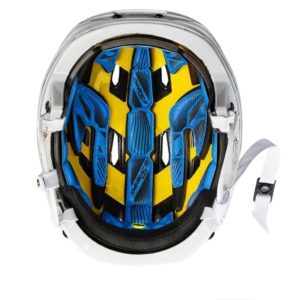 The helmet offers interchangeable side and rear Fitpads that help to provide ample protection for the player's rear occipital area, which is especially susceptible to concussions and other types of serious injury that all-too-often result in long-term issues for many professional and high-level players.
The True Dynamic 9 Helmet comes in three different sizes that players can choose depending on their head size, but each size is capable of fitting on a customized level when one considers that ability to remove or swap out some of the padding to get a better overall fit.
Also Read: CCM Fitlite 3DS Helmet Review 
MIPS Brain Protection System Technology
One of the most important aspects of a new hockey helmet in today's playing field is the helmet's ability to provide protection from potentially serious head injuries that can lead to long-term issues for players who experience high-impacts over many years on the ice.
True has partnered with MIPS to create and include the True Dynamic 9 Helmet's Brain Protection System that is quite unlike any other helmet on the market right now.
MIPS is known as a specialized layer of padding that is scientifically designed to protect a player's head and their brain against impacts in a way that minimizes the harsh effects of sudden impacts that happen so often in games and practice.
Shock Absorption
What makes this system so effective at decreasing the seriousness of impacts and lessening head injuries over time is the MIPS Brain Protection System's ability to transfer much of the impact's energy at certain points on the helmet and allow the shock to be absorbed into the helmet as a whole instead of one specific area.
This system offers a uniquely-designed layer within the helmet that is made to rotate slightly and disperse the energy and shock from a sudden impact in a way that lessens the damaging effects on that specific area where the impact originates from.
This technology has been successfully used in motorcycle and skiing or snowboarding helmets and has been scientifically-proven to reduce the severity of impacts on an impressive scale.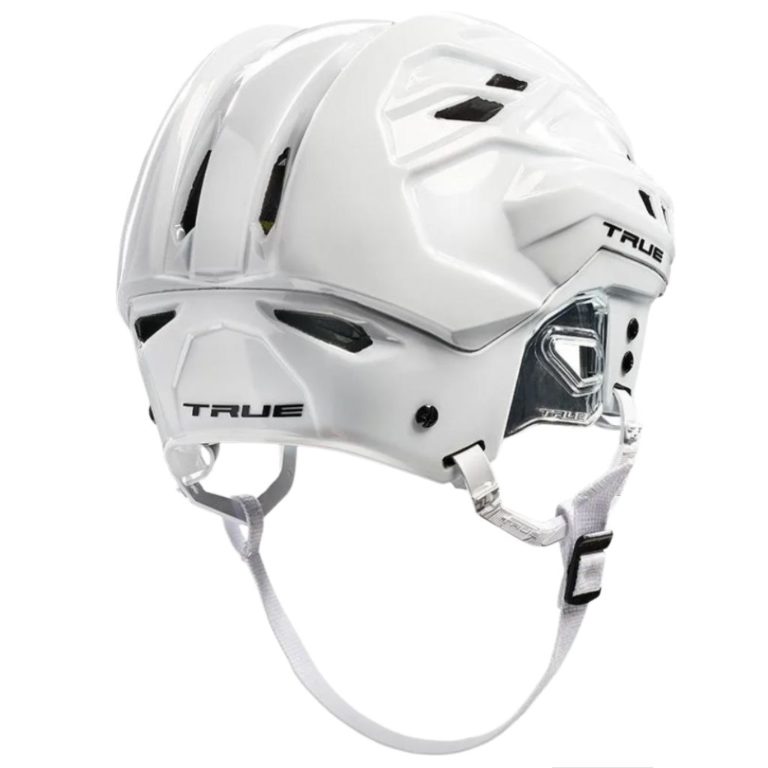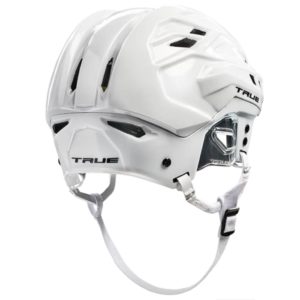 Related: Warrior Alpha One Helmet Review 
Lightweight Design
As with many other hockey products that have been continually developed throughout the last few decades, brands are working to produce items that are lighter, yet still capable of delivering the same high-level of performance on the ice that players expect out of their equipment.
The True Dynamic 9 Helmet is one of the lightest models on the market for 2021 and many professional and amateur players have noted the helmet's ability to allow them to focus on the game instead of dealing with an awkwardly-fitting helmet.
The helmet is made of a newly-designed one-piece polycarbonate shell that makes it possible for the engineers and design experts to remove much of the heavy, unnecessary components of previous helmet models and create a new and improved design that is lighter with better protection.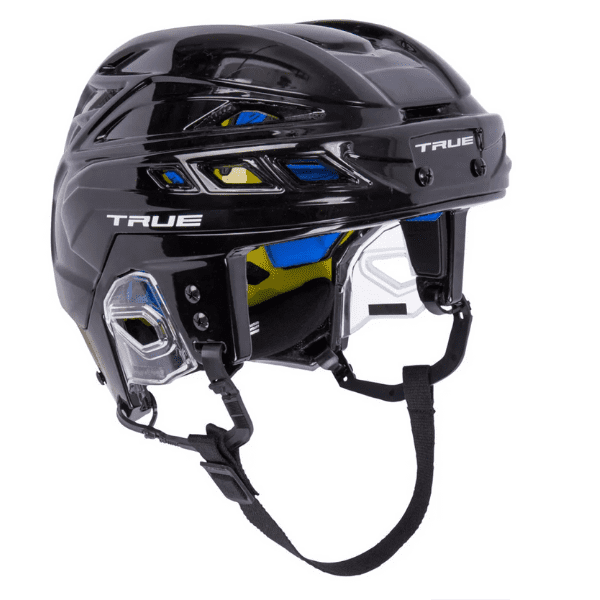 If you aren't sure that the True Dynamic 9 helmet is the right one for you, I'd also recommend checking out the Bauer Re-Akt 200.  We have a review of it on the site here if you'd like to check that out!
Worth the investment?
If you're familiar with us, you already know what we're going to say. You only get one brain. Buy the highest rated hockey helmet you can afford. The True Dynamic 9 is on our "best of" list for a reason. It's worth every penny.
While this helmet is a bit on the expensive side for many beginner or novice players, there are plenty of reasons to justify investing a bit more money into such a product.
Having a helmet that is more capable of protecting one's head during the game is of the utmost importance in today's hockey scene and the True Dynamic 9 Helmet is one that delivers just what players need in a comfortable fit that will last many seasons.