Warrior has made significant strides in recent years when it comes to producing premium hockey helmets. Most of their efforts have centered around creating a helmet that is much more protective and able to lessen the chances that players might experience significant head injuries in the same way hockey players have been known to in the past.
Players who have used this model agree that it is built for comfort and doesn't feel awkward or heavy on the head. This helmet features a similar fit compared to older models like the Krown or the Covert, but incorporates new technology that is designed to alleviate impact shock and create a safer experience for players.
With its superior design and new padding system, the Warrior Alpha One Hockey Helmet is one of the top hockey helmets on the market going into the 2022 season. In this article, we'll take a closer look at why this helmet is viewed as being superior to most other models currently on the market.
Warrior Alpha One Hockey Helmet Overview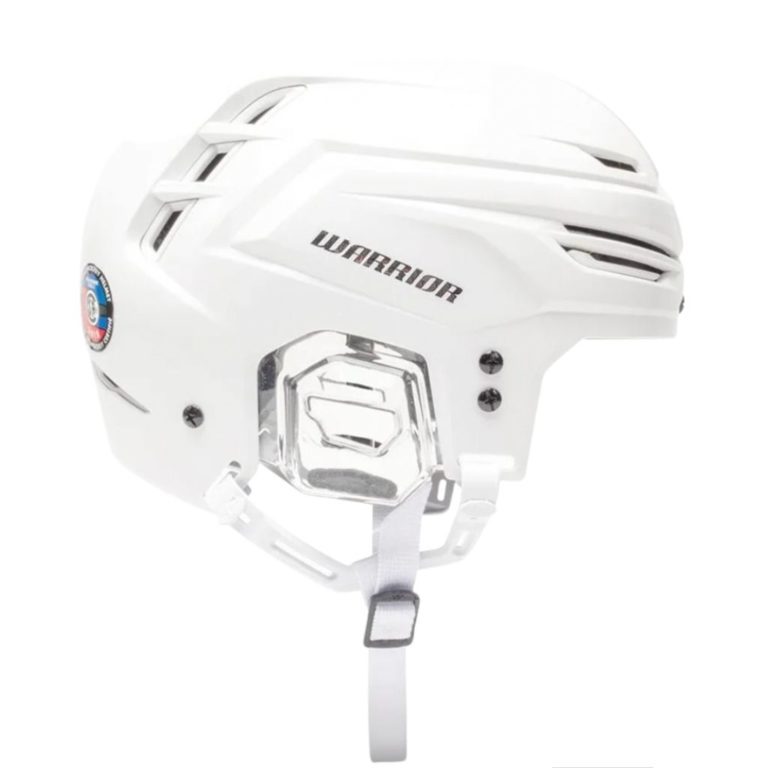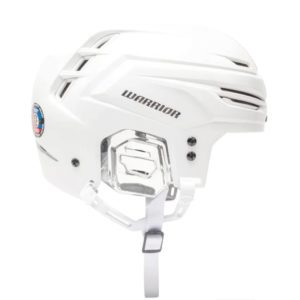 The Warrior Alpha One Hockey Helmet is crafted in a way that focuses on protecting the most vulnerable areas of a player's head. The design experts at Warrior have worked to create certain new features that make this helmet one of the most sought-after models on the market today.
Some of the new features include innovations like the AdaptFit 360 that's designed to create a much better overall fit on a player's head than any other design has until this point. The Warrior Alpha One is made of a solid one-piece shell that creates a much more durable design that is overall more protective than previous models.
The Warrior Alpha One also has new design elements like the Omnishock Protection System that is made to absorb high levels of shock created by sudden impacts that all-too-often leave players with head injuries that can have devastating effects over the course of a hockey player's career.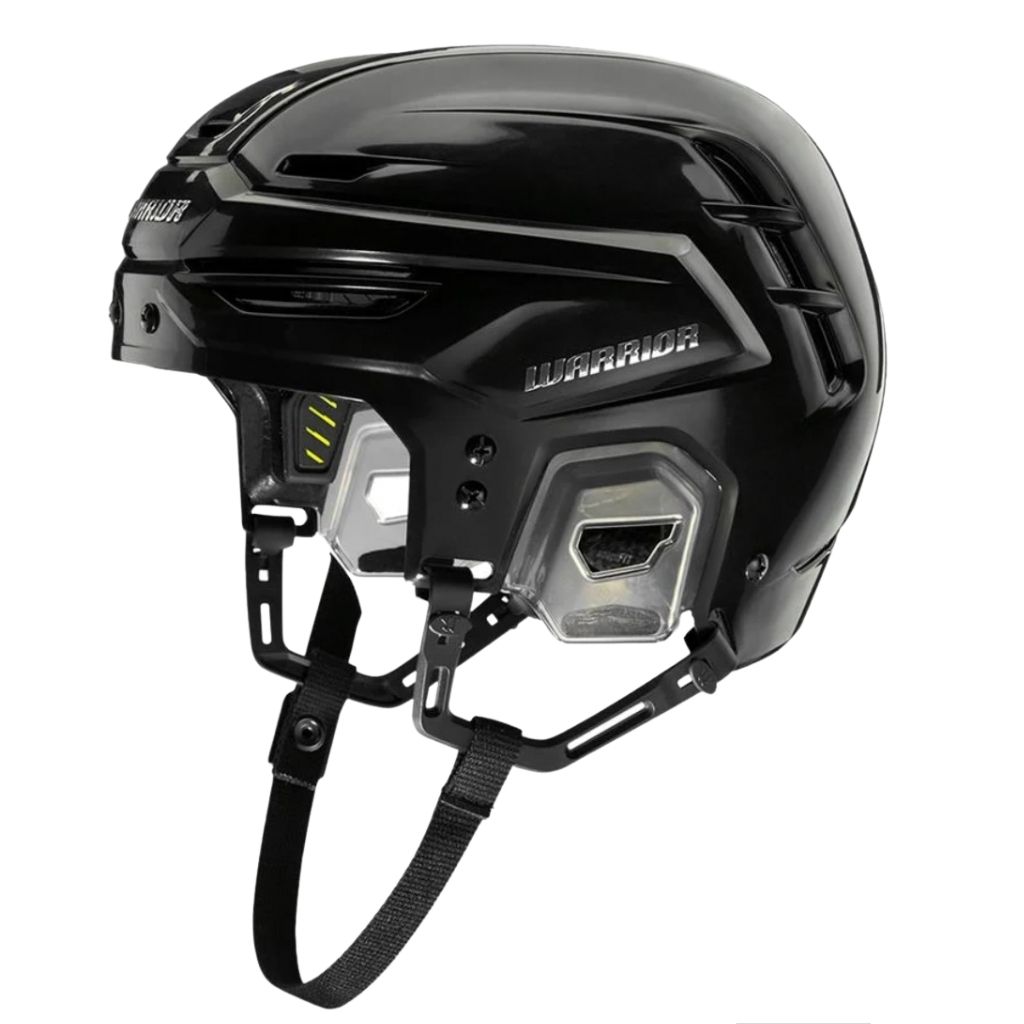 Comfortable Design
The main reason why so many hockey players find the Warrior Alpha One to be so appealing is that it offers one of the most comfortable designs in the hockey industry. The helmet is designed with a special polygiene liner that is made to fit on a player's head without putting excess amounts of pressure on the forehead or the sides of the head in the same way some other helmets are known to do.
The Warrior Alpha One offers this comfortable design to players along with ample amounts of venting around the head that allows heat to escape the helmet instead of trapping it inside and causing the player to experience more heat than they actually should. This minor feature might seem somewhat insignificant as hockey rinks are often cooler and it's not common for players to get overheated.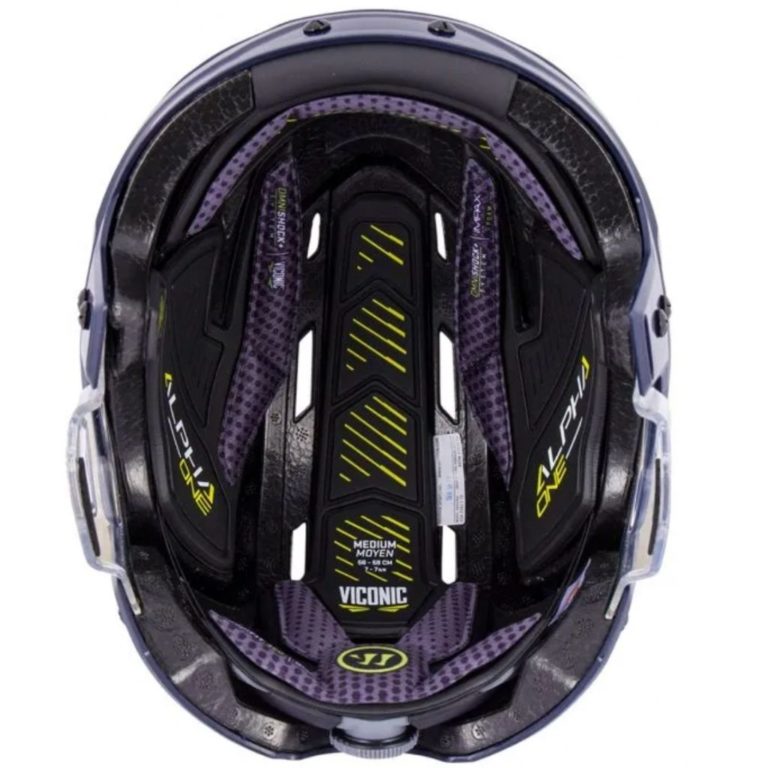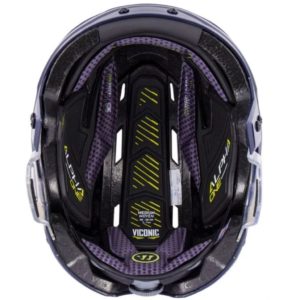 Ventilation
However, the importance of having a helmet that is properly vented and allows your head to stay cool goes a long way in the overall level of comfort a player has with the helmet.
Staying cool on the ice is a sure way to enhance your level of play and allow you to keep a level head when the game can become intense and fast-paced around you.
In addition to this specialized venting ability, the helmet's polygiene technology material is also specially made to wick away sweat in a way that diminishes the chances that odor-causing bacteria will have to grow and produce the musty smell that so many helmets develop over the course of a season.
Your head will stay dry and their helmet will be less likely to build up the same kind of odors that can plague a locker room or equipment bag.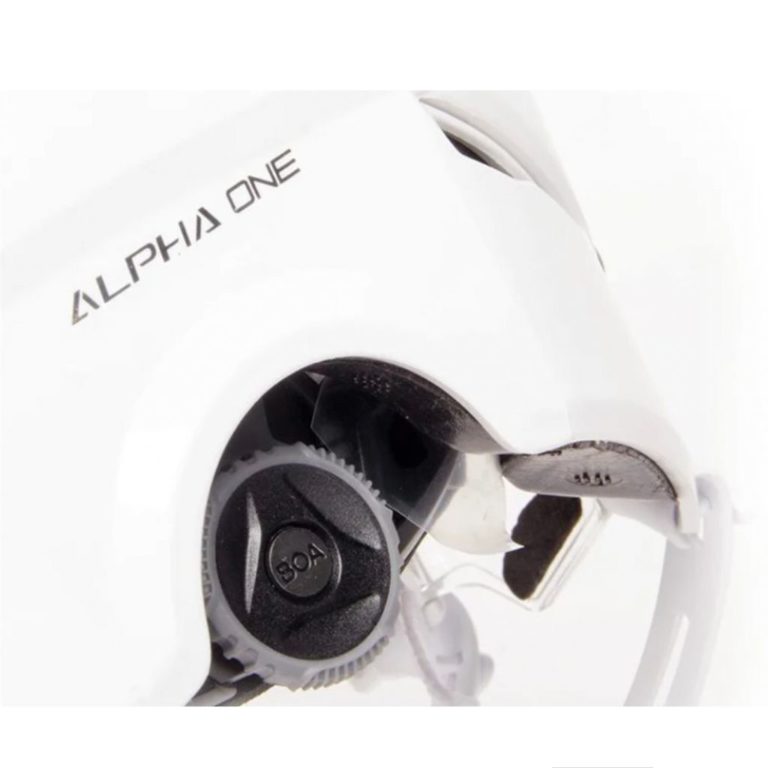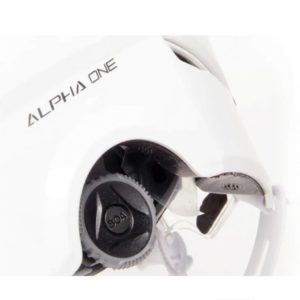 Similar: True Dynamic 9 Helmet Review 
Adjustability + AdaptFit 360
One of the most prominent new features of the Warrior Alpha One helmet is the overall adjustment design that lets players get a much more encompassing fit than they could with previous versions produced by Warrior.
Instead of the classic front-to-back adjustments that offer side straps and clips for players to manipulate, the Alpha One's entire fit can be adjusted using a simple knob in the back portion of the helmet that needs only to be tightened or loosened using a dial.
This AdaptFit 360 dial adjustment system is made to let players tighten or loosen their helmet ever so slightly in order to alleviate pressure or snug their helmets up in the middle of a game or practice without having to fully remove their helmet and negotiate the old straps and clips.
With a turn of just a few small degrees on the 360 dial, the helmet will tighten or loosen its grip on the player's head in a way that lets users get a more precise fit than any other Warrior hockey helmet design has ever offered.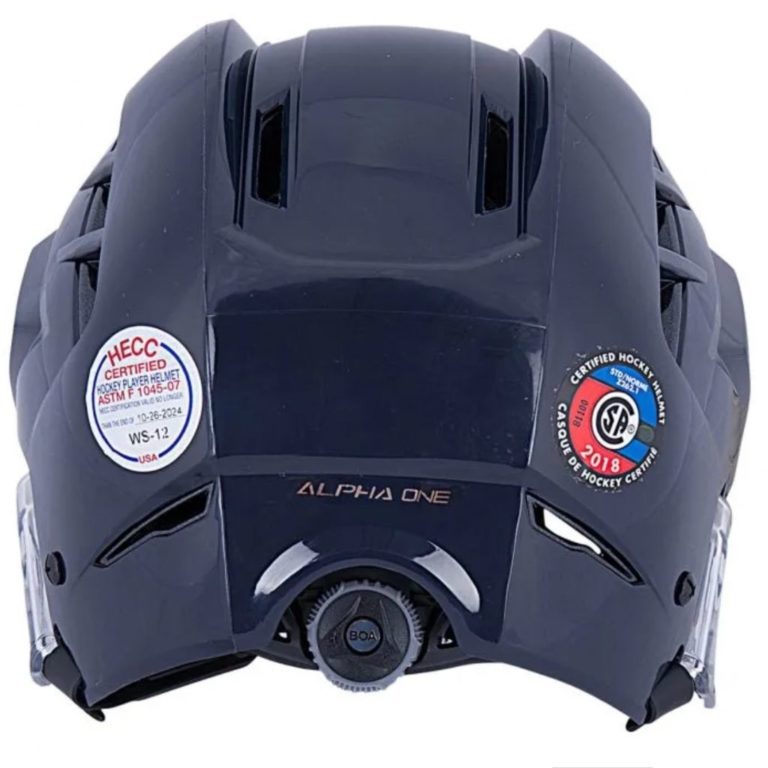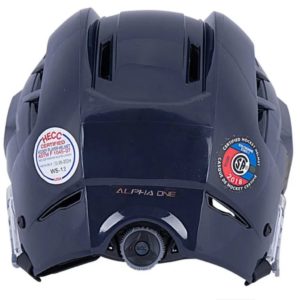 Another Recommended Helmet:  Bauer Re-Akt 150 
 OmniShock Protection System and One Shell Design
Of all the new design elements that the Warrior Alpha One hockey helmet offers users, the most revolutionary change the company has made is the implementation of the OmniShock Protection System.
This system also features specialized Viconic inserts that are placed inside the helmet at high-impact locations such the frontal and occipital lobes, as well as the temple area on both sides. This is meant to protect the most vulnerable places on the head that so often result in serious head injuries when heavily impacted.
The helmet's One Shell design is also incredibly effective at providing a stronger, more comprehensive approach to protecting the player's head from impacts that can originate in every direction.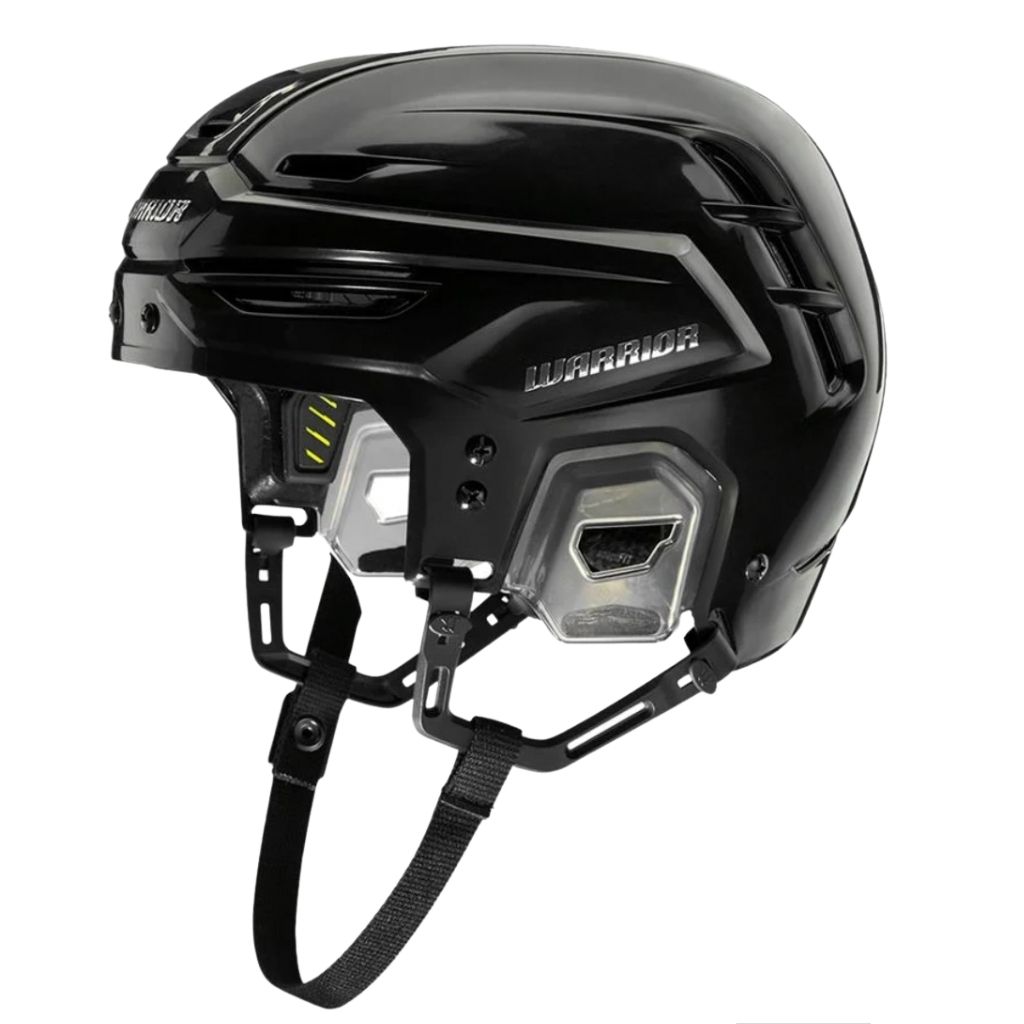 If you aren't sure that you want the Alpha One helmet, but like the Warrior brand, check out our review of the Warrior Covert PX+ here.  It's a similar option, but a little cheaper.
Final Verdict
The Warrior Alpha One is undeniably one of the top hockey helmets on the market for the upcoming season. With so many new features and design elements that are aimed at giving players a better overall fit and feel, as well as greater protection, it's easy to see why so many hockey players from amateur to even the professional level have had nothing but high praise for this brand's latest model.