Bauer released their Supreme 3S hockey skates in 2020 as the ideal fit for those who are looking for a high-quality product that doesn't come with the high price tag that some of Bauer's other models do.
These skates are ideal for hockey players of all ages and skill levels as they are made with Bauer's new 3D Lasted Flex Composite material, as well as a range of other quality components that combine for a model that's able to provide exceptional performance on the ice.
Engineers from Bauer have worked to create skates that offer a much better overall fit for users. In order to accomplish this, the company has released its Performance Skate Fit System, which lets users select the type of skate they want in just the right width for their own personal foot size.
This highly customized approach has led to players getting a much better experience using the Bauer Supreme 3S skates.
In this article, we'll take a closer look at how this new Performance Skate Fit System is capable of benefiting players of all skill levels, as well as how the new components of the Supreme 3S hockey skates are capable of delivering better in-game performance.
Bauer Supreme 3S Ice Hockey Skate Overview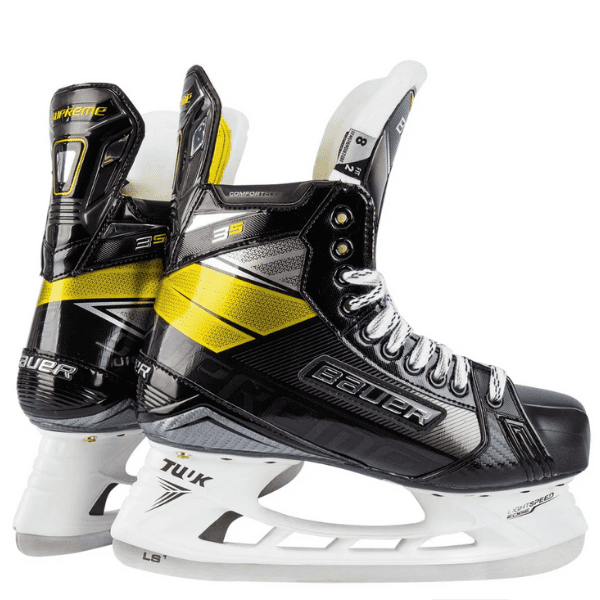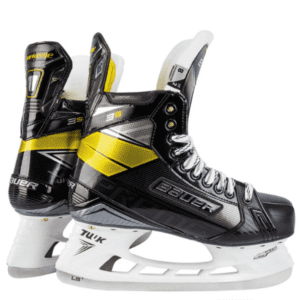 These skates are made to be a more affordable version of Bauer's most prestigious product line that are currently available in 2021. Using the new Bauer Performance Skate Fit System, players are able to get a more suitable skate that specifically supports their feet in a way that provides better support than ever before.
There are multiple new models within the Supreme series and the Supreme 3S are among the most popular skates produced by Bauer for this season.
Pros: 
Great value for the money spent
Comfortable skates
Quick and effective strides
Cons:
Aren't in the elite tier of skates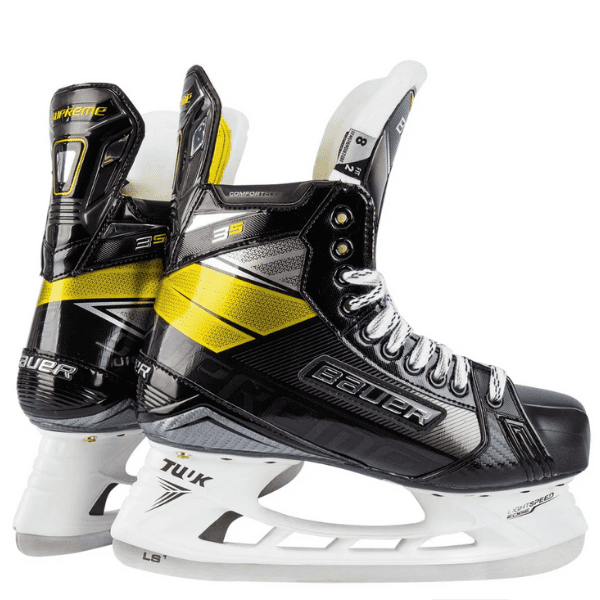 The boot itself is made with a more stiff profile that's aimed at giving players a better overall energy transfer, which equals out to having better mobility and speed on the ice. The increased stiffness is made in a specialized mold that's designed to be both comfortable and effective.
The Supreme 3S is also fitted with more padding than previous versions made by Bauer. This padding is placed in areas where the foot would normally wear away at the skates' interior and cause discomfort for the user after a few seasons.
The many other quality components of the Supreme 3S combine to give users much of the same look, feel, and performance of a premium-quality skate without the hefty price tag.  If you are fine with the pricey tag though, the Ultrasonic skates are going to be better than the 3S skates.  There is a disparity in price though.
Boot Stiffness and Composite Material
Bauer has been working for the last few years to create skates that are lighter, yet still able to offer a greater level of stiffness than older versions of the same basic model. The Supreme 3S is made with the company's new 3D Lasted Flex Composite material, which is made to be a newer, more lightweight style of boot than ever before.
Stiffness
Many users report that the new composite material offers better stiffness, as well as better ankle flexion. As one might expect, Bauer has fitted each of its Supreme S3 skates with extra padding needed to compensate for the increased stiffness with its Comfort Edge Padding system.
This added padding and better stiffness all combine to allow players to skate harder and make sudden stops and tighter turns than ever before.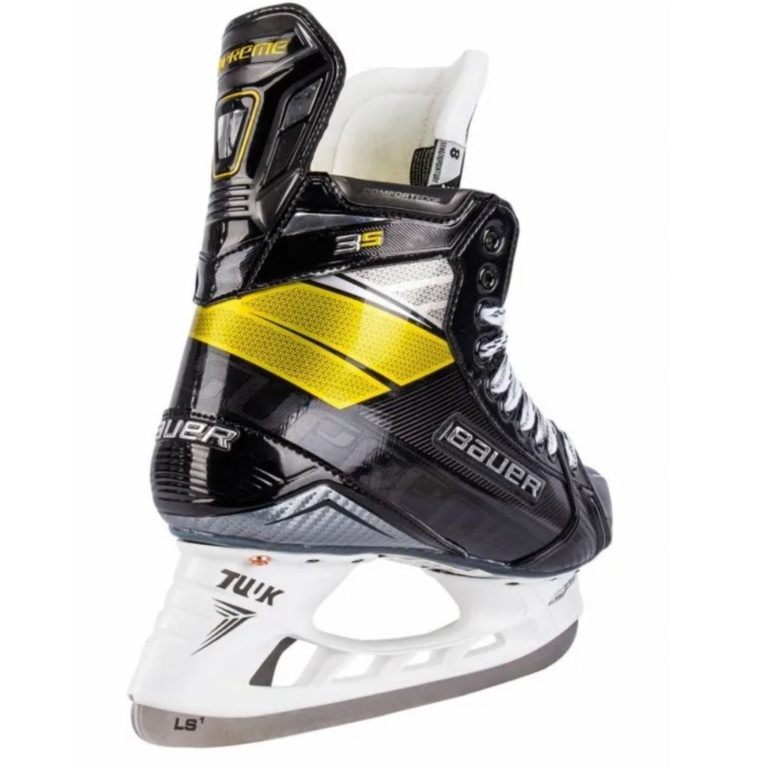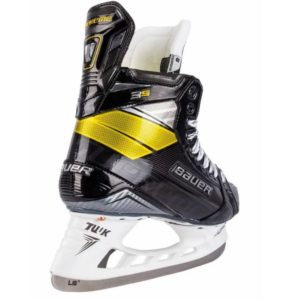 Better Padding and Liner
The Supreme 3S skates are designed for players that require a high level of quality out of their equipment. Using a product that doesn't offer adequate padding just isn't an option for elite-level players and Bauer recognizes that in its design of the Supreme 3S by providing new Aero Foam memory foam material to the base of the insole.
This equates to a very comfortable feel for players using the Supreme S3 right out of the box.
The engineers at Bauer also worked to develop a better material that is aimed at keeping players' feet dry throughout the duration of a full game, or extended practice. These skates are fitted with a new Hydrophobic Microfiber liner that grips the foot and helps give a firm, yet comfortable fit.
Related: CCM Ribcor 100k Skate Review
Quality Blade and Holder
One of the most obvious points of concern any hockey player has regarding a set of new skates is the quality of the blade itself.
The Supreme 3S hockey skates are fitted with LightSpeed LS 1 steel which is made with a strong edge for a smooth finish that is performance-driven. This edge is made for players who drive hard into their starts, as well as stops and demand that their skates keep up when it comes to making precise, tight turns.
Most athletes who play at the highest level of the sport know full well that they can't risk having a blade or skate that won't stand up to the highest level of intensity.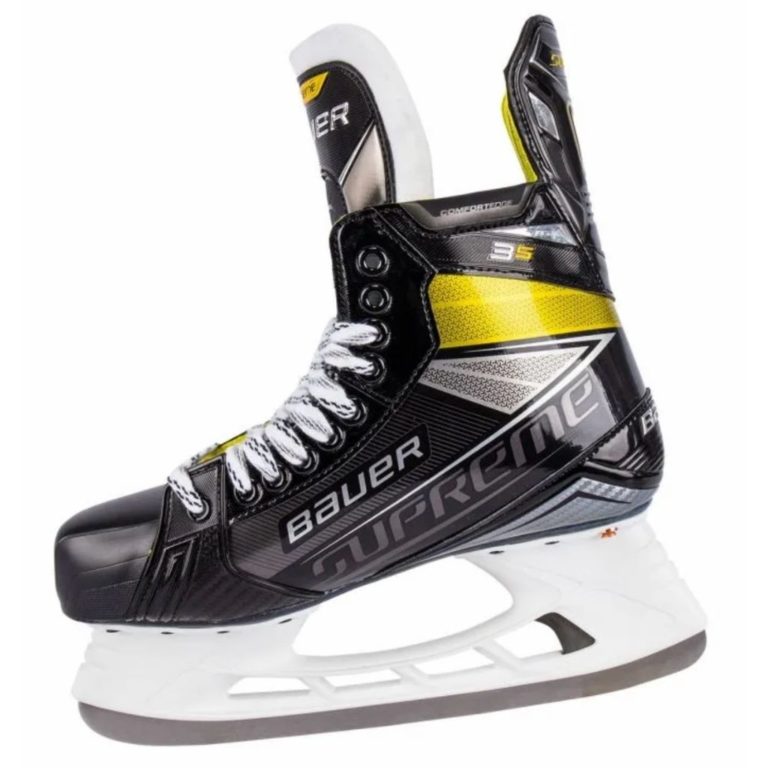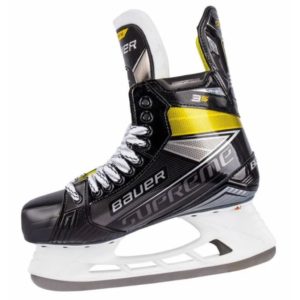 Performance Skate Fit System
In years past, Bauer released its skates in three distinct styles: Vapor, Supreme, and Nexus. The company has since phased out the Nexus model in favor of a new Performance Skate Fit System that offers three different Fit levels depending on the width of each player's foot.
The Supreme 3S can be ordered in Fit 1, which is made for those who have a more narrow foot, Fit 2, which is considered average width, and Fit 3, which is deemed to be closer to the Nexus model previously made by Bauer.
It is very important that a hockey player take to the ice with skates that fit properly as this will impact every level of their in-game performance—no matter what skill level they compete at.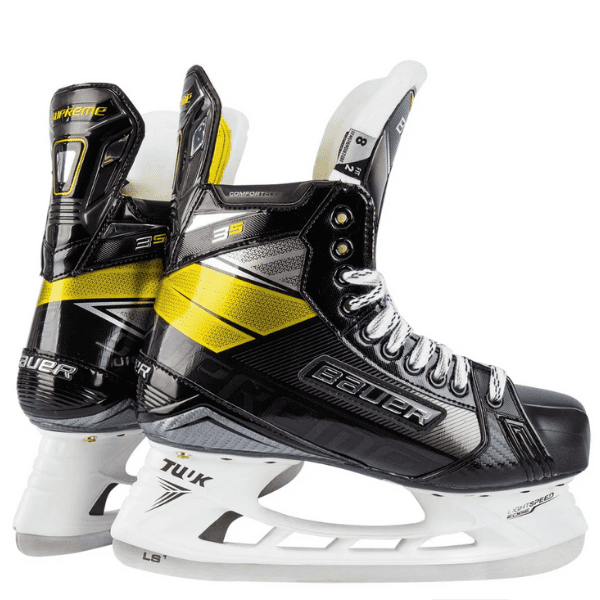 Related: Best Skates of The Year 
Final Verdict
The Supreme 3S model is one of the most popular styles of skates from the Bauer brand for good reason. People recognize that these skates offer much of the same high-quality look and feel as the top-of-the-line models without the same big price tag.
For those looking to get a pair of hockey skates that they can rely on for a few good seasons, the Bauer Supreme S3 is a great selection.